« Gun Thread: Father's Day Mail Bag Edition! [Weasel]
|
Main
|
The Morning Report - 6/22/20 »
June 21, 2020
Sunday Overnight Open Thread (6/21/20)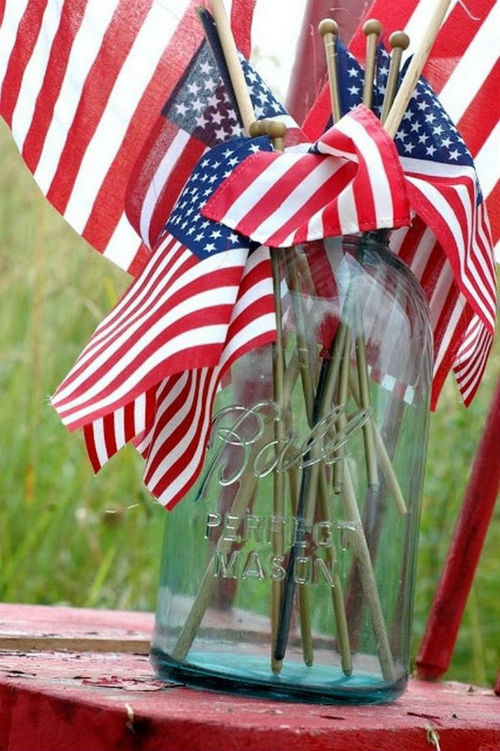 ***
The Quotes of The Day

Quote I

"The EndeavorRx device offers a non-drug option for improving symptoms associated with ADHD in children and is an important example of the growing field of digital therapy and digital therapeutics," Jeffrey Shuren, Director of the FDA's Center for Devices and Radiological Health

Quote II

"Don't bust up s**t, don't trash the place. You can peacefully protest. My father would have said, 'They ain't nothing but devils.' My father said, 'all lives matter.' I don't think he'd agree." Muhammed Ali, Jr.

Quote III

Freedom, Sancho, is one of the most precious gifts heaven gave to men; the treasures under the earth and beneath the sea cannot compare to it; for freedom, as well as for honor, one can and should risk one's life, while captivity, on the other hand, is the greatest evil that can befall men.Miguel de Cervantes

Quote IV

"I think African Americans above all would be the first to say they are more interested in results than cosmetics." Harvard Law School professor Laurence Tribe

Quote V

My life goal is to burn the American university system to ash for what it's done to the minds of this generation. And salt the ground on which it stood Jesse Kelly

Quote VI

"Over the last few weeks, our museum community has been profoundly moved by the ever-widening movement for racial justice that has emerged after the killing of George Floyd.Museum president Ellen Futter

What a stupid time to be alive. Everything is offensive. What a soft and intolerant world we live in. Teddy Roosevelt didn't kill George Floyd.
***

He showed pretty good restraint at the grocery store. Too bad he wasn't able to do more out on the street that tragic day.

One of the four former Minneapolis cops charged in the murder of George Floyd was accosted by a fellow shopper during a recent supermarket trip, viral video of the run-in shows.

J. Alexander Keung, freed Friday evening on $750,000 bail, was stocking up at a Cub Foods in the Minneapolis suburb of Plymouth when another shopper started recording on her phone and moved in.

"What's your name?" asked the woman as she approached Keung, 26, in the tense video posted by a user who identified the shopper as their sister.

What are the odds this bitch has a Co-Exist bumper sticker on her Chevy Volt?
***

Did he take one too many hits to the head? Or is he just attempting to remain relevant? It really doesn't matter. Brett Favre is an ignorant asshole.
NFL legend Brett Favre thinks Colin Kaepernick and Pat Tillman are very similar.

In an interview with TMZ Sports, the Green Bay Packers legend said of the former 49ers quarterback, "I can only think of right off the top of my head, Pat Tillman is another guy that did something similar, and we regard him as a hero. So, I'd assume that hero status will be stamped with Kaepernick as well."
***

Who knew, Patchouli oils and pot would be combined for a deodorant?


Give your music-loving dad a two-in-one gift this Father's Day: some Grateful Dead deodorant. Body care company North Coast Organics have created an official Grateful Dead-branded line of USDA-certified organic deodorant, reports Stereogum, so that you can finally achieve that signature Deadhead smell all year long.

The jam band collaboration is made with vegan, edible ingredients and is handmade in small batches, ensuing freshness and attention to detail. Best of all, the Grateful Dead deodorant sticks come in five different scents: Skull & Roses (lavender and rose), Sunshine (blood orange and bergamot), Workingman's (cedarwood and juniper), Timber (douglas fir and sage), and a classic Unscented.
***
Paul Joseph Watson NSFW-Language

***

Good bye Aunt Jemima, Rastus (Frank L. White - Cream of Wheat), and now the Eskimo Pie. Because virtue signaling of course. Who is next the Green Giant & his side kick Sprout?

BYE, BYE, ESKIMO PIE
Eskimo Pie joins the brands that featured minorities and now are destined for history's dust bin:

The maker of Eskimo Pies will change the 99-year-old brand name of the ice cream treat, the company said Friday — becoming the latest organization to overhaul the marketing of a product with a racially tinged moniker in recent weeks.

What does "racially tinged" mean? It is bad, supposedly. But why? The "Eskimo Pie" ice cream bar was obviously named in recognition of the fact that Eskimos live in cold places. Eskimo Pies come from the freezer. They are ice cream–cold. That is it. How is this somehow derogatory?
***
Meet "Karen" who was never taught how to think on her own or the "Golden Rule"...................


Speaking of "Karens", experts weigh in on the popular term.
***

Twitter takes another scalp. British commentator Katie Hopkins permanently suspended by Twitter.

Far-right British commentator and former newspaper columnist Katie Hopkins has been permanently suspended from Twitter, the social media giant has said.

Ms Hopkins, who has been repeatedly retweeted by US president Donald Trump, gained more than 1.1 million followers on the site before her suspension, which came hours after she had complained she had lost her blue tick "verified" status.

In a statement a spokesperson for the social media firm said: "Keeping Twitter safe is a top priority for us – abuse and hateful conduct have no place on our service and we will continue to take action when our rules are broken.
Jonah Goldberg probably had an erection, has anyone seen his dog lately?
***
The problem with cities? Mix power with a dash of the Nanny State you get this kind of ridiculous bullshit. Mandatory mask wearing is now the "new normal" in London for a year.

One of the great impending disasters of the COVID crisis is that despite the fact that the Coronavirus is rapidly disappearing and its true Infection Fatality Rate is in the exact same range as the seasonal flu, politicians and government health officials seem determined to roll-out the globalist "New Normal" regime.

We're continually told by health officials and the media that the primary reason for requiring face masks is to protect people from the COVID-19 airborne pathogen. There are numerous problems with this government belief system, not least of all because it assumes that every person is equally at risk of illness due to COVID-19, which is false. The vast majority of the general population are not at risk at all, as it mainly only affects one specific demographic: over 70 years old with chronic long-term health conditions, and within that risk group the majority of complications and fatalities have been with nursing/care home residents (none of these people travel on public transport). The other reason why this virus is not a threat to the wider population is because it is seasonal in nature; it has followed the exact same trajectory of decline in every country worldwide, and by now has all but extinguished itself in any significant form. But even beyond all of this, it has already been well-established by numerous scientific experts that masks are incapable of protecting people against this or any other respiratory virus.
***

So how is that "Free inhabitant" thing working out for you?
***

How long has she been single? And just how many cats does "Karen" own?
***

Ace and JJ Sefton bring straight news at you day in and day out. I'm not sure how they do it. Would you like to escape the horrors of news and current events? Here's the site for you. H/T Pete Seria
***

Earlier today, CBD had an excellent thread addressing The Cold Reality Of Physics And Engineering. (Renewable energy).
We've all seen the virtue signaling do-gooders in their hybrid cars. The ones that glorify mass transit over private vehicle ownership. The do gooders demanding not limiting the use of fossil fuels but downright elimination. What will their position be on 'Blood Batteries'?

As calls for more renewables and a green Covid recovery mount, renewable energy advocates are facing uncomfortable questions about the vast quantities of raw materials required for their green revolution, and allegations of child slave labour which haunt the base of their specialty material supply chains.

One thing FP does not make clear is the sheer scale of increased mining activity which would be required to transform the world's energy systems.

A 2019 world bank report suggested cobalt production for batteries, much of which is produced from often dubious sources in the Congo, would have to be scaled up 1,200% to limit global warming to 2C.
***
The ONT Musical Interlude
On this day: 21 Jun 2001
John Lee Hooker, American blues singer and guitarist died in his sleep aged 83. Had hits with 'Boom Boom', 'Dimples' and 'I'm In The Mood'. His songs have been covered by many artists including Cream, AC/DC, ZZ Top, Led Zeppelin, Jimi Hendrix, Van Morrison, The Yardbirds, The Doors and The White Stripes. He appeared and sang in the 1980 movie The Blues Brothers. via thisdayinmusic.com
&&&&&
Born on this day: 21 Jun 1953
American musician Nils Lofgren. He joined Neil Young's band aged 17, playing piano on the album After the Gold Rush. From 1971 to 1974 he recorded four albums with his own band, Grin. He had the 1976 solo album, 'Cry Tough'. Joined Bruce Springsteen E Street Band in 1984. And has been a member of Ringo Starr's All-Starr Band. via thisdayinmusic.com
***

Tonight's Feel Good Story of The Day and Genius Award Winner all wrapped up into one event.

Two anti-Trump agitators' stunt went embarrassingly wrong late Friday night while revving their engines past hundreds of Donald Trump supporters lined up earlier for the president's Saturday rally in Tulsa, Oklahoma.

While attempting to pop a wheelie, a driver and his passenger fell off the back of their ATV, hitting the pavement hard, much to the amusement and concern of Trump-supporting onlookers.
***
Weekly commenter stats for week of 6-21-2020

Top 10 commenters:
1 [449 comments] 'Mr. Peebles' [63.02 posts/day]
2 [415 comments] 'Sponge - China is asshoe!'
3 [397 comments] 'Insomniac - Ex Cineribus Resurgo'
4 [381 comments] 'Commissar Hrothgar -YOU are all in this together!- '
5 [336 comments] 'Rodrigo Borgia (kneels to no one on this Earth)'
6 [334 comments] 'TheJamesMadison, fighting terrorist in Nakatomi Tower'
7 [326 comments] 'runner'
8 [326 comments] 'Skip'
9 [323 comments] 'Tom Servo'
10 [312 comments] '...'
Top 10 sockpuppeteers:
1 [170 names] 'MiklosNotes' [23.86 unique names/day]
2 [50 names] '18-1'
3 [45 names] 'Duncanthrax'
4 [40 names] 'Notorious BFD'
5 [36 names] 'Sponge - China is asshoe!'
6 [36 names] 'Meade Lux Lewis'
7 [34 names] 'Two Weeks From Trying to Convince The Court That Zooey Deschanel Really Is My Wifebunny'
8 [28 names] 'Commissar Hrothgar -YOU are all in this together!- '
9 [20 names] 'Cicero (@cicero)'
10 [17 names] 'Axeman'
***

Tonight's ONT has been brought to you by Protests.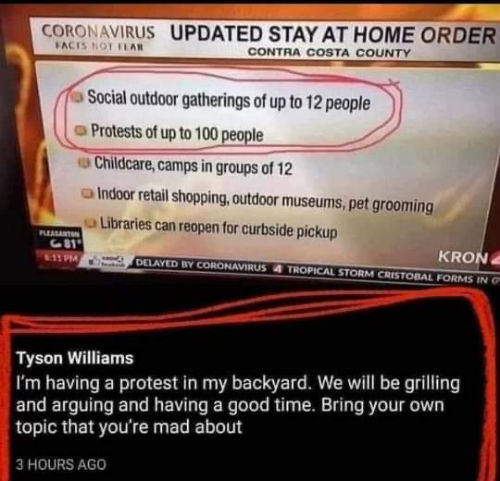 Notice: Posted with permission by the Ace Media Empire and AceCorp, LLC. I swear to God no hamsters were injured in the production of this ONT.

posted by Misanthropic Humanitarian at
09:30 PM
|
Access Comments