« Resident of Cop-Free CHAZ Shot Five Times;
Blames Police
|
Main
|
The Morning Report - 6/25/20 »
June 24, 2020
Wednesday Overnight Open Thread (6/24/20)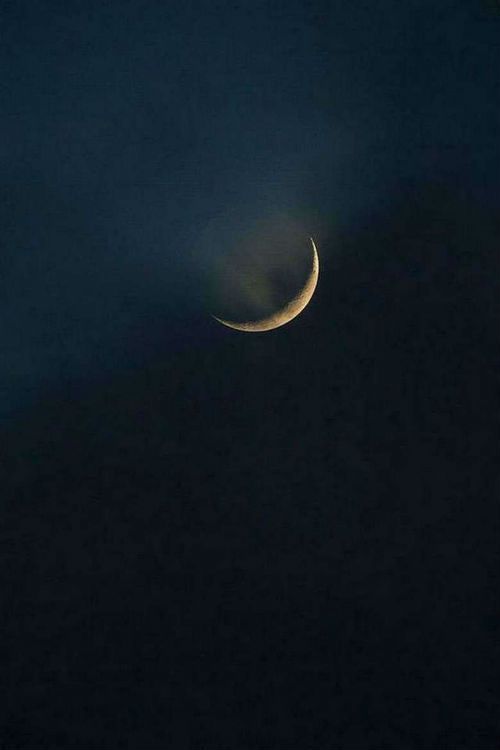 ***
The Quotes of The Day

Quote I

"Your children's children will live under communism, You Americans are so gullible. No, you won't accept communism outright; but we will keep feeding you small doses of socialism until you will finally wake up and find you already have Communism. We will not have to fight you; We will so weaken your economy, until you will fall like overripe fruit into our hands." "The democracy will cease to exist when you take away from those who are willing to work and give to those who would not." Nikita Khrushchev

Quote II

"The minute you are taken care of by the government, you are wards, not independent men." Woodrow Wilson, candidate for President of the United States, 1912
(H/T Isophorone Blog)

Quote III

I don't get worked up about them. Even if they show my particular candidate in a good light, unless I think the election is a slam dunk anyway this far out. And my thinking right now is that Trump wins this and wins this big.Rush Limbaugh

Quote IV

"They've actually suggested that to mitigate the difficulties of online learning that we rent office space as students. I just felt overall disrespected and unheard by the administration. And I think, as I've learned this year, the way to get justice in America is through the legal system."Abraham Barkhordar

Litigate? That's so yesterday. Riot. That will get them to bend a knee.
Quote V

It's a political belief, that collaborating with police in any capacity contributes to white supremacist violence and oppression. Really any collaboration between mathematics, which is something that I love and that I find extremely beautiful, and the institution of policing shouldn't happen." Tarik Aougab, a math professor at Haverford College
***

Lopburi, ThailandAint that pretty at all.

Residents in Lopburi, Thailand, are hiding behind barricaded indoors as rival monkey gang fights create no-go zones for humans. The ancient Thai city has been overrun by a growing population of monkeys super-charged on junk food – as locals try to placate the macaques with snacks. The monkeys usually enjoy a steady supply of bananas from tourists, who have dwindled amid the coronavirus pandemic.

Pointing to the overhead netting covering her terrace, Kuljira Taechawattanawanna said: "We live in a cage but the monkeys live outside."

"Their excrement is everywhere, the smell is unbearable especially when it rains," she says from her home in the 13th-century city.

The fearless primates' antics were largely tolerated as a major lure for the tourist hordes who descended on the city before the coronavirus outbreak to feed and snap selfies with the plucky animals.
***

Victories for the good guys seem fewer and fewer these days. Mark Steyn earns a legal "W".

Michael Mann has lost a motion in the DC Superior Court. He will now be responsible for the majority of legal costs for discovery in his perpetual libel suits against Steyn and the National Review.

Accordingly, it is this 22nd day of June 2020 hereby
ORDERED that Defendants Competitive Enterprise Institute's and Rand Simberg's Motion for Payment of Expenses is GRANTED. It is further ORDERED that Defendants are awarded the expenses in connection with the motion to compel discovery in the amount of 9588.64.

June 22 Decision
This is on top off losing the motion to by defendants last month to compel discovery.
***

I have some good news and some bad news about what happened in Madison, WI last night (Tuesday 6/23/20).
The bad news, An unhinged black man was arrested by Madison police. Which in turn led to a violent display of ignorance.
Black Lives Matter protesters in Madison, Wisc., became angry when one of their leaders was arrested by police. Devonere Johnson, a local activist and organizer, was arrested after following a white customer into a restaurant with a bullhorn and a baseball bat. Johnson said the white man "provoked" him.

After this unhinged display, Johnson was taken into custody.

But the mob apparently believed Johnson did nothing wrong — at least, nothing that he should have been arrested for. They gathered in front of the capitol building on Tuesday night and decided to go on a statue-destroying binge.

Except, the statues they tore down represented the finest of Wisconsin's progressive past.

The good news? Well check this out:

"I don't know what happened … all I did was stop and take a picture … and the next thing I'm getting five-six punches, getting kicked in the head," Carpenter told the Milwaukee Journal Sentinel following the attack.
State Senator Tim Carpenter (D-Milwaukee) is directly and indirectly responsible for the beating he sustained. I know you're saying, "C'mon Mis Hum, how can a simple bystander be both directly and indirectly responsible?"
Well in 2010-2011 after Scott Walker had been elected and Act 10 was passed, Sen. Carpenter fled the state like a spineless slithering snake with his colleagues to Illinois. He was nowhere to be found when thousands of protesters descended on the capitol building in Madison causing damage and havoc with daily protests.
Previously, he was no where to be found to condemn the protesters interfering with others. Now? Ha. And too top it all off, he's a professional politician, white and privileged. He had it coming and he got off easy.
***

At $2,500-$5,000 it better be savory and produce an orgasm to boot.

The world's most expensive chicken, the Ayam Cemani, is a rare breed believed to be only native to Indonesia. In this country, this bird is greatly respected because many believe it holds magical powers and is seen as a good luck symbol. They are also known for their solid black appearance giving them an unusual look. But most of all, the Ayam Cemani is popular for its luscious meat which is sought-after by people around the world.


How Much Do Ayam Cemani Cost?
Just one of these chickens will cost you anywhere from $2,500-$5,000 depending on the size and health of the animal.

No word on how CBD serves his..............
***

Have you ever noticed in urban settings all of the problems they face, government is blameless?

How can it be that in the midst of a pandemic, children living in the richest country in world history are being poisoned by tap water? For decades, our government has put corporate profits ahead of guaranteeing its people the right to clean water.We have neglected the most basic public investments to keep Americans healthy and safe. Now, as America battles an unprecedented public health crisis, we can no longer continue along a course in which companies have been allowed to buy up, privatize, and profit off a basic human right. The solution is not more privatization – it is for Congress to end decades of neglect and immediately invest billions into our public water systems so that we can finally guarantee clean drinking water to everybody.
***

You will be made to care, DAMMIT!!! So when do the real physical camps start?

The girlfriend of the man who flew a "white lives matter" banner over a football match in the UK has been fired from her job after refusing to take "intensive racial sensitivity training."

The banner was seen trailing behind a plane over Manchester City's Etihad stadium on Monday before the club's Premier League game with Burnley.

It provoked widespread condemnation and a police investigation, although authorities subsequently concluded that no criminal offense had been committed.

The person responsible for the banner, Burnley fan Jamie Hepple, faced a social media witch hunt although he responded with a Facebook post that said, "I'd like to take this time to apologise... TO ABSOLUTELY FUCKING NOBODY!"

However, after a Twitter mob discovered the employment details of his girlfriend Megan, she was fired by Solace Foot Health and Reflexology simply for being guilty by association.
Lord, I'm ready you can take me anytime you want.
***

Political spoof................
Or is it.....................
***

SHOCKED, SHOCKED I say! Nah, just kidding and bubbling over with sarcasm.

The J.D. Power Initial Quality Study provides a snapshot at how various automakers and their brands have a handle on quality, and on Wednesday, the firm dropped its most important one yet. Why? This year, Tesla is a part of the study for the first time ever.

Let's get right to that big piece of news: Tesla ranks dead last, with an asterisk. J.D. Power's methodology is to collect surveys from owners in all 50 states after 90 days of ownership, but Tesla won't let the firm collect information in 15 states. So, J.D. Power instead collected a large enough sample from the 35 other states to include the electric carmaker. Technically, Tesla doesn't qualify to rank, but in the grand scheme of things, it would place last.

Speaking of Tesla, Today in "why do Teslas keep randomly catching fire" news.
***

Truth and humor all wrapped up in one video............

***

How Beautiful We Were -VANDERLEUN

A short list. In no particular order.

We told our children that any child could grow up to be President. And then we made it come true.

We had car shows, boat shows, beauty shows and dog shows.

We ran robots on the surface of Mars by remote control.

Our women came from all over the world in all shapes and sizes and hues and scents.

We actually believed that all men are created equal and tried to make it come true.

Everybody liked our movies and loved our television shows.

We tried to educate everybody, whether they wanted it or not. Sometimes we succeeded.

We did Levis.

We held the torch high and hundreds of millions came. No matter what the cost.

We saved Europe twice and liberated it once.

We believed so deeply and so abidingly in free speech that we protected and honored and, in some cases, even elected traitors.

We let you be as freaky as you wanted to be.

We paid you not to plant crops and not to work.
I didn't pull the entire piece. I suggest you check it out. I find no argument with his thoughts.
***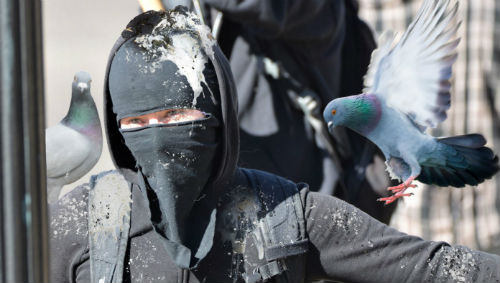 The poor pigeons have had their lives disrupted. Rioters are being dumped on.

U.S.—With more and more statues across the country being pulled down, pigeons are being forced to redirect their payloads to different targets.


As soon as statues are pulled down, the pigeons turn toward the nearest available target: angry rioters.

"Yes! Down with racism--AHHHHH!!!!" screamed one rioter just after pulling down a statue of Christopher Columbus. The pigeons immediately turned on him, with a squadron of the birds divebombing him to unload hundreds of pounds worth of excrement. "Run!!!"

Rioters frantically tried to put the statues back up as they were attacked by the feral flocks. "Put Christopher back! Quick!" cried one Antifa group as thy were swarmed by a whole fleet of pigeon bombers. But try as they might, their weak liberal arms could not lift the statue and they were forced to flee the scene.
***

What happens in Vegas stays in Vegas. And what happens in Vegas pools, ugh....
Biological Warfare Specialist Breaks Down Why You Should "Never Get In A Pool In Las Vegas"

In the past few months, the world has gotten a crash course on spreading viral infections. Some places are in denial about the possibility of a horrible outbreak in their city and town, and that includes Las Vegas, a petri dish dependent on lots of tourists all touching the same dice over and over. Many people are pretending COVID-19 isn't happening and going back to business as usual. But as chemical and biological weapons specialist Dan Kaszeta pointed out on Twitter, business as usual is pretty bad, too.

Kaszeta tweeted a warning that said, "Never get in a pool in las Vegas. Don't even touch the water."
***
Because segregation is so cool when implemented by the cool kids!
***

I Think I've Screwed Up the Way My Kids Think About Race

Now my sons have graduated, and their closest friends are still a mix of black, Hispanic, and white kids. I have never been concerned about the kids having any issues around race. But one of our sons mentioned recently how irritated he is by the form he has to fill out regarding a college roommate. He has to specify his race, and all of the profiles of potential roommates he views also include race. He says all he cares about is if they are male or female and what their interests are—he doesn't care about race. With everything going on in the U.S. now, I'm doing more reading on racism, and if I'm understanding correctly, not caring about race is almost as bad as focusing only on race. Should he care what race his friends are? Or is it OK for him to not even care/notice? Is there something we should be doing or talking to our kids about before they go to college, or is it too late? Are they just as racist as someone who only has white friends, or am I worrying about nothing?


—Making a Mountain Out of an Anthill?

Dear MaMOoaA,

I don't believe for a second that you think your kids are racist, so this feels like a disingenuous question—one that means to challenge the idea that "not caring about" or "not noticing" race is itself racist. So I will say this: Not caring about or noticing race is a privilege reserved for people who are white. Black and brown people in the U.S. do not have that luxury—and not just "with everything going on" right now, but ever.

And that's the thing you should be talking to your kids about—for starters. As the sociologist Megan R. Underhill, who studies race and family, has said, "White people aren't 'outside' of race—they're at the top of the racial hierarchy." Dismissing or downplaying this reality only perpetuates inequity and violence.

Not caring about or noticing race is a privilege reserved for people who are white.
In last Sunday's column, I made lots of suggestions about resources for self-education, so I won't repeat them here, but I will note that your kids are old enough to begin to educate themselves too, so—all of you—start reading and start talking. It is most certainly not too late.


It's great that your kids have grown up with a diverse group of friends—it ought to be the norm. And as to their part in contributing to the goal of a nonracist lunchroom in high school—good for them! But nonracism is only the first step toward a more just society. Anti-racism requires more of us. I trust that your sons—given their experience, their friendships, their sense of what injustice looks like—would embrace the opportunity to learn how to take next steps. I urge you to take them right along with your kids.
***
The ONT Musical Interlude
On this day: 24 Jun 1991
Frank Zappa took part at the concert 'Adieu Soviet Army', organised in Prague, as the farewell to the last soldiers of Soviet Red Army, leaving free Czechoslovakia (the Red Army had occupied Czechoslovakia since the Prague spring). This was probably Zappa's last rock appearance on the stage and it is recorded on the album Adieu C. A. (Soviet Army). via thisdayinmusic.com
Born on this day: 24 Jun 1947
Mick Fleetwood, drummer and co-founder of the rock band Fleetwood Mac who had the 1968 UK No.1 hit 'Albatross' and the hits 'Man of the World' and 'Oh Well. In 1977 they scored the US No.1 single 'Dreams' taken from their worldwide No.1 album Rumours which spent 31 weeks on the US chart. via thisdayinmusic.com
***

It's OK not to be a Karen. It's not OK to be a Genius Award Winner.

Old Man Fights His Way Into Walmart Without a Mask, Gets Kicked Out
THE WALMART 'RONA SHOPPER
OLD DUDE SHOVES HIS WAY PAST EMPLOYEE
... LET ME IN, DAMMIT!!!

Florida Man is back with a vengeance -- this time, he's fighting his way into a Walmart, which has a mandatory face mask policy ... but FM NEEDS his discounts, 'rona be damned.

This wild scene went down Saturday in Orlando, and it starts off right in the thick of the action. An elderly man tries storming his way into a Walmart without a face covering -- but gets stopped by an employee at the front door. That wasn't gonna stop gramps here though
***
This should be Tonight's Feel Good Story of The Day. Instead a shop owner is wrongfully charged.

NASHVILLE, Tenn. (WXIN) -- An 88-year-old liquor store owner faces an aggravated assault charge after she shot a man who she thought was a thief, the Charlotte Observer reports.

May Boyce told police on June 16 two men walked into her store. One man asked for brown liquor, and the other man walked behind her counter where she keeps the vodka and grabbed a few bottles. Boyce said she confronted the man grabbing bottles, and she said he lunged at her and ran toward the exit.

According to a probable cause affidavit obtained by The Charlotte Observer, Boyce pointed her gun toward the floor in the direction of the fleeing man fired once. The man said he was shot and fell into a stack of bottles, and the other man helped him out of the store.
***

The news as of late has sucked. Great customer service and Tonight's 2nd Feel Good Story of The Day (H/T ibguy)

Amazon delivery driver praised for following odd 'additional instructions' on package: 'Deserves a raise'
***
Tonight's ONT has been brought to you by Little Brothers.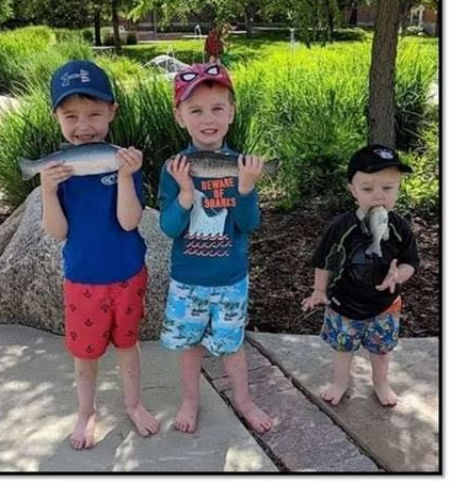 Notice: Posted with permission by the Ace Media Empire and AceCorp, LLC underneath the direct supervision and approval of Dewey, Cheatem & Howe, S.C.


posted by Misanthropic Humanitarian at
10:05 PM
|
Access Comments