« Racist Extremist Sean King -- Who Is In Fact White, But Pretends to Be Black for Race Hustling/Race Agitation Purposes -- Calls for All Stained Glass Depictions and Statues of "White Jesus" To Be Torn Down
|
Main
|
The Morning Report - 6/23/20 »
June 22, 2020
Monday Overnight Open Thread (6/22/20)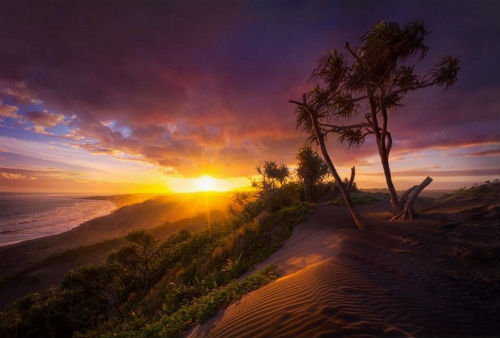 ***
The Quotes of The Day

Quote I

"It's a little bittersweet, honestly. We know it's the right thing to do for public safety, yet at the same time I watched it go down the Stampede Road, it does feel like a piece of your history moving on."Denali Borough Mayor Clay Walker

Quote II

The prospects of young adults look grimmest of all. They face an economy so disordered that hardly anyone can find something to do that pays enough to support the basics of life, on top of being swindled by the false promises of higher education and the money-lending racket that animates it.James Howard Kunstler

Quote III

"It's been tough for me particularly. I've had to be innovative and creative. I started an OnlyFans account but the appeal of following me is that I'm just providing knowledge about the industry."Jacky St. James, one of adult entertainment's leading feminist directors

Quote IV

"There's something very disturbing about what's going on. Our republic was founded on the idea, and the whole rationale was that there'd be a lot of diversity of voices and it would be hard for someone to be able to galvanize, big faction in the United States that could dominate politically and oppress a minority, and yet now we have with the Internet and with these big concentrations of power, the ability to do just that, to quickly galvanize people's views because they're only presenting one viewpoint and they can push the public in a particular direction very quickly" US Attorney General William Barr

Quote V

"If black lives matter, why are we shooting each other?"Charlotte, North Carolina eyewitness

Quote VI

All murals and stained glass windows of white Jesus, and his European mother, and their white friends should also come down. Shaun King

Quote VII

"Nothing is more important and we will not be deterred by the reprehensible actions of those who seek to spread hate. As my mother told me today, "They are just trying to scare you." This will not break me, I will not give in nor will I back down. I will continue to proudly stand for what I believe in."NASCAR's Bubba Wallace
True event or publicity stunt? We've seen enough false claims in the past. Cough....Jussie Smollett...cough.......Pardon my cynicism.......

***

The time for playing nice and by the rules has passed. It is time the Silent Majority adopts the Alinsky Rules For Radicals.

Saul Alinsky fought for the wrong side, but he was a smart tactician who came up with excellent rules for fighting an ideological opponent. Three of his rules are pertinent here:

RULE 4: "Make the enemy live up to its own book of rules."
RULE 5: "Ridicule is man's most potent weapon."
RULE 6: "A good tactic is one your people enjoy."
With those rules in mind, enjoy what happened in Tulsa when a mostly white group of Black Lives Matter protesters showed up at the Trump rally. The video begins when a white guy wearing the de rigueur leftist virtue mask (his has "BLM" emblazoned across it), and a t-shirt saying "I know words. I have the best words – Stable Genius," spots a man who looks Hispanic. The white guy seems shocked that a Hispanic man is selling Trump merchandise while wearing a Trump hat and a t-shirt with a "God Guns and Trump" logo.

The white guy opens with a classic white person microaggression question: "Where's your daddy from?" The vendor answers, "America."
***

The 1%ers who employ other 1%ers are thinking about the "Ultimate Cardboard Subscription."

2020 might be the year of the fake sports fan.

Once bustling with beer-soaked fans, stadiums across the world are now full of cardboard cutouts. Unable to attend games in person, diehard fans are ponying up $20 to $30 to have their photos printed out and affixed to the seats at Korean baseball games, German soccer matches, and more.

In the age of COVID-19, fake guests have become one-off oddities at restaurants and high school graduation ceremonies. But in the sports world, cardboard fans could be a game changer.

Major sports leagues are finally announcing their return. The NBA is gearing up to finish out its season in Orlando starting on July 31, MLS returns on July 8, the National Women's Soccer League kicks off on June 27, and the NFL is still hoping for a September 10 start.

The catch? Not one of these leagues will be selling tickets. Exact numbers vary across leagues, but Georgetown professor Marty Conway estimates that ticket sales account for a considerable chunk of major leagues' income:

They can play in front of Barbie, Ken and other action figures for all I care. My Give-A-Shit meter is broken at the moment.
***
Several years ago a customer I was serving called me a c*cksucker. I politely responded, "That's Mr. C*cksucker to you." He hung up the phone on me. A couple of years later a customer called me an "asshole". My reply? "Well, you're a bigger asshole." And I slammed the phone down. At that precise moment, I realized I needed something more than a vacation. I needed a new profession.
Our society is slipping into the toilet. And there is enough blame to go around. Denial. It's not a river in Egypt.

So, go ahead and defund the police if you want. You will deserve the police you get and the community that results. I suggest you begin to place the blame where it belongs. Start with the family that neglects their children; the neighbors afraid to take any action when they see criminal behavior. Blame the preachers who care more about their collection plate then eliminating problems in their communities. Blame the aldermen who only worry about the kickback they get from the realtor looking to sell a property and the gang donations to their reelection campaigns. Blame the mayor who revels in the sense of power and the under-table money they make. Blame the judges who are more concerned with reelection then criminal justice. Blame the main-stream media who slant and bend stories to increase their own personal agenda rather than show journalistic integrity and report something accurately.

There is a long list of those that should be blamed and defunded before you ever get to the police. If you did, you might find at that point any problem with the police will probably have gone away.

I know I am preaching to the choir here. This needs to be read by civilians not worn officers who each day risk their lives, so pass this on. Share it on your Facebook page so your non-police friends might read it. More important stay safe. These are dangerous times.
How many blemishes does there have to be on a LEO personnel jacket before someone realizes that cop needs a new profession?
And just who protects the cops that need a different profession? More than likely it's the local union. However, that's coming to an end in Seattle.

One need not look far for a recent example. The death of Breonna Taylor prompted widespread outrage—the 26-year-old Louisville woman was shot 8 times in her home during a no-knock drug raid, all because police suspected a former boyfriend may have used her address to receive packages. Her then-boyfriend, Kenneth Walker, armed himself as cops barged into Taylor's home in the middle of the night, shooting an officer who he believed to be an intruder.

But the local police union didn't see the incident as a tragic drug raid gone wrong. It chose to focus its ire on a city council member who said Walker was within his rights to try to protect Taylor.

"This is the union's focus: not demanding justice for a woman killed by police in her home but demanding an apology from a local politician who had the temerity to praise a citizen for defending himself and his girlfriend during a botched police maneuver," Reason's Peter Suderman writes. "The union's goal, it seems, is to protect the police from public criticism, not to protect the public from bad policing. That's what police unions do."

The politics around police unions can be strange. Conservatives often decry public-sector unions as bulwarks protecting government employees from a barrage of necessary criticism and reforms. Yet Republicans seem to have an affinity for police unions, notwithstanding the fact that those groups are exactly what the party says it opposes: bulwarks protecting government employees from a barrage of necessary criticism and reforms.

Liberals, meanwhile, usually align themselves with such collective-bargaining groups. That's especially true when it comes to teachers unions, which often prioritize teachers over the students they serve. Yet in this cultural moment, Democrats been quicker to acquiesce to the idea that police unions need to go.
***

WTF?!? Someone has some 'splaining to do.

'Total disaster': Phantom billions plunge Wirecard into chaos


FRANKFURT/MANILA (Reuters) - Wirecard said on Monday that 1.9 billion euros ($2.1 billion) it had booked in its accounts likely never existed, a black hole that threatens to engulf the payments company and tarnish the reputation of Germany's financial watchdog.

The one-time investor darling is holding emergency talks with its banks, which are owed roughly 1.75 billion euros, to avert a looming cash crunch triggered by the missing money.

The episode marks a dramatic turn in the fortunes of a homegrown tech firm that attracted some of the world's biggest investors before a whistleblower alleged that it owed its success in part to a web of sham transactions.

Wirecard said last week that auditor EY had refused to sign off its 2019 accounts as it was unable to confirm the existence of 1.9 billion euros in cash balances in trust accounts, about a quarter of its balance sheet.
***

Who can defeat President Trump in November? Joe Biden? George Soros? What about the Doc who sings a new tune everyday, Anthony Fauci?

The single biggest threat against President Donald Trump's reelection in November isn't unhinged liberals out for blood, a hostile media or even a politicized U.S. Supreme Court; it's Dr. Anthony Fauci, the top infectious disease adviser on the White House Coronavirus Task Force.

If he's not reined in, then he may succeed in making Trump a one-term president.
***

NSFW-Language
***

Listen up single guys. The ONT Is Always Looking Out For You TM

Today in needlessly gendered nonsense: Women don't like cat guys.

A recent study from Colorado State University suggested that women are less likely to swipe right on prospective male partners if the dating app profiles of those prospective male partners feature a photo of them posing with a pet cat. In the study, women between the ages of 18 and 24 were shown photos of two different male subjects both with and without a cat. In both cases, the women tended to review the catless photos more favorably.

When shown the first cat-free photo of one subject, 38 percent of women said they were likely or very likely to casually date him, while 37 percent said they'd consider a serious relationship. Once a cat was in the picture (literally), his odds went down to 33 percent for both casual and serious dating, while the percentage of women who said they'd never go out with him rose from nine percent to 14 percent.
***
The ONT Musical Interlude
On this day: 22 Jun 1969
American singer, actress, Judy Garland, died of a barbiturate overdose aged 47, she was found on the floor of her rented Chelsea home, in London, UK. Made more than two dozen films, played Dorothy in the 1939 film 'Wizard Of Oz', sang 'Over The Rainbow' in the film, (voted the 'Song Of The Century' in a 2001 poll published in America). 1961 US No.1 comeback album 'Judy At Carnegie Hall'. via thisdayinmusic.com
&&&&&
Born on this day: 22 Jun 1948
American multi-instrumentalist, singer, songwriter, and record producer Todd Rundgren. Member of Nazz and Utopia. Had the solo 1972 US No.16 & 1973 UK No.36 single 'I Saw The Light'. Rundgren engineered / produced many notable albums for other acts, including The Band's Stage Fright (1970), Badfinger's Straight Up (1971), Grand Funk Railroad's We're an American Band (1973), the New York Dolls's New York Dolls (1973), Hall & Oates's War Babies (1974), Bat Out Of Hell's Bat Out of Hell (1977). via thisdayinmusic.com
***
No word if they were taught how to balance their checkbooks. Genius Award Winners.

CHILDREN stuck in lockdown were given ghoulish homework by their school — to plan their own funeral.

The 13-year-olds were asked to choose their favourite hymn and style of coffin.

They even had to choose what flowers would be appropriate for their memorial and draw up a guest list.

The bemused pupils were also told to decide whether they should be buried or cremated.

And they were asked to reveal where they would like to be buried or have their ashes scattered.

The religious studies homework was given to Year Eight pupils during lockdown by St Paul's Catholic School in Leicester.
***

If this country was afflicted with institutional racism I wouldn't be reporting on Tonight's Feel Good Story of The Day.

In an effort to help out a looted community, a Minneapolis middle school decided to hold a food drive. They expected a modest turnout, but what happened next was more than they could have imagined.

The thousands of donations were far beyond the 100 grocery bags the school had hoped to collect when they first published their appeal on social media—it was shared so widely that some of the donors even came from out of state.

"Donations covered every inch of ground of our parking lot, the grass, everywhere," Sanford Middle School Principal Amy Nelson told CNN. "We had to also use a neighboring park because we didn't have enough space here at the school to stack it up."
***

Tonight's ONT has been brought to you by Priorities.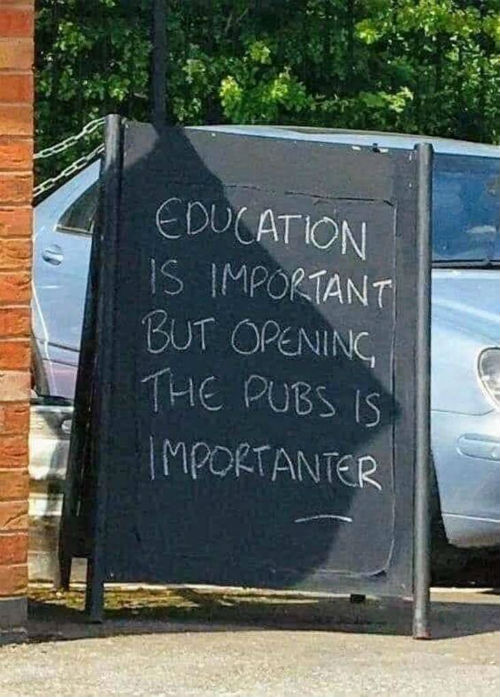 Notice: Posted with permission by the Ace Media Empire and AceCorp, LLC. No shoes, no shirt, no pants, no problem.


posted by Misanthropic Humanitarian at
10:05 PM
|
Access Comments