« Monday Overnight Open Thread
|
Main
|
Mid-Morning Art Thread »
June 16, 2020
The Morning Report - 6/16/20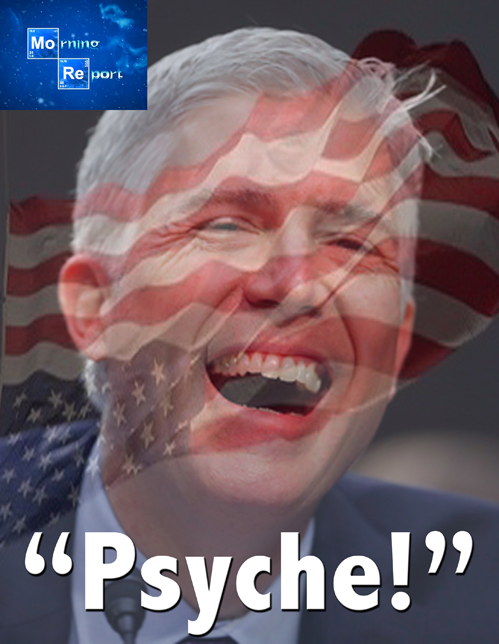 Good morning, kids. We've tasted the rainbow of flavors that hate-shakes come in; rapid-setting cement, ground glass and now as three NYPD cops found out, Clorox which was so magically delicious it sent them to the hospital. Yet here's one that really knocked us for a loop.
... In Bostock v. Clayton County, the majority informed us that the interpretation of Title VII of the 1964 Civil Rights Act, held unchallenged between its enactment and the year 2017, was, in fact, erroneous. The statute's prohibition against employment discrimination on the basis of sex, Gorsuch told us, extends to "sexual orientation" and "gender identity."

This isn't textualism. It's ivory-tower liberalism. And it's completely at odds with the Supreme Court's longstanding dictum that Congress, in drafting statutes, won't inscribe a hidden meaning in otherwise plain language: As Justice Samuel Alito sharply noted in dissent, "sex," in 1964, meant biological sex -- man and woman -- not orientation and certainly not subjective gender identity.

The tangible results will be harrowing. Following Bostock, can a Catholic school deny employment to a teacher whose sexual lifestyle blatantly flouts millennia of Catholic moral teaching? Can an Orthodox Jewish day school refuse to hire a male teacher who self-identifies as a woman, contravening traditional teaching rooted in Genesis?

Speaker Nancy Pelosi tried to enact much of this agenda legislatively in 2019 with the so-called Equality Act -- and failed. All it took was a Republican justice to impose it - nationwide via judicial fiat...
Neil Gorsuch. I would have thought Kavanaugh would've been the one to betray us (beginning to sound like the dialogue from the Corleone funeral scene), but Neil-fucking-Gorsuch. Frankly, the situation was probably always in doubt with Cheap Justice Julia Roberts, but something is very wrong when the guy who was tapped to take Antonin Scalia's place pulls this crap. Was it the vetting? Was he threatened or blackmailed? Who knows, and who cares. The damage is done. And it's significant; as significant as firing people who question Leftist orthodoxy on campus, in Hollywood and in the workplace, and even as significant as government-sanctioned persecution of orthodox Jews in NYC, incinerated and looted business districts, abolished police departments, and murdered policemen.
In giving a mental illness - one that affects at best a statistically insignificant portion of the population yet whose sufferers are nevertheless portrayed in the media as the second coming of Rosa Parks - legitimacy as a civil rights class, Neil Gorsuch, and his co-conspirator John Roberts, tore away at the fabric of society, the protections enshrined in the First Amendment of the Constitution and perhaps the Constitution itself. As bad as tearing down statues, renaming streets and buildings, and brainwashing our children to hate their heritage and birthright may be - and they are bad - the highest court in the land just put the stamp of legitimacy on pure evil. What those two clowns don't even realize that, to paraphrase Vlad Lenin, buying the rope with which they will eventually be hanged.
I'll leave it with this observation. There is a very big difference between the words "tolerance" and "acceptance." We are and always have been a tolerant society. Yes, our history sadly has episodes that grossly belie that statement. But those are failings of people not living up to the standards, not the standards themselves. I have a number of homosexual acquaintances and colleagues whose friendship I cherish deeply and whom I would never think of hurting in a million years. That does not mean that I have to accept their lifestyle and choices. This is what's known in the trade as live and let live, a concept that is seemingly alien to most if not all people on the Left. It is we in the majority that get to decide what it is that we will accept and what we will tolerate, or not. That's not majoritarianism in the political sense. It is we as the society we have built into a nation over the past 244 years and more broadly as a civilization over the past two thousand that has evolved, rejecting that which threatens our cohesion and embracing that which advances it, always through trial and sometimes painful error, but nevertheless constantly moving forward.
And that is exactly what is at stake here in the US and really now in every civilized, free nation on the planet as the foot soldiers of g-dless totalitarian socialism and their allies in equally g-dless totalitarian Islam are on the march.
Don't believe me? Look what happened to Drew Brees, the 30-year career sports commentator (can't remember his name), J.K. Rowling, and on and on and on. Forget the letter of the law; if Gorsuch and Roberts think that the Left, whether it's the militant homosexual community and now weaponized transsexuals are going to respect synagogues and churches (not mosques) or businesses that are run by people of faith, get ready to bake that cake. Or else.
All of it, from this insane ruling to the BLM terrorists and all the rest, is not about inclusion and diversity. Just the opposite. It is about punishment and/or the eradication of political enemies with the thinnest of gossamer veneers of "justice," real or social as the case may be. Eradicate the family, eradicate biological norms, eradicate society, eradicate anyone or anything that stands in the way. Wipe the slate clean and declare Year Zero. Gorusch and Roberts just gave them the green light, and a nuke.
Now on to the rest of today's meshugas.


CIVIL WAR 2.0: LEFTIST REIGN OF TERROR, CRIMINALITY
Black on black and worse for the media: black on black cop.

NOTE: The opinions expressed in some links may or may not reflect my own. I include them because of their relevance to the discussion of a particular issue.
ALSO: The Morning Report is cross-posted at CutJibNewsletter.com if you want to continue the conversation all day.
Follow us on Twitter: @CutJibNews


posted by at
07:31 AM
|
Access Comments