« Tuesday Overnight Open Thread (6/9/20)
|
Main
|
Mid-Morning Art Thread »
June 10, 2020
The Morning Report - 6/10/20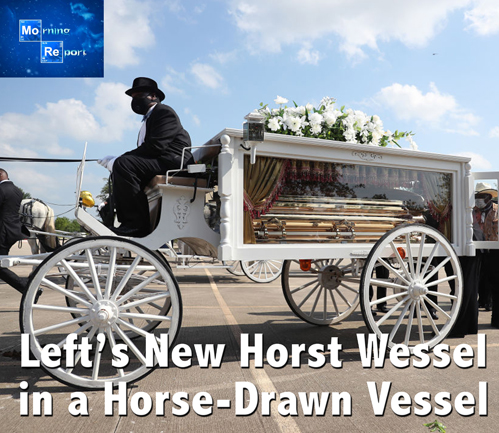 Good morning, kids. Wednesday and the madness continues. Adding to the bloodiest day in Chicago since 1961, Los Angeles is reporting that the over two-week wave of terror that has ripped through Democrat-controlled cities has resulted in a massive spike in murders and other violent crime. Waiting for the media to add the word "unexpectedly" to the headlines. If they report it at all. Meh, they'll blame Trump, white people, Jews, capitalism and the fact that Robert E. Lee's statue is still standing on the other side of the country. But why even wait for that? An entire Seattle police station was literally surrendered to Vanilla ISIS, otherwise known as Antifa, who then cordoned off the area and effectively seceded from the United States.
And the spike in the bloodletting is with Chicago's and LA's police departments yet to be abolished, and still supposedly patrolling the streets. Well, the writing is on the wall. Or in the case of DC, Charlotte and now New York City on the streets: the ebonic hakenkreuz otherwise known as "Black Lives Matter." And woe betide any infidel who dares criticize it, let alone let their feet tread upon the new holy-of-holies. Recall what happened last week to the poor woman who committed the apostasy of erasing similar holy relics, aka graffiti, from a building in DC. Along with the mass, and frankly understandable, retirement of NYPD cops and probably every other major Dem stronghold, will what happened in Seattle play out elsewhere, and not just in a precinct or two but entire cities? And even without the messy process of having to pass legislation to do it?
All things considered, the situation is very much in doubt.
America went insane over the weekend. That's barely an overstatement. People in their 80s who have lived in the U.S. all their lives said they've never seen anything like it. Ask an 80-year-old.

This was without precedent in the modern era, a small group of highly aggressive emotionally charged activists took over our culture. They forced the entire country to obey their will. It all happened so fast and with such ferocity that virtually no one resisted it.

People seem bewildered, even stunned by what was happening. Statements of fact and opinion that were entirely within the bounds of reasonable conversation just last Sunday, suddenly, a week later, were enough to get you fired from your job and a number people were fired...
The use of terror in and of itself to seize power by force of arms is not the strategy. That will never work. The strategy is to use terror to make you "take a knee" and hand over the keys to the kingdom without firing a shot. And Vanilla ISIS and Black September Matters are a hell of a lot more powerful than fists, bricks, Molotov cocktails and even firearms. When Jeff Bezos flat out states he doesn't care if conservatives never patronize Amazon again, he is stating that comfortable in the knowledge that what he and his cronies are doing is forcing his competition out of business so that there is no one else you can patronize. And what a coincidence - when the terrorists burn down and loot entire central business districts, Amazon becomes the only alternative. How convenient.
Or try getting and holding a job, or getting a contract and generating business, in or with a company that is "down for the struggle." Bad enough being purged from Facebook, Twitter, YouTube and all the other social(ist) media platforms. Even if you stay silent, it's easy enough to look up your party affiliation via Google. And wait until the Chi-Com funded high tech "social credit scoring systems" software becomes fully Colossus: The Forbin Project activated.

A bit of a pickle we're in, wouldn't you say?


CIVIL WAR 2.0: LEFTIST REIGN OF TERROR, CRIMINALITY
Latest chapter in Project Veritas undercover video exposes the gun-wielding element of the Antifa terrorists, scum who killed California deputy posted threats before the shooting, LA homicides and shooting go through the roof - unexpectedly, George Floyd "funeral" about as peaceful and dignified as you'd expect, Republicans nowhere to be found after Trump speaks about the dubious nature of the senior citizen "protester" who taunted the Buffalo cops, Vanilla ISIS seizes a Seattle police station and sets up its own no-go zone all without the cops firing a shot, NYPD cops see the graffiti on the walls and retiring in droves, werewolf-looking ignoramus Al Green hot and horny to set up Stalin-like show trial inquisitions where we beg for our lives, as DeBolshevik flip-flops harder than a tuna on a pitching trawler deck, he okays giant BLM to be painted on streets in each borough, NYPD PBA chief with impassioned plea, the subhuman cancer that killed David Dorn never served a single day of a seven-year prison term - yay, criminal justice reform!, and unknown miscreants setting fire to American flags in SoCal. This is what is known in the trade as a "metaphor."
NOTE: The opinions expressed in some links may or may not reflect my own. I include them because of their relevance to the discussion of a particular issue.
ALSO: The Morning Report is cross-posted at CutJibNewsletter.com if you want to continue the conversation all day.
Follow us on Twitter: @CutJibNews


posted by at
07:50 AM
|
Access Comments