« Monday Overnight Open Thread (6/8/20)
|
Main
|
Mid-Morning Art Thread »
June 09, 2020
The Morning Report - 6/9/20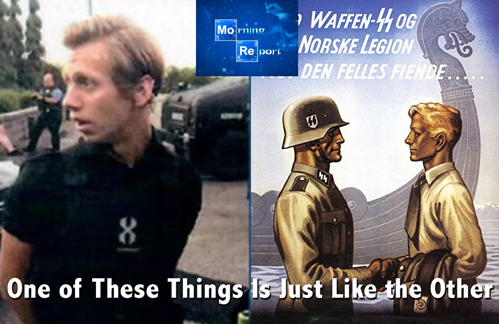 Good morning, kids. Tuesday and the beat goes on. More "protests" as well as some out and out violence and mayhem. The big story is this Leftist push to neutralize or outright abolish police forces. On the face of it, it's absolute madness; as I stated yesterday the initial free for all that would ensue would bring about the immediate imposition of some sort of martial law. But it would not be enforced by what we would consider normal police or military forces. The ones with the guns will be, you guessed it, the ones who caused the violence and mayhem leading to the downfall of law and order, due process and ordered liberty. They will be dressed in all black, perhaps wear leather coats and berets in solidarity, so to speak with Bobby Seale and Huey Newton, and will enthusiastically enforce their capricious whim on anyone and everyone unfortunate enough to be in an area they control. That means up to and including summary execution for the slightest infraction, such as not kneeling fast enough or even not kneeling at all. Meh, I'm just a conspiracy nut. To paraphrase Sinclair Lewis, that can't happen here, right? I wouldn't bet on it.
Speaking of black-clad droogs, take a gander at the cancer the cops arrested for torching the Minneapolis police precinct. Funny how an "anti-fascist" champion of oppressed blacks looks like he stepped off of a Waffen-SS recruiting poster. The black body armor, duty belts, cuffs, baton, and knife stolen from the precinct he napalmed added that extra je ne sais quoi to the look as well. Somewhere in Hell, Hugo Boss must be drooling. If G-d forbid this madness does indeed consume much or all of the nation, it will be entertaining to see how the intersectionality angle plays out between Black Lives Matter and Antifa. That is if we live through the insanity going on now.
That said, I think we will. Don't get me wrong; America is at a crossroads and thanks to the poisonous rot that has infected at least a generation or more of America's youth, now all grown up and in every walk of life, deprogramming tens of millions of people won't be easy. Yet, despite the madness in front of us, the Democrat-Media Complex cannot fully conceal the growing levels of disgust and feelings of betrayal by Blacks, Latinos and other core constituent grievance groups that traditionally vote for that party. Of course, far too many will continue to reflexively do that, as well as more affluent, middle class Dems who suffer from "Dershowitz Syndrome." But President Trump's election has resulted in so many masks falling and curtains being pulled back to reveal the ugly truths many didn't see and too many others refused to see.
In terms of the tactical political situation, whatever the phony pandemic lockdown didn't do in terms of pissing people off, watching Democrat hell-holes burn at the hands of terrorists and thugs I think will make a huge difference in sealing their fate come November and ensuring a Trump victory. And with Biden already coming out against the defund movement, his problematic VP picks divided on the issue, and "mainstream" Dems mum or taking the "splunge" position, they know they are in deep trouble. Just another indicator of the deep split within that party. Oh, they'll still cry "racism" and "police brutality," but the difference - as has always been the difference these past four years - is Trump placing the blame good, hard and loud at the stinking, purulent feet of the Democrats.
And now that Trump is going to hit the campaign trail again in the next couple of weeks, it will be interesting to see if he dares go to any Democrat-controlled states. Obviously, the BLM/Antifa terrorists will not stand for it, nor will the politicians who control those territories. But as Trump himself told minority voters four years ago, what has he got to lose?
"Interesting times" for sure. As the late great Dick Winters told his troops "hang tough."


CIVIL WAR 2.0: LEFTIST REIGN OF TERROR, CRIMINALITY
The Feds announced an arrest in the arson of the Minneapolis police station. Make him talk and cough up some names. AG Barr, this is war. Start rolling these bastards up and don't stop until Soros, Creamer, Fithian and whoever else is funding and fomenting this is on a one-way trip to Gitmo, or Leavenworth.

Also, White House praises National Guard "surge" in DC, despite Guardsmen who were deployed pelted with bricks and urine, it is hateful that some of them along with cops actually prostrated themselves before the terrorists. Turns out that poor peaceful old man who Buffalo cops knocked to the ground is a professional anti-American agitator and the evidence seems to suggest the cops acted appropriately. Also, the scumbag who killed retired police captain David Dorn charged with murder.

In the race to destroy our society and hand it over to the barbarians - also known as the call to defund and abolish police departments - NYPD's commie stooge commish backs the commie stooge mayor's plan to shift funding to social justice garbage accounts that can easily be pilfered by the usual suspects, Minneapolis' city council president spouts total idiocy when asked "who you gonna call?" if your house is being broken into, House and Senate Dems stage a disgusting stunt wearing black power talesim and kneeling before introducing some monstrous "police reform" bill. Of course, Malig-Nancy Pelosi not being able to get up is the perfect metaphor for the Democrats. Black-clad thugs burning cities is something a very large swathe of America does not want anywhere near them.

It turns out that, media attempts to bamboozle or hide the facts notwithstanding, long-suffering minority residents of those cities - suffering at the hands of Democrats for decades, that is - are enraged as well. Chicago just suffered its worst murder spree in 60 years and fish-faced enemy of the people Lori "Light in the Loafers" Lightfoot got into an obscenity-laced tired with a Latino alderman who is horrified by her incompetence and inaction that has left his already devastated constituency in ruins and in further peril from AK-47 armed gang-bangers. Also, Brevard County, FL has extended the welcome mat to the 57 Buffalo cops who resigned in protest over their colleagues' disciplined for that dust-up with the professional agitator, West Hollywood issues guidelines for white people before BLM protestors march through, debunking the "anti-fascist" moniker of Antifa, bad as the rioting and mayhem are, it's the nefarious political ends they force on us via the so-called protesters when we cave to them, and a look at the surprise! German roots of Antifa. See above photos...
NOTE: The opinions expressed in some links may or may not reflect my own. I include them because of their relevance to the discussion of a particular issue.
ALSO: The Morning Report is cross-posted at CutJibNewsletter.com if you want to continue the conversation all day.
Follow us on Twitter: @CutJibNews


posted by at
07:44 AM
|
Access Comments