« Sunday Overnight Open Thread (6/7/20)
|
Main
|
Mid-Morning Art Thread »
June 08, 2020
The Morning Report - 6/8/20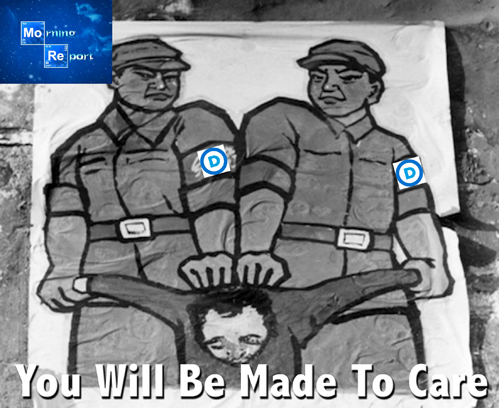 Good morning, kids. Monday and there are several disturbing things on the insurrection front happening that are bad enough individually, but taken together are painting an alarming picture. The insane defund/abolish the police angle that was actually being pimped even before Tet Offensive 2: Overthrow America Boogaloo has now escaped the asylum. The Minneapolis City Council is claiming that it actually has the votes not just to defund its police force but to abolish it entirely. Of course, they say they're going to replace it with... something:
... "We recognize that we don't have all the answers about what a police-free future looks like, but our community does. We're committing to engaging with every willing community member in the city of Minneapolis over the next year to identify what safety looks like for you."
I guess this is the Malig-Nancy Pelosi gambit of we have to abolish the police force before you know what the consequences are. But just like with Obamacare, they know full well what the consequences will be. It doesn't take a Dick Tracy to figure it out either. For sure, there will be murder and mayhem galore, but that's not the endgame. Because "what safety looks like" to them is a city that resembles a North Korean or Chinese gulag. Think of it as the ultimate safe space. Safe for every Leftist nightmarish policy to strangle free speech and whatever is left of free enterprise into submission. Remember back to the halcyon days of the early Obama Reign-of-Error, when his minions spoke of replacing the Defense Department with some sort of Internal Security Agency, the one that was supposed to have double the DoD's funding. I remember half-jokingly remarking that its cadres would no doubt be made up of the Bloods, Crips and El Ruqns. And here we are today. I imagine Robert Creamer is waiting in the wings with binders full of Antifarians.
Hold that thought for a moment as we delve into the second disturbing element. As policemen have been assaulted, grievously injured and in at least two instances killed while attempting to defend life and property, or cowardly ambushed and assassinated, we have witnessed far too many of them and even National Guardsman bowing down before their assailants. See the links to the chief of Webster, MA lying prostrate or the bizarre anti-Christian irreverence of NC cops washing the feet of black clergymen. Yes, as we all know, the police are problematic but they are the only ones standing between us and the barbarians. And certainly not all are bad or corrupted, and as former NYPD top cop Bernie Kerik points out hundreds have been injured in the mayhem and hundreds more are likely to hand in their badges. But that raises the question, which ones will be on our side and how many more will become the tools of repression wielded against a terrorized citizenry in a "reorganized" Leftist-controlled police department?
Lastly, and perhaps most troubling of all is, as horrible as what Antifa and BLM have wrought is not really the instrument that potentially will bring us to our knees. The trump card, so to speak, is the absolute power over our lives that the so-called "woke" corporations have. Oh, we can live without Dick's Sporting Goods or the deviant pornography that now bears the name of Walt Disney or even Target. But the tidal wave of mass insanity is sweeping across the land and infecting companies large and small. It's only natural. The people who sit on corporate boards are now of an age and younger that have had their brains fully washed and lobotomized by Indoctrination Inc. And any holdouts with our mindset will be driven out by younger, "woke" employees if they are not down for the struggle, as it were. Last week, Tucker Carlson devoted much of one program warning about big corporations profiting off the riots, insofar as burning out the competition is good for business.
When blue city downtowns as well as main streets in the smaller burgs and towns are burned to the ground by fire or corporatist greed, people are left with fewer and fewer choices on who to buy from. And from whom they can draw a paycheck. You can criticize Drew Brees and his wife all you want, but there aren't many of us that have millions in what is colloquially known as "FU money" to be immune from the Cultural Revolution. This is the ultimate endgame of "you will be made to care."
So when you put all of these things together, no matter the fact that upwards of 200 million of us have probably double that number in weapons and ammunition. As the saying goes, when you've got 'em by their wallets, their hearts an minds will follow.


CIVIL WAR 2.0: NATIONAL RIOTING/INSURRECTION
With order seemingly restored to the nation's capital for now, the President has ordered the National Guard to stand down there, elderly man attacked for heinous crime of holding a pro-Trump sign is personally consoled by PDT, Santa Cruz cop slain in domestic terrorist ambush, terrorist threatens to incinerate NYC's famed Diamond District (where's the JDL when you need them), subhuman animal who gunned down hero David Dorn nabbed; no doubt the St. Louis DA will release him and apologize for the inconvenience, and with the poor man not even cold in his grave, his alleged brother officers around the country are defecating on his memory, "tolerance for criminality and political sabotage has led America into one of it's darkest moments in decades. Do we have the will to unite once more?", dangerous signs on the road to the White House, David Horowitz with "the origins of the violent racist organization behind the riots" and his Discover the Networks gives the rundown on Antifa, MLK's niece disgusted with the Leftist racialism, Black Georgia trooper refuses to kneel to the terrorists and I bet he'll suffer one way or another, Dallas cops are still doing their duty, all this bullshit about looting only luxury stores is total bullshit as one poor Bronx business owner can attest, with Minneapolis now looking like Dresden in '45, that is our fate if we cannot stop this, Chuck De Caro has some good ideas for business owners but these days, they'd be prosecuted for harming the looters, Seb Gorka says Haw-Haw Mattis not just wrong but "a moral coward," "the unelected parts of the government, including the military, are revolting against the electoral control by the people enshrined in the Constitution," "whatever the former defense secretary's motivations for speaking out now, his hypocrisy is on full display. It is well past time he retired from public life entirely," the great Shelby Steele rips the Black Lives Matter fraud, and finally, Victor Davis Hanson asks "is it deemed more or less evil to wear a mask while hitting a store owner over the head with a two-by-four?"
NOTE: The opinions expressed in some links may or may not reflect my own. I include them because of their relevance to the discussion of a particular issue.
ALSO: The Morning Report is cross-posted at CutJibNewsletter.com if you want to continue the conversation all day.
Follow us on Twitter: @CutJibNews


posted by at
07:59 AM
|
Access Comments