« Saturday Gardening and Puttering Thread, Wild Things [KT]
|
Main
|
Saturday Afternoon Chess thread 06-06-2020 »
June 06, 2020
Ace of Spades Pet Thread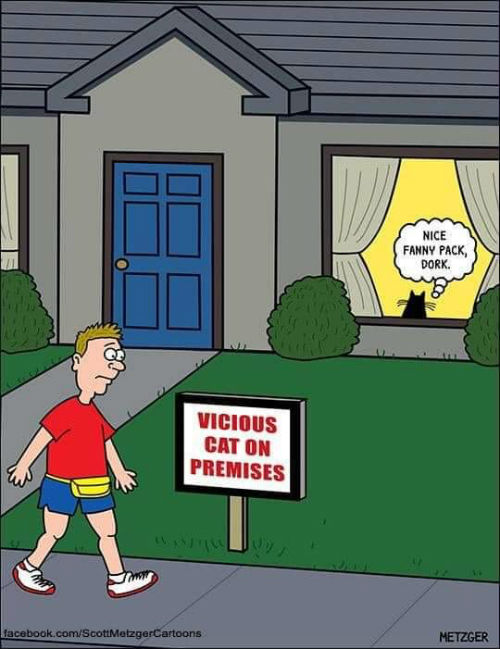 ***

Hello Morons. Welcome to the almost world famous Ace of Spades Pet Thread. Take a load off and enjoy the world of animals.
While we are enjoying the world of animals, let's leave the news and current events outside the front door.
***
A Little of This. A Little of That.
(H/T Miley)
***
Meet The PetMorons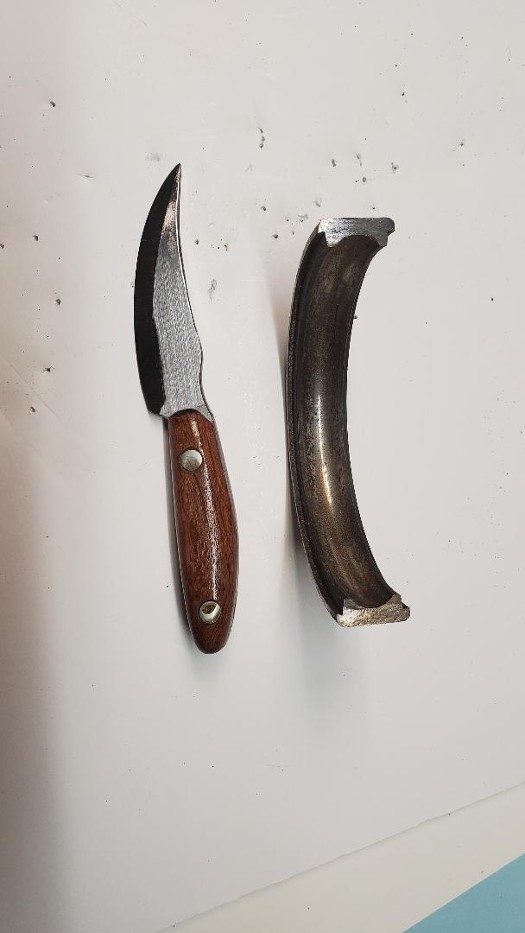 Kneel before the cute.

Picked him up yesterday in Mississippi (also did the Faulkner gravesite and Rowan Oak residence visit--just the grounds, entry not permitted). Heading back today. Canis Zod Sr. is unaware that she's about to have a little brother to boss around.

Carpe Canis--Seize The Dog!

Who walks on paws observes the laws
of rowdy play and dog-romp folly--
Beagle, mutt, or thin-faced collie
To every canine comes the rule:
Don't snap, don't jump, don't act the fool--

'Mongst other dogs who are your betters.
Whose owners long have used the letters
AKC to their canines ascribe
A higher class of the dog-tribe.

Nose-to-tail is the doggish grace
(not so unlike the human race);
To ken your kin and to be known.
By smelling hinds and licking faces
The dog observes its doggish graces
Their own dog-whistle, their own dog-phone:
"I'll please mind yours, please mind my own."

For us, the owners of said hounds,
As duly, daily we make the rounds
Bagging their leavings, keeping vigil
At the slightly-smelly unkempt dog-temple:

'Tis clear to him who is observant--
Who is the master, and who the servant.

Paul
Cute puppeh. How is the home life? Shoes and furniture still all in one piece? The joys of cuteness bring much responsibility. We appreciate your submission today.
***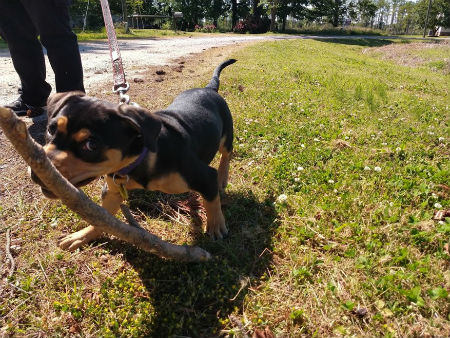 My sister-inlaw managed to get a decent picture of Annie Apple "helping" with removal of wind debris. It happened to be on the 90 day mark of Annie's life. Now if I could get Annie to bring the sticks to a burn pile this might be a money maker. Annie however thinks all the sticks are her chew toys. Is there such thing as a beaver Rottweiler mix? - Big V
Look at those adorable eyes. Those eyes say "I'm a big helper Big V." I believe you have the first Beavweiler mix.
***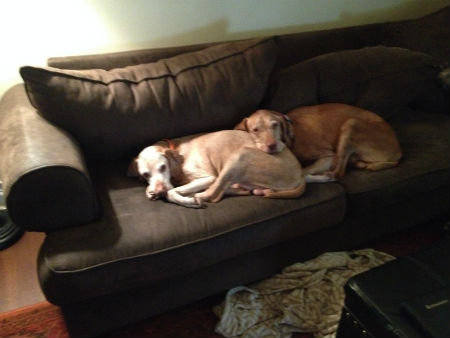 Here are some pics of my pals Django Sunshine , older dog that just passed,and Gibson younger dog passed in oct '19. Gibson was named by breeder after the drink. I liked the name because I love Gibson guitars that have a big full tone, so it fit - Matt
Well those two dogs certainly appeared to have been the best of friends. So sorry to hear they have passed. It must be awfully quiet around the house. Thanks for sharing.
***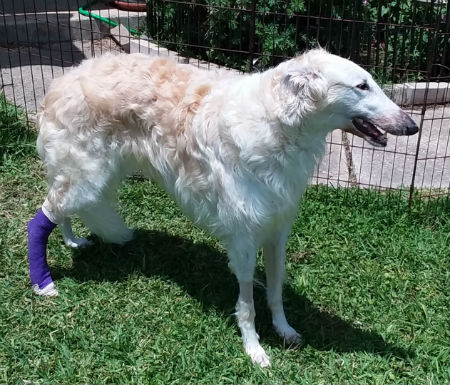 This is Dutchess, our hard-luck 4-year-old Borzoi girl, in her exercise pen.

She's had nothing but troubles all her life. She developed epilepsy at 18 months, was bitten by a water moccasin, had a urinary tract infection, got bromine poisoning from her medication that made her a near vegetable and most recently broke her hock, requiring 12 weeks of confinement.

For all this, she's a bright, merry little girl. She asks for nothing except a little affection (and her dinner at 7:00). And anything she gets she returns tenfold. There's a lesson there for us bipeds. - Hadrian the Seventh
Wow, Duchess has had a string of bad luck, but clearly is loved by you folks. A beautiful animal with the disposition to match. Thanks for sharing with us today.
***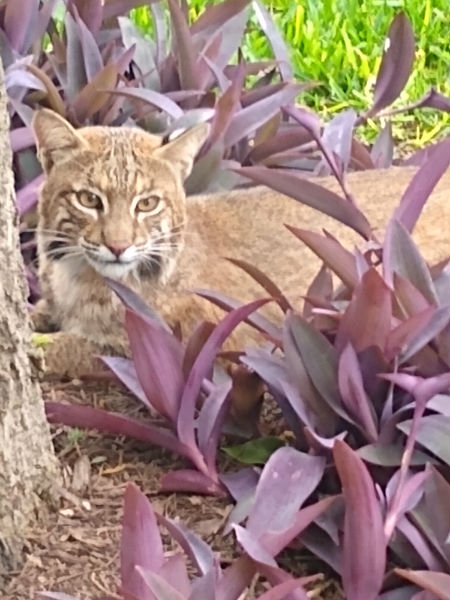 Hello there,

I live in North Texas, where it is not uncommon to spot bobcats out and about in residential neighborhoods. They usually come out under the cover of darkness, but not always. For example, this afternoon I was out walking my dog (who has an unusual respect for felines), and I spotted this beautiful kitty. He was a big boy - about twice the size of my pup, that weighs 16 lbs. The kitty was lounging under the tree, watching something above him (possibly a nest or some squirrels). He let me come up within about 6 feet of him and I was lucky enough to take a bunch of pictures of him with my phone.

I realize that this is a pet thread, and this is technically not a pet, but I did name him Bob (great name for a bobcat) and he was just lovely.

Thank you,
Mimi S (longtime lurker).
Yes, the thread is called the Pet Thread. But, we celebrate all animals including the wild ones that may visit your neighborhood. Awesome photo of this bobcat. Thanks for sharing with us Mimi.
***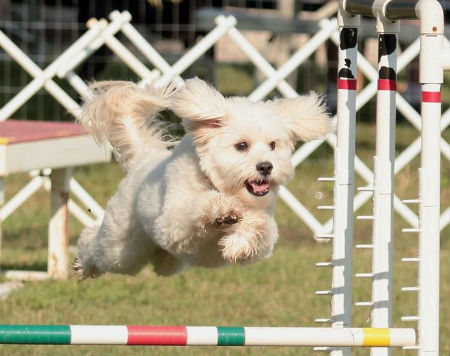 This is Murphy. Murphy defied a lot of expectations.

First, he was expected to run the streets until he got hit by a car and died. That's what his previous owners did to him - they put him out the front door when they decided to move to a place where he wasn't wanted. Fortunately, he was discovered by the director of the rescue group we were fostering dogs for. He was number two out of about thirty-five foster dogs to come through my home.

Second, he was expected to get adopted by someone pretty soon after he came to us. Well, no. I was informed by my other half that he wasn't going anywhere after about 48 hours. That was nearly ten years ago.

Third, he was expected to be a calm little house dog. Well, no. He had a habit of stealing things and running out through the dog door into the back yard with them. Particularly interesting was when he found my wallet and scattered all of my bank cards out in the yard. He calmed down pretty quickly after that episode; people who foster dogs will tell you that there is typically a behavioral adjustment period when mischief can be expected.

Fourth, he was expected not to do anything in dog sports. Well, no. After one of my Standard Schnauzers washed out of Agility, I put him in classes. He earned a lot of first- and second-tier titles before arthritis compelled his retirement, and was really a fun dog to handle in that sport.

Fifth, he was not expected to go very far in Barn Hunt. He used to just sit on the edge of the ring and look at me as if to say "I don't like this, I don't understand it, please leash me up and take me out." Well, no. After a bit of retraining, he earned a bunch of titles in that sport, and was well on his way to a championship.

Sixth, he was - as a mutt - not expected to be very smart. Well, no. I started a routine of giving the Schnauzers a very nice treat for coming in from the back yard in a timely fashion whenever they started barking and carrying on too much for the neighborhood standards of noise. Murphy learned fairly quickly that when the Schnauzers started making noise, he should go into the back yard, sit quietly and looking at the door, and wait for my signal - then he could come in with them and get a treat for himself as well.

Murphy started having trouble about mid-April. He just wasn't eating well, and seemed uncomfortable. After some confusion between our vet and the specialists, he spent about a week in the hospital and underwent a lot of tests. He went for about a week without eating anything at all, and just drinking a small amount of water. He was eventually diagnosed with multiorgan cancer, and given about two weeks to live.

We brought him home on Friday 4/24. He seemed to be happy to be home - his tail was up and his eyes were bright - but he just wasn't doing well, and he still wasn't eating. And I was trying home-cooked turkey meat out on him.

The next morning, we made the last trip to the vet and he died in my girlfriend's arms. His ashes came home with us on Monday.

Rest easy, Murphy. You really were a great little dog and I will miss you like crazy. - Mark
Do you know what I hate about being the Pet Thread Cob? It is reading the stories of such wonderful animals, the love you Morons have for them and their short existence on this vale of tears. Mark you gave Murphy one hell of a life.
***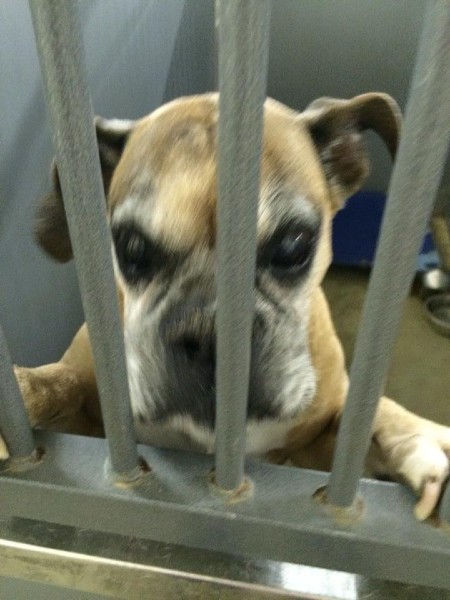 My Wuhan Harli (Pet Thread) Or not, as you will! But she's cute :) - Miley
She is cute Miley. How to do you keep that mask on her? Thanks for sharing this photo and the video.
***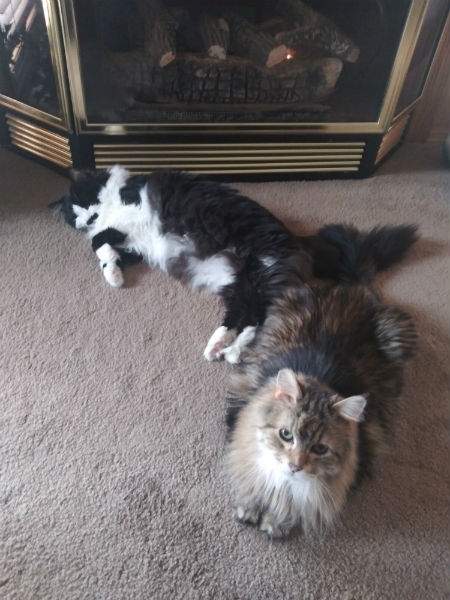 Good afternoon, Mis Hum!

I know you probably have loads of pics to put on the pet thread, but have wanted to post this pic of our indoor kitties for a while. These are Charlie (black and white Maine Coon,-16 yrs) and Andy (Maine Coon? -13 yrs) Andy is the talkative one, Charlie more subdued. We took in these bad boys when their owner (a friend of ours) needed to go to a Nursing Home last summer, and they were at the vet's office for about 6 weeks before we got them. They had never lived anywhere else. Unfortunately, she was unable to leave the home and passed away about 2 months after she got there, but she was able to learn from my husband that her kitties were being loved, cared for and spoiled by people she knew, so I hope that helped her anxiety. Initially, Charlie was very hesitant and shy, and hunkered under the bed down in the basement for 2 months until we slowly got him to come upstairs. We took it very slowly, and now he has settled in and is very affectionate and cuddly- and the boys hover around my husband when he gets home -(they could give a rip of I'm around or not!) They are ever so sweet and mellow, and I think Charlie got the name because of his cool black mustache (kinda like Charlie Chaplin, maybe?). They are both neutered an declawed, so are indoors all the time. As you see, they have it really tough.......Emoji

Love and enjoy the Pet Thread! - misslurk'ette
A rough life? Let's put it this way, if you ever want to take in a 29 year old Cob, please let me know. You and your hubby have big hearts and adorable looking kittehs. Thanks for sharing today.
***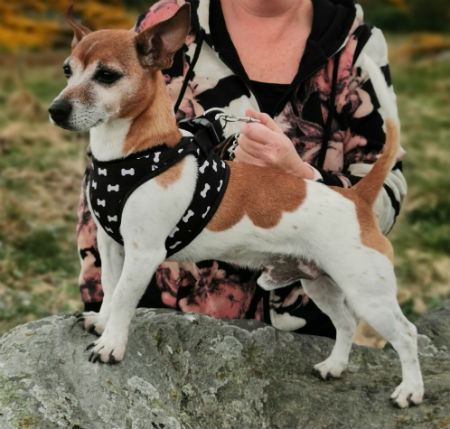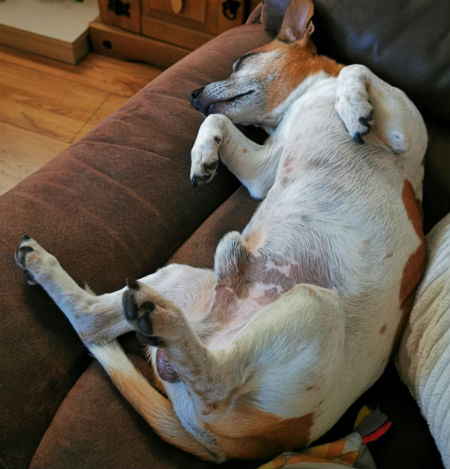 Hello Mis Hum from across the Atlantic in Northern Ireland from an Ulster Moron in the UK in an unnervingly sunny County Down. I post as Sir Ian Botham.
Just wanted to post a couple of pics of the true ruler of our house, Deano, named by my daughter after Dean Martin.
Deano is an autocratic eleven year old Jack Russell who when not posing like a runway supermodel while on a walk along the shore, is far more often to be found snoring and wantonly displaying his wedding tackle to all in sundry.
Which, to be fair, if I had a Hampton Wick a quarter the length of my body, then I'd be showing it off at every possible opportunity too. - Sir Ian Botham.

Ya know, we do try to run a family friendly thread here. But your descriptions were just too good to pass up. Your contribution today does give credence to the "all most world famous Pet Thread" claim. Thank you for sharing.
***

Well, that wraps up another Pet Thread. Thanks to all who contributed this past week. And thank you all for reading, comments and the encouraging emails.
If you have something pet or animal related you can submit to us here at petmorons at gmail dot com.
Have a great week!

posted by Misanthropic Humanitarian at
03:15 PM
|
Access Comments