« MSNBC's Al Veshi Denies There Is Any Rioting, But Will Allow "Some Fires Have Been Started," Including the Inferno Behind Him
|
Main
|
Julie Kelly: Chris Wallace and the Weekly Standard-ization of Fox "News" »
May 29, 2020
Trump Warns Rioters: When the Looting Starts, the Shooting Starts;
Twitter Censors Tweet -- Again!
Demented Suburban Empathy Mom Nancy French Reports Trump For "Threatening My Nation"
Even though Twitter censored Trump's post for supposedly "glorifying violence," rather than announcing a policy he was entitled to announce, Twitter has not yet censored Kathy Griffin's latest urgings that someone assassinate the President:
Twitter also continues allowing the Ayatollah Khameini to make threats against Americans -- without any cenorship or chiding about "glorifying violence."
Meanwhile, this sexually frustrated, spiritually unfulfilled bored cow of a sterotype of a useless, empty-headed housefrump continues Living Her Best Life on Twitter and playing Sheriff Karen:
All of this could be avoided if David French could just manage to achieve an erection for once in his useless c**k life.
The Frenches. Someone has to slap this hysterical bitch until she chills out.
And after you're done with David, move on to Nancy.
Meanwhile, Trump has a press conference upcoming.
Update: Charlie "3-Wives" Sykes agrees -- threatening to shoot looters is 1, racist, and 2, the foundation of the racist Republican Party.
Remember, he's a True Conservative! Send him some money so he can fight for Norms and Principles!!!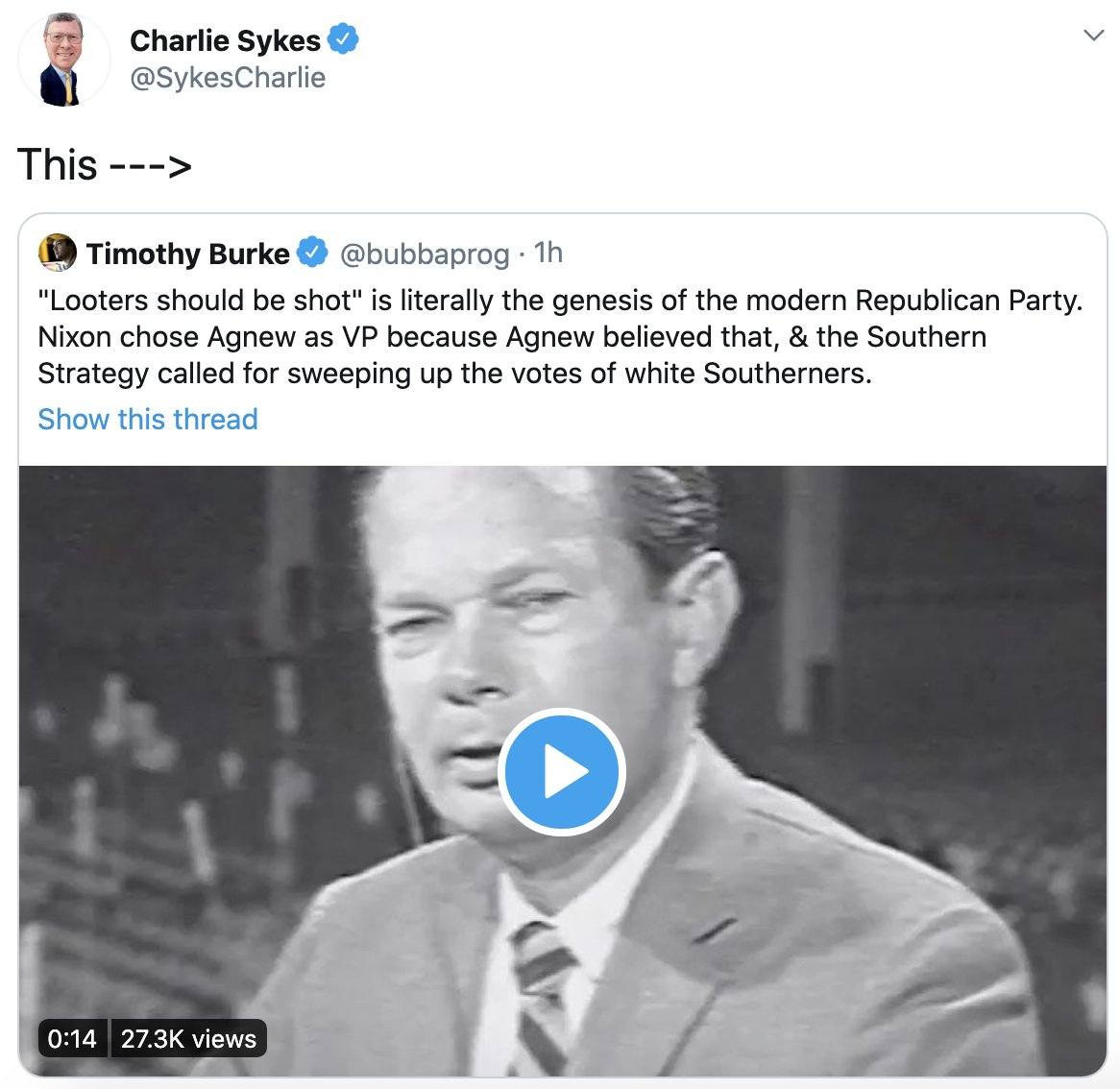 A friend comments: "I'm confused. I thought their beef with the GOP was solely what Trump had "done to the party"."
But now we find out that Sykes' split with the party traces back to... 1964. Before his latest wife's father was born.
(I assume.)
Update 2:

They're left-leaning urban cosmopolitan liberals and always have been. The only reason they were not previously Democrats is that they were taking money from major corporations and banks to protect them from the other Democrats' depredations.
I say we toss them all out -- including the major corporations.
They can get their carve-outs and special legislation from the Democrats they donate to and support in their corporate advertising and hiring.