« Wednesday Overnight Open Thread (5/27/20)
|
Main
|
Mid-Morning Art Thread »
May 28, 2020
The Morning Report - 5/28/20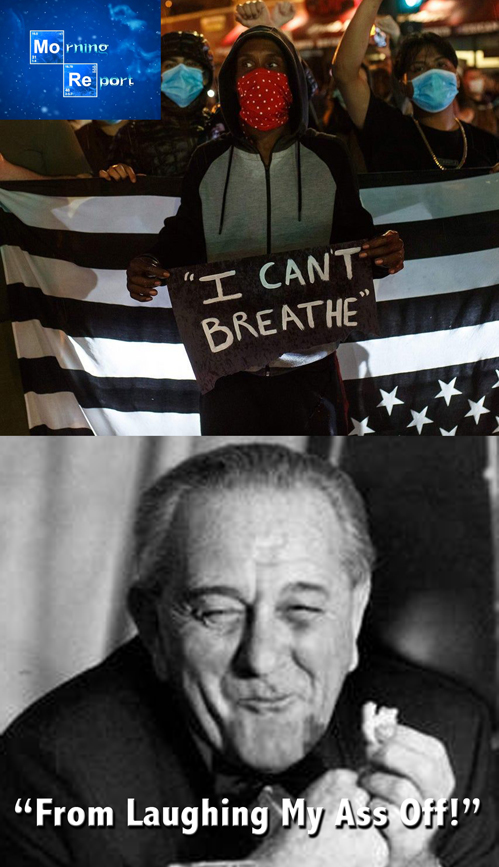 Good morning, kids. Thursday and another grim milestone of yet another day of America held hostage.
That said, the good news is for the first time in over three months, we are leading with something other than the General Tso's Sicken. The bad news is it's another incident involving the police killing of a black suspect, and more to the point the instantaneous reaction of thugs, miscreants, agitators and more tragically, black people who have been abused for 50 years by a political party and movement that have brainwashed them into believing they are their saviors. More on that salient point in a moment.
Evidently, George Floyd was in the process of being arrested by Minneapolis cops when in video footage he appears agitated, violent and by all appearances attempting to resist arrest. At some point though, one officer had Floyd face down on the ground, with his knee on his neck. Whether it was that or something else in the interim, the next thing we know is Floyd was taken to a hospital where he died soon after.
The rest is sadly predictable. As with Mike Brown, Freddie Gray, Eric Garner and others, Minneapolis erupted in rioting and looting, with copycat lunacy in Los Angeles where the freeway was shut down by "protestors." That's another thing: if you are breaking in and looting stores and setting fire to buildings, you are not protestors. You are thuggish animals that justifiably could be shot on sight to stop the mayhem. As for Floyd, there was a warrant out for his arrest and apparently he was wanted for fraud or forgery or some other pretty serious crime. That said, violent or not, I cannot see how it is correct police procedure to have your knee on someone's neck with your body weight pressing down on it. That said, this is getting into the weeds on some broader issues. I'll hit them as separate points that hopefully weave themselves together into a cogent observation in toto:
The Police and Law Enforcement:
Considering the actions of the FBI, DoJ, CIA and the President of the United States between 2009 and 2016 and after leaving office, it's kind of hard these days to reflexively take the side of law enforcement under any and all circumstances. That said, if you are wanted by the cops, if you are stopped by the cops, if you are arrested and cuffed by the cops, if you physically resist them you alone are responsible for the consequences, whether or not the reaction is justified. To not realize that a police officer's mindset when he is on the streets is akin to a soldier in a war zone is beyond stupid; it's gambling with your life.
Unfortunately, in the era of political correctness, which became absolutely out of control with the coming of the Obama regime, the caliber of police recruit was inversely proportional to the decriminalization of crime by Democrat politicians. After what was done to Darren Wilson in the "hands up, don't shoot" blood libel, one would have to be insane or desperate these days to want to become a cop.
A parting shot at both the institutional race-baiting Left and the police: funny how nobody rioted when Lori's Lightfoot Brigade pounded on the doors of a church to abuse and brutalize blacks for the heinous crime of worshipping G-d. It seems some black "victims" are more equal than others.
Black America and Crime:
The reason blacks make up a disproportionate percentage of the inmate population in this country is because they commit a disproportionate number of crimes. A salient point that is of course always overlooked is that most crimes committed by black perpetrators are far and away committed against black victims. The greatest myth is that incidents involving black deaths at the hands of police are rare but always generate the most media coverage. Meanwhile black youth are murdering each other by the dozen every week in America's inner cities and there's nary a peep.
But if one delves into the much-ballyhooed "root causes" the answer is relatively simple: Democrat Party politics and Leftist social engineering. After keeping Blacks in physical chains until the end of the Civil War, and then completely thwarting their integration into American society for another 100 years, Democrats feared permanent banishment to the political wilderness as Blacks slowly but steadily integrated and no more need for the welfare state. The Great Society/War on Poverty and the trillions extorted out of the American taxpayer built the greatest big government welfare state in history by grinding the bones of Black America into poverty, despair and disillusion - all while blaming America as founded, Republicans and Conservatives for their misery. And that beat goes on to this day. That is until President Trump's wildly successful policies gave them a peek at the man behind the curtain.
The Media:
As co-conspirators in the Democrat Party plan to destroy and capture the country, the media fans the flames of hatred and animus. Funny how their cameras are always where the rioting and looting are, and how they refer to the rioters and looters as "protesters" and how Neanderthal bigots like Al Sharpton are given status as "civil rights leaders" and slots on putative news networks to spew their inchoate racialism as valid news and commentary. Then there are the bromides like the NY Times' 1619 Project which, to add insult to injury, are awarded Pulitzer Prizes. It is to laugh. And weep.
By the way, if you think that rioting means an end to the lockdowns, think again. It only applies to the rioters. As Stephanie Rawlings might say, we need to give them space to destroy. The rest of us peons will continue to be beaten down until morale improves.


GEORGE FLOYD INCIDENT
Protests over Floyd death turn deadly, thugs go ape in LA (I guess he lockdowns are lifted, eh Noose'em?), PDT calls on DoJ to investigate, even with new footage, confusion reigns as does the usual violent protests against police, something for Charlamagne tha Asshole and blacks who always vote Democrat to ponder.
NOTE: The opinions expressed in some links may or may not reflect my own. I include them because of their relevance to the discussion of a particular issue.
ALSO: The Morning Report is cross-posted at CutJibNewsletter.com if you want to continue the conversation all day.
Follow us on Twitter: @CutJibNews


posted by at
07:30 AM