« Sunday Overnight Open Thread (5/24/20)
|
Main
|
Mid-Morning Art Thread »
May 25, 2020
The Morning Report - 5/25/20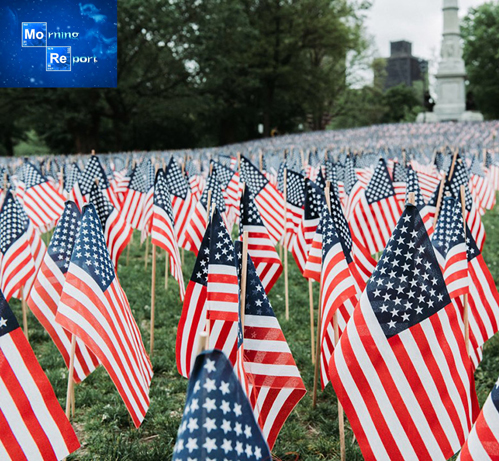 Good morning, kids. Today is Memorial Day. Now more than ever, remember those who gave their lives so that we may be free. I'll have another thread later in the day devoted to reflection and remembrance, but for now the beat goes on.
Monday, and another grim milestone of yet another day of America held hostage. As more real numbers and real evidence continue to show that the biological nature of the Beijing Blight - deadly as it was to some - did not warrant the strangulation of the American economy, the Democrat-Media Complex is now in a full-court press to smear, ridicule and otherwise dismiss said evidence and tighten the shackles. The goal is evident: destroy the economy to destroy the President's chances for re-election, and failing that, ram through a national vote-by-mail scheme as a backup plan to achieve the same result.
It's now evident that states and cities that either re-opened a few weeks back or, like Arkansas and South Dakota, never shut down in the first place did not experience the wave of mass death the Democrats predicted. The other big misfire in terms of public opinion is the citizens held hostage in blue state America are venting their anger, not so much at Trump but at the capriciousness and deadly incompetence of their own political leaders. It would be foolish in the extreme to predict that there will be a massive revolt come November; Trump Derangement Syndrome is mighty hard to overcome. But perhaps the anger and frustration of Democrat stalwarts like New York Congressman Max Rose not at Trump but at leaders in his own party cannot be discounted as a one-off:
...[Reacting] to de Blasio's announcement that any sort of reopening won't happen until June, Rose compared the NYC mayor's comments to those of "an elitist dilettante" who "does not understand the struggles of small business owners..."

Pointing out the irony of shoppers being allowed to visit large retailers but not small businesses, Rose speculated that, while de Blasio is likely looking at hospitalization numbers, he isn't paying attention to "the potential for a continued economic nuclear bomb to go off each and every week in New York City as our small businesses, our mom and pops die..."
The emphasis in that quote is mine, and it perfectly defines the Left's attitude towards private enterprise, the free market and the effects of big government bureaucracy that has been crushing the life out of small business owners for decades. The question is, will Rose and those like him ever put two and two together? Some do, many more don't. But perhaps there are silver linings to this self-imposed catastrophe. As I said, it's the citizens under the Democrat jackboot that are feeling put-upon as goalposts keep shifting and their lives and livelihoods, such as they were permitted to have in the cities and states they live, evaporate before their eyes. A not insignificant number are using this situation to depart for greener, that is "redder" pastures. We shall see if they bring their voting habits with them (sadly, a fair bet). Looking to November, the estimable Roger Kimball has this prognostication:
...Back in March, before the destruction of more than 30 million jobs and tens of thousands of shuttered businesses, before the missed graduations, and soaring suicide and drug-addiction rates, I wondered when it would be that people would cotton on to the fact that the real crisis here was not the disease but our politician-and-media fired panic over the disease?

For the past two months, the country has been on a moral bender, intoxicated by fear and panic. As with most benders, the aftermath will be painful. But the symptoms this time will not be nausea and headache but shame at our credulousness and rage against those who exploited it. Rage. Look for it in a neighborhood near you in the coming weeks and polling stations across the country in November.
Lift the lockdowns. Liberate America.


STRUGGLE FOR LOCKDOWN LIBERATION

NOTE: The opinions expressed in some links may or may not reflect my own. I include them because of their relevance to the discussion of a particular issue.
ALSO: The Morning Report is cross-posted at CutJibNewsletter.com if you want to continue the conversation all day.
Follow us on Twitter: @CutJibNews


posted by at
08:02 AM
|
Access Comments