« Tonight's ONT Ends With A Bang!
|
Main
|
Mid-Morning Art Thread »
May 22, 2020
The Morning Report - 5/22/20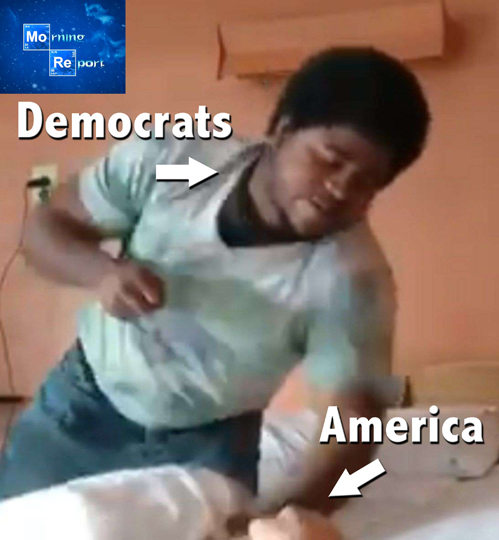 Good morning, kids. Friday, and another grim milestone of yet another day of America held hostage.
Some good news as we head into the Memorial Day weekend. A Michigan County Court Judge has smacked down Wretched Whitmer's illegal order to forcibly shut Owosso barber Karl Manke's business. Underboss AG Dana Nessel said the decision would be immediately appealed, but as of now his shop is open for business. I would assume that the decision applies to all businesses, not just Manke's nor just barbershops (legal eagles in the audience please weigh in on this). That said, I don't know the makeup of the state's Supreme Court but if a significant swathe of businesses decide to open, a Supreme Court decision to reverse the lower court could touch off a firestorm.
Meanwhile, real science, growing evidence and the will of the people be damned, the dead-ender denizens of the Democrat collective gubernatorial fuhrerbunker are still hell bent on destroying their economies as a means of defeating President Trump at the ballot box - or the mailbox. It's a fools errand and the consequences of their actions may not be what they expect come November and into the future. Along with the smack down of Whitmer, Illinois fat-berg JB Pritzker sensing political blowback has withdrawn his emergency decree criminalizing business owners although a GOP lawmaker was forcibly removed from the state legislature for refusing to wear the useless, idiotic facemask. Let's face it; the only use they have is to keep the public terrorized into believing that they will either die or spread death if they go without it; a not so subtle reminder to obey or die.
Trump totally gets this, which is why he refuses to wear one in public and did not relent while heading to the embattled state of Michigan on a visit to a Ford plant. This drew a puerile response from AG Nessel who shrieked that Trump was no longer welcome to visit the state. Paraphrasing Democrat hero and role model Josef Stalin, "how many divisions does Dana Nessel have?" Michigan remains the focus because of a horrifying attack by a 20-year-old nursing home employee - no doubt Democrat and an SEIU member - who was caught on video beating a defenseless, bed-ridden elderly patient. The metaphor is self-evident: Democrat-Socialism and America or tyranny and liberty. Meh, those are redundant. Naturally, when the President called attention to this atrocity, Evita Whitmer instead attacked Trump for defiling her royal majesty by not wearing a facemask at the Ford plant.
Meanwhile, as Tom Wolf spouts the idiotic line of no freedom until there's world peace or a vaccine, and Wilhelm Klink DeBolshevik suddenly finds walls and fences quite effective when it comes to denying New Yorkers the freedom to go for a swim, Florida's governor Ron DeSantis is coming up looking like a champ. His decision to open the state caused him to be blood-libeled as a heartless mass-murderer, but weeks later, with essentially no spike in deaths or infections, you get crickets from the Democrat-Media Complex. And he's having none of it. From a political standpoint, I think this bodes well both for Trump's second term (please G-d) and for the post-Trump environment. This three-month (and counting) fiasco has seen vicious attacks on conservatives and Republican political leaders and like DeSantis, more of them are no longer bending over and taking it the way that Dubya used to do. We still have a long way to go in transforming the GOP-e into more of a Trumpian party, but the phony pandemic lockdown might be the spark that ignites that transformation, or at the least kicks it into overdrive.
With the coming of Trump in 2016 came one of the most significant changes in the course of American, as well as world history. Hence the attempt to sabotage the election and overthrow the victor that continues to this day. The "pandemic" such as it is opportunism in service to that end. No matter what happens come November, we cannot go on as before and we will not go on as before. I think we are approaching one of those moments that Winston Churchill so eloquently described on the eve of the Battle of Britain almost exactly 80 years ago:
...But if we fail, then the whole world, including the United States, including all that we have known and cared for, will sink into the abyss of a new dark age made more sinister, and perhaps more protracted, by the lights of perverted science. Let us therefore brace ourselves to our duties, and so bear ourselves, that if the British Empire and its Commonwealth[e] last for a thousand years, men will still say, "This was their finest hour.
Three links in particular coalesce around the gravamen of my discourse:
The Three Blows to the New World Order
All the marbles, baby.
Lift the lockdowns. Liberate America.


STRUGGLE FOR LOCKDOWN LIBERATION

NOTE: The opinions expressed in some links may or may not reflect my own. I include them because of their relevance to the discussion of a particular issue.
ALSO: The Morning Report is cross-posted at CutJibNewsletter.com if you want to continue the conversation all day.
Follow us on Twitter: @CutJibNews


posted by at
07:43 AM
|
Access Comments