« LOL: The Atlantic Magazine Is Laying Off One Fifth of Its Employees; The Rest Will Get Pay Cuts, Supposedly
|
Main
|
The Morning Report - 5/22/20 »
May 21, 2020
Tonight's ONT Ends With A Bang!
Greetings Morons and Moronettes! How is your 2020 going?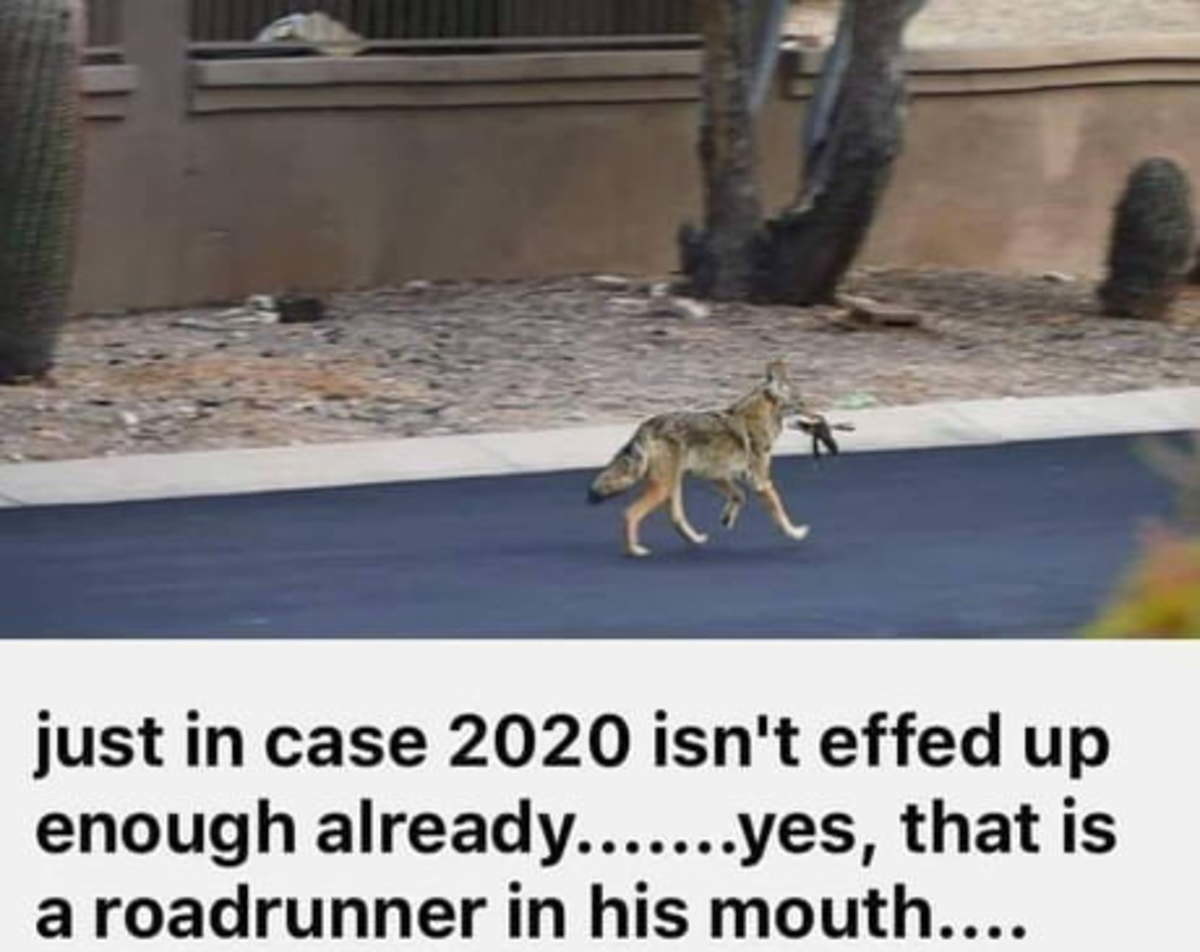 Seems accurate. So does this:

Back The Blue

I posted several weeks ago about how the brown shirt tactics being used by some cops around the country was eroding faith in the police, even among those on the right. Seems I am not alone in these concerns:
Of course, after this video surfaced, this officer was lionized for his courage, and held up as a shining example of integrity for his entire department. Nah, brah, I'm pulling your leg.

Seattle police officer suspended after slamming 'tyrannical' lockdown orders in viral video

Other Lockdown News

Gretchen Whitmer Allows Gay Swinger's Club to Operate While Barber Loses License

This right here completely exposes the fiction that these things are being done in the interest of the public health. If you're worried about the spread of a deadly virus, clubs where anonymous men have random sex with each other are the first places you shut down, not the last. It's the same with keeping abortion murder mills open and closing churches. This isn't about health or safety at all. It's about using the Wuhan flu as an excuse to destroy the cultural norms of the country in an attempt to replace them with something sick and evil. I've said many times that Ace has the wrong Mencken quote on the masthead.
The whole aim of practical politics is to keep the populace alarmed (and hence clamorous to be led to safety) by menacing it with an endless series of hobgoblins, all of them imaginary. - H. L. Mencken
Related:
Queerness: America's Post-Christian Gnosticism

The COVID-19 'Science' Is Starting to Scare Me
The good rabbi who wrote the later article hits at, but never quite directly states, the conclusion that my own historical studies have led me to: When used as a basis for public policy, "science" always* leads to the expansion of government power and control and a contraction of individual rights and freedom.
*In some rare – very rare – cases, this may lead to positive outcomes for the population, but in every one I can think of the trade off has occurred, and in every case the expansion/contraction dynamic has continued long after whatever limited public good was achieved. Example: Something like the EPA was needed in the early 70s (should have been handled by the states, but it was needed), but whatever good it accomplished back then is far outweighed by the bloated, bureaucratic parasite on the economy that it has since become.
Musical Interlude

Playing Politics
We're 6 months out from the election, but people are starting to produce political ads. Here are 2:
I particularly like the fact that the second ad uses Jon David's "American Heart". That song has always been a favorite of mine (I like this version better). I think it's high time that song had a resurgence. Funny thing is, this is the second time this week I've come across someone using it. Here's a country version: Filmmaker Creates Country Song that Rejects Fear, Remembers America in Pandemic.
On The Other Hand...
Goth Fonzie would like a word:
Not All Heroes Wear Capes

Afghan woman volunteers to breastfeed 20 babies after maternity ward attack

Farmageddon 2020

Last week's ONTs were a bit skimpier than usual, for which I apologize. We (myself, Gingy and Little) decided at the last minute to attend Farmageddon, an annual gathering of folks in Georgia to shoot guns, eat BBQ, and hang out drinking beer, and I didn't have time to write the ONTs before we left. We drove down in the RV, and I just want to take a minute to let y'all know what it was that took me away from my COB duties. In a word: It. Was. AWESOME.
First thing we did when we got to Georgia was wait while my wife got a mani/pedi. It was nice to be back in an America where things were open. When we got to the farm, we spent the first night hanging out and talking. The next day, it was time to shoot, and whoa Nellie was there a lot to shoot. We shot rifles. We shot shotguns. We shot pistols and sub-machine guns and a .50 cal Barrett. We shot tracers at homemade tannerite (which strangely enough was affixed to a Beto For President sign). We even shot 12 oz. cans from a "grenade" launcher. As an added bonus, one of the men there was a licensed private pilot with a Cessna 172 at a nearby field, and he took us up and let us fly it around for a bit. It was the kind of weekend that dreams are made of. Here's Little firing the .50. He hangs his head at the end there because we were shooting at a steel plate about 450 yards out and he just missed high. I had hit. :D
As awesome as it was to be a part of, I am even more humbled and grateful at the way everybody treated Little. Not only did he get the incredible experience of firing all those guns and flying the plane, but he was treated with respect by the men there, accepted as someone who belonged. He got to experience a weekend of American men doing American things and learned a little of what it means to be a man. That was more valuable than all of the other cool things put together.
I want to thank Bill for hosting, Claude for cooking spectacular BBQ, Jeff for bringing the .50 and letting everyone shoot it, ditto Scott with the class 3 license and the sub-machine guns (we fired a Sterling and a Swedish K, but he had a whole BOX of them). Rob was nice enough to bring tracer rounds and pass them out, and Jesse was particularly nice to Little, as well as making bacon-wrapped venison poppers which may be the best thing I've ever eaten. Matt was the pilot who gave Little an experience he wont forget. Hell, everyone there was fantastic, and I'd ride the river with any of them.
Oh, and a special shout out to Alberta Oil Peon who was generous enough to take a frantic call from me after I put new batteries in the RV on the way home and had an issue. He helped me straighten it right out (near as I can figure it was wired wrong to begin with, but one of the old batteries must have been completely dead so it wasn't delivering 24v to a 12v system. When I put the new one in, suddenly it was). Beers are on me the next time I'm up in the hat.

Tonight's ONT brought to you by TMI:


posted by WeirdDave at
09:54 PM
|
Access Comments