« The Morning Report - 6/3/20
|
Main
|
The Morning Rant »
June 03, 2020
Mid-Morning Art Thread [Kris]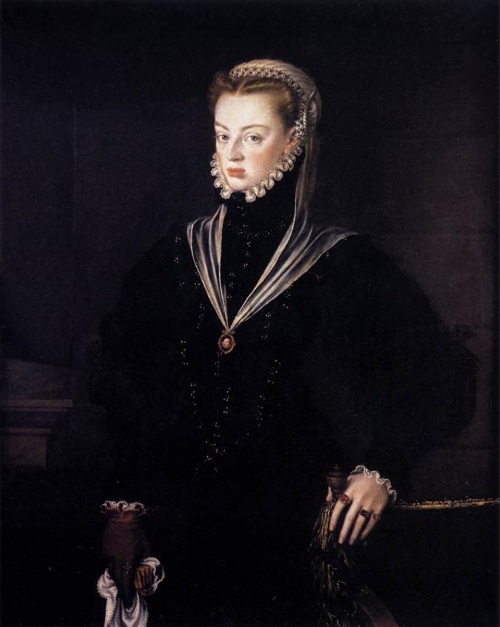 Doña Juana, Princess Of Portugal
Alonso Sanchez Coello
Portraiture can be a difficult subject to get right. While the artist is creating a likeness, he also must make it interesting. Add in the fact that today's subject wears nothing but mourning black against a dark background, the task is even more difficult. Additionally, that Coello's subject is the sister of the most powerful man in the world adds even more pressure. I think, however, that Coello made the most of what he was given and created a very interesting portrait which, I think, displays a woman of strong personality and power.
Doña Juana is Joana of Austria, a Hapsburg, sister of Philip II of Spain, and daughter of Holy Roman Emperor Charles V. In this painting, she is about 22 years old and has already experienced the loss of her mother, marriage, motherhood, and widowhood. She was married to the heir to the throne of Portugal but he died about a month before the birth of their only child. After his birth, she would return to Spain to act as regent while Philip was in England to wed Mary Tudor. She would never remarry and wore mourning tweeds the rest of her life. She never saw her son again. Joanna would use the power of her station and her influence to force the new males-only Jesuit order to admit her as a member but kept it a secret from Philip. She would head the Spanish Inquisition and personally preside over some trials of Protestants herself. She would die in her early 40s from cancer.
I am giving this person's biography because I want to emphasize how difficult Coello's job was to sufficiently capture a woman like this, but I think he succeeded. The focus is on her face. It is heart-shaped that emphasizes that distinctive Hapsburg chin and small mouth. Her lips are tight. The angle of the face leads up over the prominent nose to her eyes. Although she doesn't stare the viewer down directly (it was improper for women to do so in portraiture), her gaze is still strong and unblinking. It was her eyes that caught my attention first. Her eyebrows frame her eyes perfectly to enhance their effect. This is a serious woman who expects respect, reverence, and probably some fear. There is also a look of contempt in her expression. The artist—and the viewer—are below her and her expression reveals her superiority. Framing her head is a veil that flows down to her chest and is gathered together with a brooch depicting Philip II.
The rest of the painting is very dark, black on black, except her one hand. It is a pale ivory to match her face. The other hand is gloved. The ungloved hand allows the viewer to see her rings. Her gloved hand has rings too, but you really can't see them, so the paleness of her left hand provides contrast to see them.
By painting only a ¾ length portrait, Coello keeps the composition tight, allowing her most distinctive features to dominate, and adds smaller details to complete our picture of this woman. She was complex, probably one of the most powerful women in the world at the time, but still seems to have very simple tastes (for her rank). Notice how the brooch with Philip's face is in the dead center of the work. It's small, but it is entirely surrounded by black. This makes it stand out more. This brooch attracts more attention than the rings on her pale fingers. Philip is the beginning and end of her power. Everything he represents is the center of her world. Her entire purpose in life, then, seems to be her duty to Philip, the Hapsburg Dynasty, and Spain—most likely in that order. And when she felt she was no longer needed, she quietly retires to a convent she founded to live out the rest of her days.

posted by Open Blogger at
09:40 AM
|
Access Comments