« Saturday Morning Coffee Break
|
Main
|
Saturday Gardening and Puttering Thread 5/23/20 [KT] »
May 23, 2020
Risky Business [KT]
Could you have guessed last year that
this year cutting hair would be risky business?
Have you noticed a few changes in recent days in the ways that people are assessing risk? Have you noticed more emphasis on risks generated by lockdowns just in the past, say, couple of days?
Maggie's Farm has been featuring a number of posts and links recently which are related to risks people face at this time and assessments of risk vs. safety more generally. Some of these include ideas from Mike Rowe. For a while now, since way before The Virus, Mike Rowe has been kicking around the idea of "Safety Third". A little more on that later. I think this video about putting safety first during the time of the Chinese Virus is fascinating:
We can be a safety first country, but only for very, very, very short periods of time. And then we're reminded that the chief goal of living is not merely to stay alive.
Following up on that video is one in which the original cheerleader for essential workers talks about the hidden dangers of labeling other workers as non-essential.
Those with a literary bent may be interested in the story told in Mike Rowe's podcast concerning the Staplehurst Train Disaster. It features a novelist you may recognize, plus some ideas about risk assessment and character.
ASK A FIRST RESPONDER IF SAFETY IS FIRST
Safety Third
A walk through the "Safety Third" concept:
On Dirty Jobs, I was struck by the number of safety professionals who repeatedly insisted that nothing was more important to them, than my personal safety. "Your safety," they said, over and over again, "is our top priority."

I usually heard these words moments before I was invited to walk up the cable of a suspension bridge, or field test a stainless-steel shark suit, or climb into a bosuns chair to wash windows at the top of a high-rise. I still hear them today from pilots who invite me to strap myself in as they attempt to defy gravity in a pressurized aluminum tube that travels through the air at 600mph. And now Roger, I'm hearing them from you. You're telling me safety must always be first, no matter the cost. . . .
I'm not trying to be provocative, or insensitive. As I wrote on my first day of quarantine, I have two parents in the at-risk category, and I'm terribly worried about their well-being. But assigning a cost to preserving human life is hardly a new calculus, or a sign of misanthropy. We humans are constantly deciding which calamity to worry about, which disaster to panic over, and which tragedy to outright ignore. Just yesterday, 24,000 people died of starvation. The same will happen tomorrow, and the day after tomorrow, and the day after that. Over nine million a year die of hunger related illnesses. Why is this not a global emergency? Why doesn't cable news report these tragic deaths every minute of every day, like they do with this virus?"

Anyway, to answer your question, Safety Third was my slightly subversive attempt to start an honest conversation around occupational safety back in 2009, and to acknowledge the unintended consequences of exaggerating the importance of safety on the job. For what it's worth, it worked. Attached is a short video that spells it out for you.
And here's one of a hundred articles written by various safety professionals who actually agrees with me. . . .

Be careful out there...
Does this quote fit into these concepts somewhere?
Try to exclude the possibility of suffering

which the order of nature
and the existence of free-wills involve,

and you find that you have excluded life itself.

C.S. Lewis
Sports
Mike Rowe notes that as official safety measures increase a sense of safety, people tend to take more risks. But still, individuals vary in how much risk they want to take:
Wow.
Probably wouldn't want to try this now. Not enough social distancing.
Do Democrats need to do a new risk assessment?
There are all kinds of risks. Is is safe for Democrats to let Joe Biden talk?
Was anybody surprised yesterday when Biden said If You're Black But Can't Decide Between Me and Trump, Then You're Not Black?
Well, ZUBY, a non-American black, had a good laugh about this on video.
Come collect your boy, Obama. Collect 'im. This guy's done.
He posted a helpful campaign slogan for the Democrats.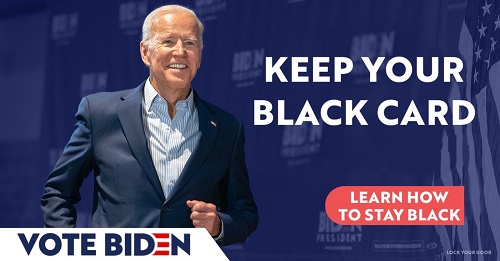 After more sober reflection, he did a serious thread:
I'm seeing a lot of people trying to pass off Joe Biden's #YouAintBlack comment as merely a 'gaffe' or 'joke'...

But it wasn't.

It revealed a deeply rooted and pernicious form of racism that is extremely pervasive in left-wing politics. Let me explain...

Every black person is aware of the power and pain of being considered an 'outsider' within one's own 'race'.

This happens everywhere, but it is a common phenomenon particularly amongst Black Americans, due to history and culture. (2/14)
So, when Biden suggested that 'you ain't Black' if you consider voting for Trump instead of him, he exposed a much deeper form of racism.

The sense of 'ownership' of Black people. Unearned allegiance and entitlement.

It was a vile statement... (10/14)

But it was also honest. Because that's how a lot of these politicians and 'progressives' really feel about black people.

Like they own us. (11/14)
You might want to read the whole thing. In an earlier reaction, a guy some here may recognize wrote:
Literally an entire 15-years worth of protein wisdom columns are coming to life before our eyes.

To all those who read me for years, thanks. And you're welcome.
No, Biden is not the only one who thinks this way. Be careful out there.
Hope you have a great weekend with an appropriate amount of risk.
This is the Thread before the Gardening Thread.
Serving your mid-day open thread needs

posted by Open Blogger at
11:15 AM
|
Access Comments