« Sunday Overnight Open Thread (5/17/20)
|
Main
|
Mid-Morning Art Thread »
May 18, 2020
The Morning Report - 5/18/20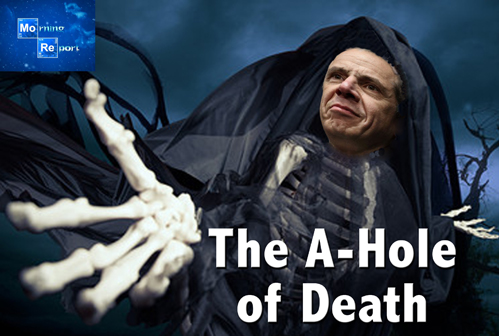 Good morning, kids. Monday, and another grim milestone of yet another day of America held hostage.
Thanks to the phony crisis of General Tso's Sicken, the lifeblood of the nation, figuratively and literally, is draining from its slit wrists with each passing day. And as We The People grows weaker, the blood-sucking tyrants of the Democrat-Media Complex grow ever more drunk on the illegitimate power they've usurped. But as I alluded to, their incompetence, which is an outgrowth of a failed ideology has quite literally cost thousands of lives, most notably in the Empire State, where Governor Andrew "Nipsy" Cuomo has evidently taken what's supposed to be the state's nickname to heart.
Yet, while over the past two months the media have glommed onto and touted Cuomo's supposed leadership, in a transparent attempt to boost him as the savior that will replace scandal- and dementia-ridden Joe Biden, the truth about Cuomo's "leadership" is something that even the professional propagandists can't cover up:
... Congressional candidate and New York Republican Assemblywoman Nicole Malliotakis also called for a criminal investigation into Cuomo's nursing home scandal.

"On March 24th, Gov. Cuomo said, 'My mother is not expendable, your mother is not expendable' and yet the very next day he signed an executive order mandating nursing homes - where our most vulnerable mothers and our most vulnerable fathers reside - to accept [Chinese] COVID positive patients," Malliotakis stated. "There are 5,000 residents of nursing homes or patients that have been put into nursing homes that have died, which account for 25 percent of the deaths in the state of New York and 30 percent of the deaths in the community that I represent..."
Now, Cuomo is under fire for the state's health department knowingly underreporting the number of deaths in nursing homes.
..."Of the nine states with the largest coronavirus outbreaks at long-term care facilities, according to a New York Times tracker, New York is the only state that omits the deaths of residents who died at hospitals from its reporting," the [Daily Caller News Foundation] added. "New York ceased reporting deaths of long-term care residents who died in hospitals the same day it unveiled 1,700 previously undisclosed deaths that occurred on the grounds of long-term care facilities from residents presumed to have [Chinese] coronavirus..."
Rep. Elise Stefanik, who became a Democrat nemesis for rhetorically slapping around Schiff-for-Brains in the Shampeachment show trial is calling for a Federal investigation into Nipsy's malfeasance.
...Her call came after a new report showed the state quietly altered the way it publicly reports nursing home deaths from the virus.

In early May the state stopped counting nursing-home patients who died from [Chinese] COVID in hospitals in its official tallies of nursing-home fatalities, The Daily Caller reported. It now only includes those deaths that occur in the nursing home facility itself.

Cuomo is taking heat for vulnerable nursing home populations ravaged by [Chinese] coronavirus - with a state death toll of at least 5,300, and that's with the state's new counting method that ignores outside-facility deaths.

"Today I joined my @NewYorkGOP colleagues in the House to call for a federal investigation of Cuomo's failed nursing home policies. NOW they admit they unethically changed the way they report nursing home deaths. An INEXCUSABLE tragedy for NY - NEED ANSWERS," Stefanik, an upstate Republican, said in a tweet...
Plus, as New Yorkers grow more and more fed up with being forcibly imprisoned as the weather gets warmer, they're heading outside and ignoring the social distancing edicts. They're not just heading to the beaches or the parks (the ones not blockaded) to get some much needed fresh air and vitamin D; They're protesting Cuomo. What's a tyrant to do? Apparently lash out:
New York Democratic Governor Andrew Cuomo snapped at a reporter during a press conference on Sunday when asked about families who lost loved ones in nursing homes from [Chinese] COVID-19, the disease caused by SARS-CoV-2, after Cuomo ordered nursing homes to take patients that had the highly contagious disease.

"What is justice? Who can we prosecute for those deaths? Nobody," Cuomo said to the reporter. "Nobody. Mother nature. G-d. Where did this virus come from? People are going to die by this virus. That is the truth. Best hospital system on the globe, I believe we have. Best doctors, best nurses who have responded like heroes, every medication, ventilators, the health system wants for nothing. We worked it out so we always had available beds. Nobody was deprived of a bed or medical coverage in any way..."
It sounds like a remake of another Democrat horror movie entitled What Difference, At This Point, Does It Make?! Funny because the star of that disaster, Hillary Clinton, had her own words about the filthy lumpenproletariat who dared demand their freedom in the imprisoned territory of Michigan:
...Hillary Clinton's description of the protests as "domestic terrorism" is the lowest political blow you can make. It's simply not true - not even in a metaphorical sense. It's Hillary throwing crap against the wall and seeing what sticks while triggering liberals who stupidly nod their heads in agreement. Sure - terrorism. Just like the Moooslims, right?
The goal of Cuomo, Whitmer and all the rest of the governors and the entire Democrat-Media Complex at this point is to destroy the American economy as a means of punishing the American people for electing Trump and theoretically eliminating his chances for reelection this November. Also, the three years leading up to the lockdowns, his policies were a complete repudiation of Leftist-Progressivism. That could not be allowed to stand. Beyond getting rid of Trump, they hope to erase every trace of Trump and then by enacting insane legislation, effectively prevent another Trump from ever being elected again and in essence capture the country.
That is the bottom line. While a majority of Americans may not connect the dots as well as put this together with Obama/Biden-Gate, the average American fully understands when their livelihoods and now lives are taken away by sick degenerates like Andrew Cuomo. If they don't know, you can bet that President Trump is going to put them some knowledge.
Lift the lockdowns. Liberate America.


STRUGGLE FOR LOCKDOWN LIBERATION

NOTE: The opinions expressed in some links may or may not reflect my own. I include them because of their relevance to the discussion of a particular issue.
ALSO: The Morning Report is cross-posted at CutJibNewsletter.com if you want to continue the conversation all day.
Follow us on Twitter: @CutJibNews
REMINDER: The truly outstanding Clarence Thomas biography is on PBS tonight at 9:00PM Eastern. See the sidebar for details.


posted by at
07:50 AM
|
Access Comments