« Gun Thread: '03 Springfield! [Weasel]
|
Main
|
The Morning Report - 5/18/20 »
May 17, 2020
Sunday Overnight Open Thread (5/17/20)
***
The Quotes of The Day

Quote I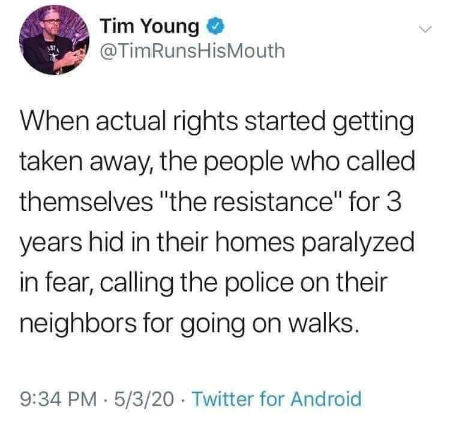 Quote II

"This is how the Democrats plan to win… by cheating. Nevada's vote-by-mail primary stirs fraud concerns, as unclaimed ballots pile up: 'Something stinks here,'" Donald Trump, Jr.

Quote III

"What the fuck is going on?" Dave Portnoy

Quote IV

"In the process, they've raised a generation of followers whose contempt for civil liberties is now genuine-to-permanent. Blue-staters have gone from dismissing constitutional concerns as Trumpian ruse to sneering at them, in the manner of French aristocrats, as evidence of proletarian mental defect."Matt Taibbi of Rolling Stone magazine

Quote V

There really are two Americas here: Those still getting a paycheck from government, corporations or universities, and those who are unemployed, or seeing their small businesses suffer due to shutdowns. And the America still getting paid is, so far, not showing a whole lot of sympathy for the America that isn't. Glenn Reynolds
***
Comment of The Week

***

Of course.......NSFW-Language. It's Paul Joseph Watson and he's accurate and funny as usual.


At communion today I was asked to practice social distancing with my wife. Really Pastor? We live together...............
***

Parking control. The next Chicago law enforcement tool. Who is the more ultimate bitch, her or the Michigan governor?

People heading to Philadelphia Romanian Church in Ravenswood on Sunday might have a hard time finding a parking spot.

Ald. Matt Martin (47th) said no-parking signs have been put up for several surrounding blocks near the church at 1713 W. Sunnyside Ave
***

This certainly looks like fun. Until the scold Karens of the world forbid it.
***

Oh how I wish I was this artistic.
Sands of Time H/T CBD
***

A dressed up loser is, still a loser. And no amount of camera magic is going to make Stacey Abrams look anything other than Michael Strahan's body double.

"DIABETO:" Washington Post Magazine gives Stacey Abrams the whole Beyoncé glamour treatment in its photo shoot.

Remember when Beto O'Rourke was the rising young hope for the Democratic Party as it looked forward to 2020? He made the cover of Vanity Fair with a photoshoot by celebrity photographer Annie Liebovitz standing next to a pickup truck like a dork, but most people just wondered why his dog looked so sad in every picture.
***

Good news for residents of the State of Washington. Their wanna be fascist dictator has let one of his stupidest ideas go.

When dining rooms in Washington start to reopen in the coming months, restaurants will not be required to record customers' contact information after all.

In a walk-back of a controversial component of the restaurant reopening guidance issued earlier this week, Gov. Jay Inslee's office issued a statement on Friday evening "clarifying" that the state will not require customers to provide their contact information when they go out to eat.

Instead, businesses are asked to maintain a list of customers who voluntarily do so.

"We are asking visitors to voluntarily provide contact information in case of COVID-19 exposure. We only need information for one person per household. If we learn you may have been exposed to COVID-19 during your visit, the information will only be shared with public health officials," Inslee's news release said. "They will contact you to explain the risk, answer questions and provide resources. This information will not be used for any other purpose, including sales or marketing. If this list is not used within 30 days, it will be destroyed."
***

Just when you thought the land of Suntan Lotion and Nuts couldn't get any nutier. I know how we can save money. Let's gut the criminal justice center!!!

SACRAMENTO, Calif. — Gov. Gavin Newsom is proposing to significantly shrink the footprint of California's prison system, partly because of massive budget cuts prompted by the pandemic but also because of philosophy.

The revised budget he sent to state lawmakers this week envisions closing two state prisons in the coming years; cutting nearly one in five of the 43 inmate firefighter camps; and eventually closing all three state-run juvenile prisons.
***

Contributing to 'Climate Change' but practicing 'Social Distancing'. NASCAR has been pussified.


Sunday marks a major event for the world of racing as the NASCAR Cup Series returns to real-life action at Darlington Raceway. With personnel limited and fans banned from the facility, the contest looks...different to say the least. That said, the stock car racing sanctioning body is trying new methods to keep the action fresh and the track from looking totally deserted.

Here's the view from pit road about two hours before the green flag. Normally, there would be 45,000 beer-swilling fans gawking at the roar of V8s, as it should be. That's not the case in this new version of everyday life.
***
Yesterday afternoon as Mrs. Mis. Hum and I drove through a small city, we noticed many 2020 Graduate Lives Here lawn signs. I made the observation, "I wonder if those seniors learned anything locked out of school or if they were in graduation mode already."
Even 4th graders aren't in learning mode.

If only he hadn't also skipped out on the spelling lesson the day they learned 'connect'. Still, that was some smart thinking. According to teacher and Redditor reddericks, "Today one of my 4th grade students renamed himself 'reconecting ...' on our Zoom call and pretended that he was having internet issues to avoid participating in our lesson."
Cute. Is he a future Moron?
***
The ONT Musical Interlude
On this day May 17, 1975 - Elton John
Elton John was awarded a Platinum Record for sales of a million copies of the LP 'Captain Fantastic and The Brown Dirt Cowboy', the first album ever to be certified Platinum on the day of its release. via thisdayinmusic.com
&&&
Born on this day: May 17, 1942 - Taj Mahal
Taj Mahal, US multi-instrumentalist, composer of film soundtracks. In the early 60s he formed The Rising Sons with Ry Cooder, one of the first interracial bands of the period. Mahal has worked with Howlin' Wolf, Buddy Guy, Lightnin' Hopkins, Garth Hudson and Levon Helm of The Band, and Muddy Waters. via thisdayinmusic.com
***

Who has a sense of humor? This Genius Award Winner.

Meet Ronald Joseph Gallagher.

The Montana man, 50, was arrested yesterday afternoon on several charges, including marijuana possession, resisting arrest, and disorderly conduct. He was released this morning from the Missoula County jail after posting bond on the three misdemeanor counts.
It really is worth a click. Promise.
***

Talk about noticing your work environments. Tonight's Feel Good Story of The Day.

When A Garbage Company Noticed An Elderly Customer Had Not Put Trash Out, They Called Her And Saved Her Life


Jake Bland, with Hometown Hauling in Louisville, Kentucky, noticed a woman hadn't put out trash in more than two weeks.

He knew something was off. So, Bland asked dispatch to call the customer.

Bernice Arthur called the 90-year-old woman and discovered the heartbreaking reason she had no trash to put out.

"She just didn't have nothing to eat," Arthur said, "and that's why she had no trash to put out there."
***
Weekly commenter stats for week of 5-17-2020

Top 10 commenters:
1 [722 comments] 'TheJamesMadison, fighting terrorist in Nakatomi Tower' [101.34 posts/day]
2 [515 comments] 'Joe Mannix (Not a cop!)'
3 [501 comments] 'Sponge - China is asshoe!'
4 [406 comments] '...'
5 [405 comments] 'Tom Servo'
6 [404 comments] 'Aetius451AD'
7 [391 comments] 'Axeman'
8 [376 comments] 'runner'
9 [373 comments] 'Skip '
10 [356 comments] 'grammie winger'
Top 10 sockpuppeteers:
1 [266 names] 'Concerned Woman of Brattleboro' [37.34 unique names/day]
2 [70 names] 'Dave in Fla (by definition, only Republicans can commit crimes)'
3 [67 names] '18-1'
4 [58 names] 'Axeman'
5 [46 names] 'A Scold of Karens'
6 [44 names] 'Duncanthrax'
7 [41 names] 'LeftCoast Dawg'
8 [41 names] 'freaked'
9 [30 names] 'Romeo13'
10 [28 names] 'Cicero (@cicero)'
***

Tonight's ONT has been brought to you by Faulty Lids.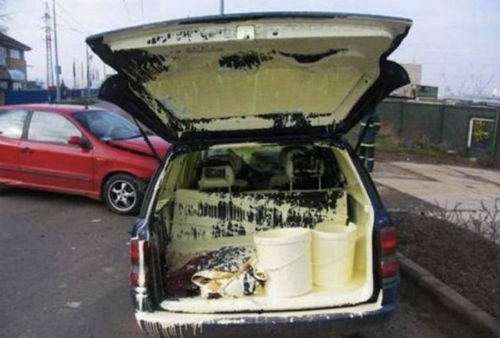 Notice: Posted with permission by the Ace Media Empire and AceCorp, LLC. Accept no substitutes, unless they hand out lots of cash.

posted by Misanthropic Humanitarian at
10:02 PM
|
Access Comments