« Feinstein Asked "Basic Questions" About Her Husband's Pre-Pandemic Stock Sales
|
Main
|
Joey Rapehooks Biden: If You Believe Tara Reade, You Shouldn't Vote for Me »
May 15, 2020
Grandma Killer: Andrew Cuomo Murdered 5300 Elderly New Yorkers But He's a Hero Because He's a Liberal Psychopath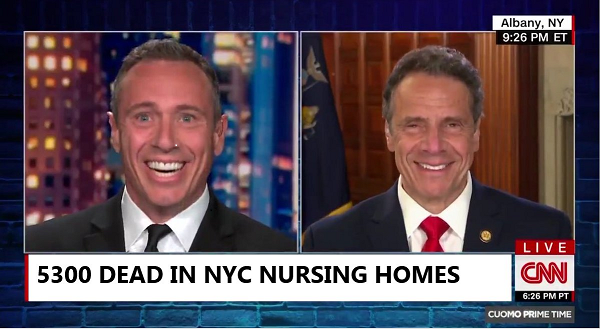 A friend asks: Why aren't we calling this the Cuomovirus?
As you probably know, Andrew Cuomo ordered elderly persons infected with coronavirus back into their nursing homes, where they could -- and did -- infect all the other nursing home residents and kill thousands of them.

He did this deliberately. Why?
It's hard to think of a reason why -- these people could have been isolated in the thousands of unused temporary hospital berths built to... well, to keep coronavirus patients isolated.
Instead he ordered them back into nursing homes, to infect other people of a very high risk of dying from the disease.
And die they did.
By the thousands.
All the while, as thousands were dying, the press just could not pour enough praise on Andrew Cuomo.
He killed them.
If people have "blood on their hands" for permitting businesses to reopen -- how can it be that Andrew Cuomo is not the murderer of 5300 extremely at-risk people by ordering the infected to be crowded together with them?
Andrew Cuomo and New York State realize they have a huge scandal brewing -- if the media ever feels like reporting easily-discovered facts.
It looks like New York State is taking pains to correct its error.
And by correct its error, I mean -- fudge the numbers to hide the numbers killed.
A Daily Caller exclusive. Although I guess we shouldn't praise the Daily Caller too much for this disclosure -- no other media company was willing to publish the truth.
The New York State Department of Health acknowledged that its recent reporting does not fully reflect the known carnage coronavirus has caused among nursing home and adult care residents.

The revelation comes as New York Gov. Andrew Cuomo is under fire for his policies regarding nursing homes amid the coronavirus pandemic.

New York is the only state with large coronavirus outbreaks among its long-term care facilities that doesn't count residents who died at a hospital.

New York quietly changed the way it reports long-term care fatalities around April 28.


New York has omitted an unknown number of coronavirus deaths in recent reports regarding residents of nursing home and adult care facilities, the New York State Department of Health acknowledged in a statement to the Daily Caller News Foundation.

In early May, those reports quietly began omitting long-term care residents who died of coronavirus in hospitals. Even so, New York still leads the nation with 5,433 reported deaths at nursing homes and adult care facilities as of Wednesday.


The revelation comes as New York Gov. Andrew Cuomo faces criticism for ordering nursing homes and other long-term care facilities to accept patients from hospitals who had tested positive for coronavirus. Cuomo rescinded the March 25 order, which experts say led to higher levels of death among nursing home residents, on May 11 to allow such facilities to wait until a coronavirus patient tests negative before readmitting them.
He rescinded the order... on May 11th. After ordering the infected to be packed into nursing homes with the uninfected but severely at risk for six weeks.
Six weeks.
5300 dead -- according to New York's undercount of the victims.
What's the real number?
Hey, get Karenpundit on it -- he likes doubting the official numbers and projecting higher death tolls. I'm sure he'll be willing to do the same if it means hurting a Democrat politician instead of Trump, right?
He must have a few spare beakers and reagents lying around. And I know he's got the white Lab Smock. He can Science us up some numbers, I'm sure.
Cuomo knew a shitstorm was coming -- so he secretly installed a provision into a law forbidding people from suing nursing homes.
So all of these people with dead parents now find they are barred from state law from suing.
And don't think Cuomo did this to protect the nursing homes -- no, he did it to protect himself.
Because what defense do you think the nursing homes will offer if they are sued?
That's right: We cannot be found liable, we were following the decree of the New York Governor who ORDERED us to do the insanely dangerous thing of keeping infected people right next to the uninfected by highly at risk. SUE THE STATE, the real author of this tragedy.
They would have pled that, and they would have been right.
And that would look bad for Andrew Nippleclamps Cuomo.
So: Lawsuits are now officially banned for those whose parents and granparents he murdered. Go fuck yourselves and die, and have a nice day.
Oh, and Vote Blue, No Matter Who!
In the chaotic days of late March, as it became clear that New York was facing a catastrophic outbreak of the coronavirus, aides to Gov. Andrew M. Cuomo quietly inserted a provision on Page 347 of New York's final, voluminous budget bill.

Many lawmakers were unaware of the language when they approved the budget a few days later. But it provided unusual legal protections for an influential industry that has been devastated by the crisis: nursing home operators.

The measure, lobbied for by industry representatives, shielded nursing homes from many lawsuits over their failure to protect residents from death or sickness caused by the coronavirus.

Now, weeks later, more than 5,300 residents of nursing homes in New York are believed to have died from the outbreak, and their relatives are finding that because of the provision, they may not be able to pursue legal action against the homes' operators over allegations of neglect.
News Coverage Alert: I have it on good authority that Chris Wallace will not be covering this story this Sunday, or next Sunday, or any Sunday, really. So set your DVRs to miss that.
124 Just remember, Cuomo's mother did just fine. He protected her.

Your mother? Not so much.

But keep voting Democrat like its a team sport.
Posted by: Marcus T

posted by Ace at
04:26 PM
|
Access Comments