« Wednesday Overnight Open Thread (5/13/20)
|
Main
|
Mid-Morning Art Thread »
May 14, 2020
The Morning Report - 5/14/20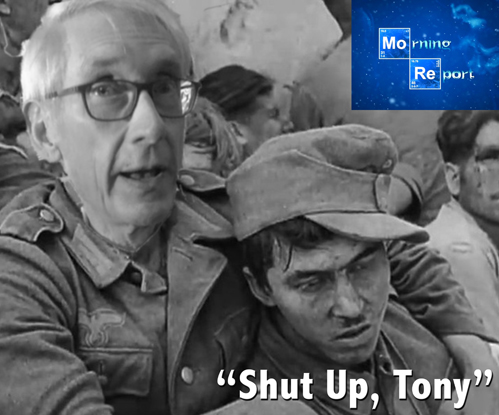 Good morning, kids. Thursday, and another grim milestone of yet another day of America held hostage.
Some incredibly good news that could have positive repercussions across the nation, rogue hack-in-black judges notwithstanding. The Wisconsin Supreme Court gave a devastating rebuke to Governor Tony Evers forced imprisonment of the citizenry by striking down his edict, effectively liberating the populace. The tinpot tyrant threw a premenstrual hissy fit and lashed out:
"Today, Republican legislators convinced four members of the state Supreme Court to throw the state into chaos," Evers said. "They have provided no plan. There's no question among anybody that people are going to get sick. Republicans own that chaos."
That's right, genius. People are going to get sick, and some sadly are going to die. But I'll be gentle since, perhaps you might have been out "sick" from school but the concept is called "biology." And it's been going on for roughly a few billion years or so. And the GOP "convinced" the judges? As if they didn't realize on their own that your outrageous usurpation of power was beyond the pale and unconstitutional? Rather full of yourself, aren't you?
He added, "In the meantime, we're going to have 72 counties doing their own thing."

"I can't believe there's a state in the nation with this type of chaos."
Really? "No plan" and "chaos" is what's known as individual freedom, aka life, liberty and the pursuit of happiness. I think anyone with half a brain, or who had a relative in a New York nursing home might now prefer unplanned chaos to the orderly, if not messy and painful death as a result of Nipsy Cuomo's fuhrer befehl.
I don't know if this will be appealed all the way up to SCOTUS but I imagine that the Leftists don't want to take a chance that this ruling would set a national precedent. Then again, what the hell are courts and even elections considering ObamaGate and the completely illegal and unprecedented action of Emmet Sullivan, to name just a few. But I'm getting ahead of myself. Still, this is a huge victory, even if tempered not only by the actions of the other Demokrat Dick-Taters but more egregiously the fact that we have to celebrate the reinstating of what was ours to begin with: our stolen birthright.
Meanwhile, as Eric Garcetti orders Angelenos to wear masks everywhere they go and has decreed the city shall not open until there's a cure for something likely incurable, the battle is joined in Pennsylvania. Governor Wolf is getting pushback from the counties but Dauphin County, home to the state capital of Harrisburg, is knuckling under to threats and intimidation. Meanwhile, this crooked bastard is evidently handing out waivers and dispensation to cronies and pals, but when the light was turned on, the handouts were abruptly stopped. Note to the media: this is what is known in the trade as "a story."
And in Michigan, crass harridan Gretchen Whitmer, after having been rebuked in her persecution of 77-year-old barber who dared defy her and re-open his shop, has had his business license revoked. She's losing, and she knows it. In fact over a million Michiganders are estimated to have ignored here stay-at-home decree along with perhaps millions of others in other states with similar orders. So naturally, instead of getting the message, she is having the communications of protestors in Lansing monitored. I guess she's being advised by Obama, Biden and Comey, right? There's also some good news out of Virginia, where Governor Mammy McMengele in asking his sheriffs for help in keeping the peasantry in chains has been rebuffed by at least one.
Despite the media embargo, I have to think that the overwhelming majority of the American people have had enough. It's one thing for far too many people to not be outraged, or really aware, about ObamaGate and the persecution of Michael Flynn, Paul Manafort et al. It's quite something else when the object of the persecution is you and yours. I was hoping that the Shelly Luther incident would be akin to the Tunisian shopkeeper who immolated himself and then caused the Arab Spring, not that that was any great outcry for freedom; quite the opposite. But the analogy is still accurate insofar as being pushed once too far and too hard for a massive national reaction.
Perhaps Shelly Luther was and the reaction is happening, although perhaps not as instantaneous nor as violent as in Tahrir Square. But all politics is local. We're also a disparate as well as a divided nation so it's hard to see someone like Shelly Luther inspiring a resident of Manhattan's Upper West Side to share common cause. But Wisconsin's liberation from the forces of darkness and evil and the resumption of life getting back to normal is no doubt going to stick in the craw of said Upper West Siders and other liberals. Sure, they'll resent them because of blinkered, unreconstructed bigotry. But perhaps they'll resent DeBolshevik and Cuomo as well.
So long as Trump and the GOP stand by their vow to not give in to their extortion and bail them out, sooner or later, they're going to have to cave.
For now, if we can't let a thousand flaming skulls ignite, we can at least be warmed by the pretty big one that was set off in Wisconsin yesterday.
Lift the lockdowns. Liberate America.


STRUGGLE FOR LOCKDOWN LIBERATION

NOTE: The opinions expressed in some links may or may not reflect my own. I include them because of their relevance to the discussion of a particular issue.
ALSO: The Morning Report is cross-posted at CutJibNewsletter.com if you want to continue the conversation all day.
Follow us on Twitter: @CutJibNews


posted by at
07:14 AM
|
Access Comments