« Sunday Overnight Open Thread (5/3/20)
|
Main
|
Mid-Morning Art Thread »
May 04, 2020
The Morning Report - 5/4/20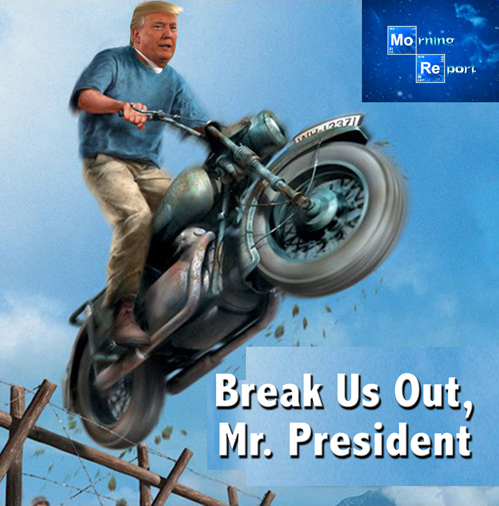 Good morning, kids. Monday, and another grim milestone of yet another day of America held hostage. But as each useless day imprisoned in an imposed mass gulag is x'd off the calendar, anger at the illegitimate overlords - a politburo of about a dozen blue state governors - is growing louder and larger from the put upon citizenry. It's not politically insignificant either since by and large the citizenry are Democrats, especially in the large metropolitan and suburban areas. While Trump derangement mixed with years of academic and cultural brainwashing certainly are difficult to say the least in overcoming, the loss of one's business, job and the imposition of bizarre edicts putting tighter and tighter shackles limiting freedom of movement might be just the tonic to break through the collective thick skull of the average liberal. At least in the short term.
As testing has been ramped up we are learning that many more people than previously thought may be infected and asymptomatic. With the knowledge that the Chi-Coms lied (surprise!) about the spread of the virus and that the first cases may have hit our shores as far back as September, the lethality of the Sino Sinus Syphilis has been wildly overstated, and in reality it is less than 1%. Terrible for those who get it and tragic for those who pass away from it. Forget about what we knew a few months ago; does what we now know still justify locking down the entire nation and destroying our economy, let alone leading to hundreds of thousands of deaths from things like stress, heart attacks, suicide, alcoholism and drug abuse? The answer is obvious.
But when you add this to the loss of freedom being imposed on all of us by the likes of Gavin Newsom, Gretchen Whitmer, Nipsy Cuomo and all the others, it gives President Trump a golden opportunity to break out of DC, get away from the farcical press briefings and get out to the front lines to comfort the oppressed and confront the oppressors. Is he going to convert mass amounts of Democrats, even those that are enraged at their governors, into voters come November? It's a possibility, but I wouldn't bank on it. But by rejecting the optics of being stuck in the White House press room, much like Jimmy the Dhimmi placed himself in a self-imposed prison as the Iranian hostage crisis dragged on and dragged him down, he will give a desperately needed jolt of hope and enthusiasm to energize a base that is in desperate need of moral support every bit as much as $1,200 hot of the presses from Uncle Sugar.
Lift the lockdowns. Liberate America.


STRUGGLE FOR LOCKDOWN LIBERATION
More and more, Americans are disregarding lockdown edicts and getting back to normal activities, even Mike DeWine is getting fed up, thousands take to the streets in Sacramento and Huntington Beach to protest Newsom, a look into the cavernous void that is the soul of Gretchen Whitmer, compare and contrast Colorado and Georgia and it's all about politics, Nipsy's goons ticket citizens, vile leftists appropriate infamous Auschwitz gate motto to attack freedom fighters, and lastly, "faced with disaster, authorities often worry more about an unruly public than about the crisis at hand."
NOTE: The opinions expressed in some links may or may not reflect my own. I include them because of their relevance to the discussion of a particular issue.
ALSO: The Morning Report is cross-posted at CutJibNewsletter.com if you want to continue the conversation all day.
Follow us on Twitter: @CutJibNews


posted by at
07:45 AM
|
Access Comments