« Monday Overnight Open Thread (4/27/20
|
Main
|
Mid-Morning Art Thread »
April 28, 2020
The Morning Report - 4/28/20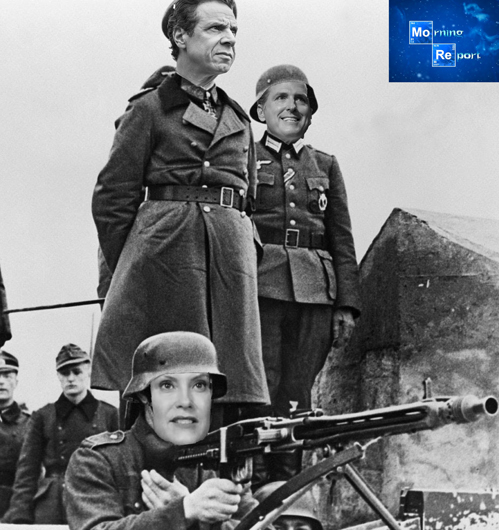 Good morning, kids. Tuesday, and another grim milestone of yet another day of America held hostage. On a positive note, it looks as if more and more states are going to follow Brian Kemp's lead in Georgia and begin lifting the lockdowns. Most notably, Governor Greg Abbott is opening Texas back up for business this Friday. Obviously, the usual suspects in the Democrat-Media Complex will do everything in their power to smear these decisions while keeping their boot on the collective neck of their citizens. It certainly didn't help matters when Trump jumped on the bandwagon to criticize Brian Kemp, despite the fact that only a day or so earlier Colorado Governor Jared Polis announced his gradual lifting of lockdowns which drew little to zero criticism from the same quarters and the President.
For sure, the blue state tyrants are either drunk on the power that this situation has given them (or they usurped for themselves) or Trump derangement, or some combination of both. As more and more statistical, anecdotal and real medical evidence from legitimate researchers and clinicians on the front lines coming in to show that a) the virus is just not as lethal as feared and b) quarantining makes the virus last longer because herd immunity doesn't get a chance to develop, there is no legitimate reason to keep America imprisoned. Unless we're already in a Sing Sing death house holding cell waiting for a date with Old Sparky:
...In California as a whole, after desperate Californians took to the beaches for temporary relief from their house arrest, Governor Newsom threatened them with an even longer shutdown if they did not instantly return to imprisonment in their own homes. This ignores the fact that the sun kills the virus and that outdoor transmission is rare. Moreover, there's increasingly strong evidence that shutdowns do not change the disease's progression. What he's doing is tyrannical. There's no other word for it...

... The big question is, why is this happening? Why has California abandoned its goal of flattening the curve and moved on, without citizen consent, to wiping out the virus completely (which will never happen)? One reason could be that panicked Progressive politicians genuinely believe that the pockets of wealth in the California economy will be strong enough to keep the state afloat indefinitely. It's hard to believe, though, that they are that stupid.

The other reason is that the state is courting financial collapse on purpose. This could be because doing so would (they hope) destroy Trump's bid for reelection. Democrats in this one-party "paradise" may also be following the Cloward-Piven strategy, which is to overload the economy so that it collapses, necessitating socialist policies. Certainly, Newsom has said that the virus offers an opportunity for Progressives to "reshape the way we do business and how we govern."
It's in your face, so it's frustrating that after four years of these same actors trying to sabotage his campaign and then overthrow his presidency that Trump does not recognize this and instead joins the Greek chorus to attack Brian Kemp. Even more frustrating are the actions within the ranks of the GOP itself, in this case Doug Ducey:
According to this article [at NationalFile.com], Republican governor Doug Ducey is delaying any action relating to ending his "shelter-in-place" order that is bankrupting one quarter of Arizona's industries and putting that many people out of work.

The reason? He apparently has a financial interest in keeping the emergency going for as long as possible.

Insiders tell NATIONAL FILE that Ducey might not be a trustworthy leader in the cause of re-opening the state economy. Ducey is delaying setting a firm date on re-opening the state, citing safety concerns while testing is underway. Ducey presides over legislature-approved state emergency spending and also a portion of his state's $1.5 billion from the federal government.

Ducey also...

...sits on the Board of Governors for an institute that is accepting state health department funding to conduct Coronavirus testing in the state of Arizona. That institute happens to be an affiliate of a nonprofit that is working to develop a Coronavirus vaccine that is not expected to begin clinical trials until late 2020.

In other words, as long as the emergency lockdown is maintained, Ducey is in a position to funnel money to this institute that he also is on the Board of Governors...
Total swamp creature up to his beady eyeballs in graft. And yet Trump goes after Kemp and not this jerk? Okay, I get it; maybe he's pissed that Kemp appointed Kelly Loeffler and not Doug Collins, which is annoying since the latter is the conservative and the former a GOP establishment stooge. But getting the nation back up on its feet, saving the economy and the lives of 331 million people - not to mention his own political neck - I would think is slightly more important than a political peeve. What the hell do I know.
Meanwhile the insane antics of blue state governors go on, while citizens' anger is starting to boil over, even Democrats including some politicians from small towns as evidenced by the link about a town in New Mexico and cities as large as Las Vegas. This has to end. Kemp and now Abbott are opening the floodgates. The rest of the states including the dead end despot Democrats will have to follow suit.
...Every death is a sadness, but this is not a demographic threat or a public health assault that justifies pushing up to 1 million people a day into unemployment and the loss of trillions of dollars of value on the stock exchanges. It has been a severe crisis, but most of its severity has been the consequence of the panic generated by the irresponsible media, who thought they might destroy the Trump presidency at last.

They have failed again, and this is not such a watershed moment. In a few months, everything will be largely back to what it was within the United States... Trump wins the political chess game at home in a clean sweep: the medical crisis, the financial rescue, the rebound of the economy, and at the voting places of the nation. And he will be the winner in the world...
Lift the lockdowns. Liberate America.


STRUGGLE FOR LOCKDOWN LIBERATION

NOTE: The opinions expressed in some links may or may not reflect my own. I include them because of their relevance to the discussion of a particular issue.
ALSO: The Morning Report is cross-posted at CutJibNewsletter.com if you want to continue the conversation all day.
Follow us on Twitter: @CutJibNews


posted by at
07:34 AM
|
Access Comments