« First-World Problems...Part Sextus
|
Main
|
Gun Thread: Catching Up With Mail Edition! [Weasel] »
May 03, 2020
Food Thread: A Chicken In Every Pot (As Long As It Isn't Made In China)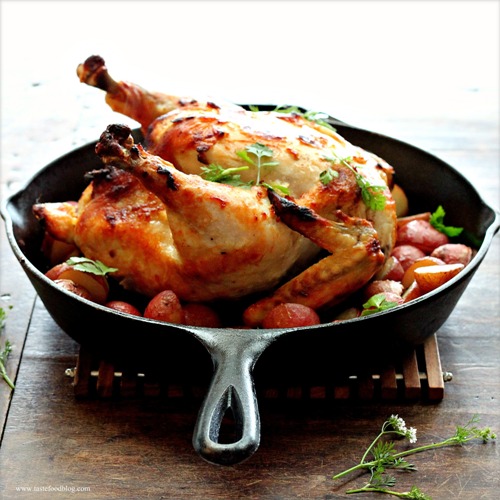 Roasted Chicken and Potatoes with Yogurt, Lemon and Garlic*
I have been buying more chicken recently, and for a few reasons. My local poultry farm is just that - local - so presumably more of that money will stay around here. And chicken seems to be in abundant supply, and just as good as ever, which in the United States means damned fine eating. I think that our food production is absolutely incredible, and the quality is improving even more quickly than the efficiency.
Plus, I have discovered the joys of Sous Vide! I know, I have never mentioned it, but popping several chicken breasts into my Sous Vide set-up means I can have several quick lunches of chicken salad or a dozen other dishes ready to go in about 10 minutes. And homemade chicken salad is far, far better than the crap from the stores. Minced jalapeno, green onion, diced red pepper, small diced carrot, a bit of chopped parsley, salt, pepper, a spoonful of Dijon mustard and tons-o-mayo, and we are all set. I pull the chicken apart with my hands because it seems to have better texture that way, but whatever floats your boat.

*The technique is...eh...but the ingredients are really interesting.
******
Any thoughts about food shopping strategies? I find myself buying stuff that I will need in the future, even though I don't need it immediately. I guess I have changed into a shopper of opportunity. But what is really frustrating is the absence of some staples. I simply cannot believe that everyone in Northern New Jersey has suddenly become a baking fool, and that is why there is very little flour to be had.
And black beans? What the hell! I ran out because I have been making Ina Garten's excellent guacamole salad, and I had to go to three stores before I found stupid black beans. 18 other kinds of beans though...gee, thanks folks.

******
From long-time commenter (and legal advisor for the Moron Cookbook) RedMindBlueState. This is really interesting stuff. It's a fun glimpse into the leisure world of our grandparents' (and great-grandparents!) generation.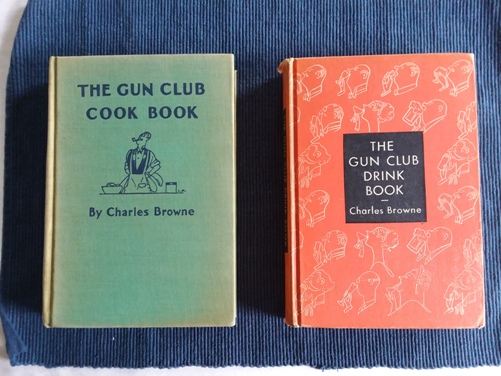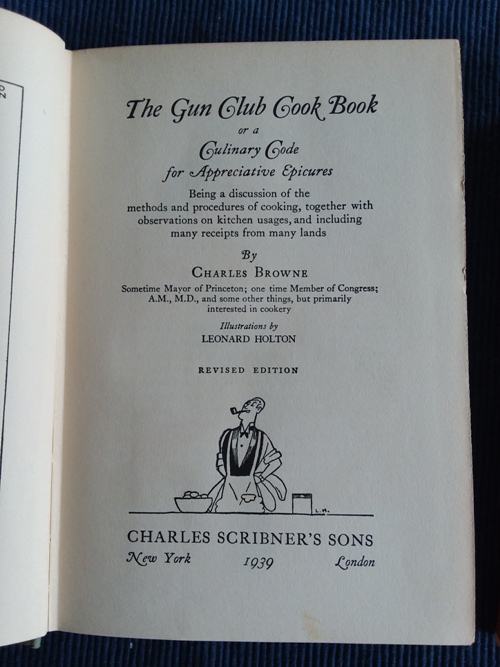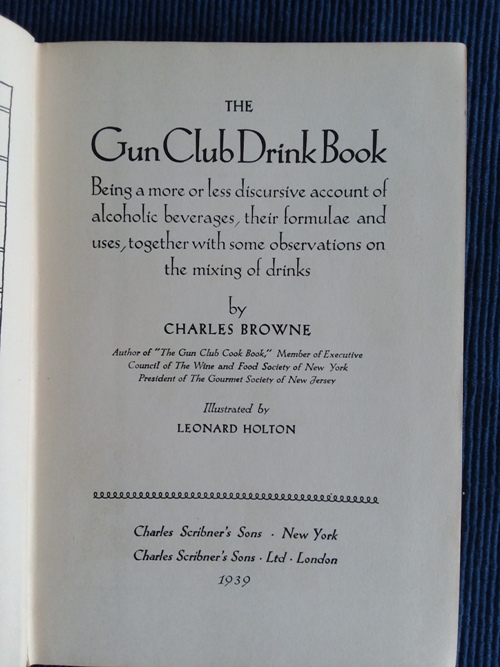 Just tossing this out there. I was looking through my cookbooks for a particular recipe, when I spotted The Gun Club Cookbook and The Gun Club Drink Book.

These are fun reads from the 30's. The Gun Club in question is (was?) the Nassau Gun Club in Princeton, NJ. It sounds like the members (a) were at least one tax bracket above me, and (2) would have made fine Morons.

The cookbook is fairly easy to find. The drinks book is much rarer. I've seen 1st editions go for 4 figures.

The books came out around 1931. The preface, with their thoughts in Prohibition and its supporters is great. I inherited the cookbook from the RMBS Dad. I had intended to get him the drinks book for Christmas the year he died. My sister got a copy for me instead. They're kind of special in that regard.
******
27 Farro Recipes For When You Need a Chewy, Nutty Grain in Your Life
I have never even contemplated, much less acted on the impulse to buy farro. I have no idea why people bother with this kind of shit, unless it is a vehicle for salt or sugar or fat...or all three. And the kinds of people who gush over their farro main course are the kind of people for whom social distancing was designed.

******
Commenter "Legally Sufficient" did the studies so we don't have to!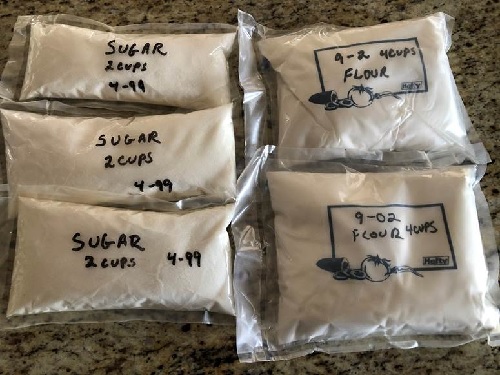 In the "old food" category, I submit some vacuum-packed staples that we discovered during our move last year. These packages were part of our "survival stores" and had been packed inside plastic, lidded buckets. The sugar was packaged in April 1999 and the flour in September 2002. These packages were opened earlier this year (2020). My initial plan was to use the flour to bake bread but, sadly, it was quite rancid (no doubt due to the oils in the flour, as well as spending summers in the garage where temperatures exceeded 100 degrees). I am pleased to report that the sugar was just fine, and was used to successfully make a batch of raspberry peach jam.
******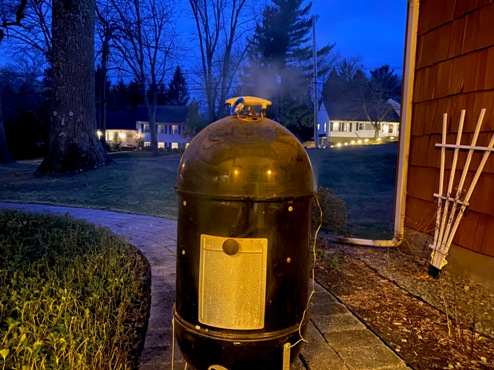 That is mostly-lurker Mr. Bingley's "R2 Unit" busily smoking a boneless leg of lamb. He did that in mid-March, and I have been thinking about smoked lamb ever since. For whatever reason, people don't think of smoking lamb, and that is a big mistake. It is grand. Probably the combination of lots of fat and connective tissue plus a strong-flavored meat. That seems to be the perfect combination for smoking...

******
David Lebovitz is mostly a pompous ass, but he does have the occasional nugget on his blog, and this seems to be one of them.
Bronx Cocktail
sounds like fun, but I would definitely go with the lemon juice upgrade.
******
Food and cooking tips, Large-breasted Muscovy ducks, young wild pigs, bartenders who use vermouth in Martinis, crisp bacon (although I am moving toward less crisp), low-temperature-roast chicken, and good tomatoes that aren't square, pale pink and covered with Mestizo E.coli:
cbd dot aoshq at gmail dot com
. Any advocacy of French Toast with syrup will result in disciplinary action up to and including being
nuked from orbit.
And yes, shaking a Manhattan is blasphemy...it's in the Bible!
&topic=world_news">

posted by CBD at
04:00 PM
|
Access Comments