« Wednesday Overnight Open Thread (4/22/20) Non-Girthy Edition
|
Main
|
Mid-Morning Art Thread »
April 23, 2020
The Morning Report - 4/23/20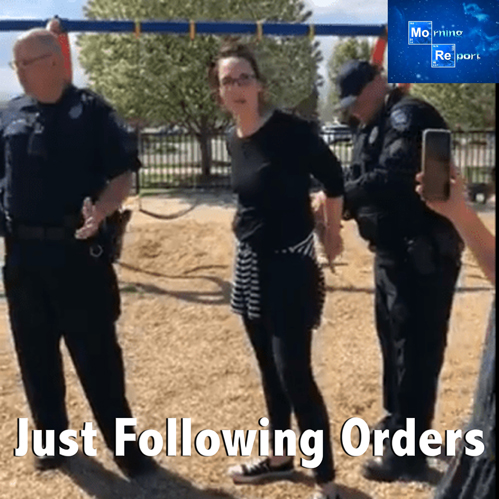 Good morning, kids. Thursday, and another grim milestone of yet another day of America held hostage. Whether it was Shampeachment or the high tech lynching of Justice Kavanaugh or the threat of mass migration invasion, I used to think that all I was doing every morning was just recycling the previous day's editorial over and over again. And here I am again. But those were nothing compared to the Chinese Coronavirus induced psy-op to scare the nation into self-destruction. Yet still I persist because what we are going through is quite literally life and death, and I am not referring to a virus no matter how many lives it actually is responsible for taking.
However all of us, including the President were hoodwinked into shutting down the nation state by state is a matter that needs to be investigated thoroughly. Look what I'm saying considering the aftermath of the plot to overthrow Trump. Let's face it; the same bad actors in politics, the bureaucracy and the media who drove all of those narratives are the ones that are driving this one. Cruel as this may sound, 60,000 deaths - if that number can even be trusted - cannot, does not and never will justify destroying the lives of 331,000,000 citizens (illegal aliens in that group excluded). Yet, to the Democrat-Media Complex, it certainly does. It is inarguable that each of those lives since January 20th, 2017 improved immeasurably in terms of opportunities, the resulting wealth accrual they led to, and overall freedom. Life, liberty and the pursuit of happiness had not nearly so closely resembled what the Founding Fathers had in mind in decades, perhaps even a century. And then came late February of this year.
I'm pausing for a moment because I am honestly on the verge of tears as I collect my thoughts and try to write something coherent. I'm also enraged because what we are enduring amounts to a Reichstag Fire moment. Please do not fucking lecture me about the massive deaths from Chinese Lung AIDS that warranted the actions taken. The models and statistics are about as reliable as a Magic 8 Ball and the confirmed mortality rate is somewhere in the 0.1-0.3% range which is akin to a bad flu season. What is being done to us has never happened before; not during all the other outbreaks, not after the stock market crashes, not after 9/11. Never. This is tyranny, straight up. It's at our throats with a My Pillow in one hand and a Khalid Shiekh Mohammed rusty hacksaw in the other. The past three years were a complete refutation and rejection of the anti-American progressive globalist enterprise. In fact, it might have been down for the count. This virus was not planned, but it was an opportunity that was seized upon not only to destroy Trump, but to punish us for electing him, and now the opportunity to subjugate us permanently.
There is indeed a plague upon this nation. It is the Globalist Left that includes the Democrat Party, the propagandist media, governmental bureaucracy, academia and anyone and everyone who support it. Ronald Reagan once said:
Freedom is never more than one generation away from extinction. We didn't pass it to our children in the bloodstream. It must be fought for, protected, and handed on for them to do the same, or one day we will spend our sunset years telling our children and our children's children what it was once like in the United States where men were free.
You tell me if what is going on right here and right now is not an extinction-level event. Because it sure as hell is. Tick-tock-tick-tock.


STRUGGLE FOR LOCKDOWN LIBERATION
Encouraging signs from patriots like Kristi Noem, Ron DeSantis and growing numbers in law enforcement who are refusing to "just follow orders," as well as continued state-sponsored terrorism from pigs like Nipsy Cuomo, Grinchen Whitmer and Jay Inbreed. Are we going to watch helplessly as an Idaho mother is cuffed in front of her kids for the crime of taking them to a playground while our jails and prisons are emptied?
NOTE: The opinions expressed in some links may or may not reflect my own. I include them because of their relevance to the discussion of a particular issue.
ALSO: The Morning Report is cross-posted at CutJibNewsletter.com if you want to continue the conversation all day.
Follow us on Twitter: @CutJibNews


posted by at
07:45 AM
|
Access Comments