« Saturday Morning Coffee Break
|
Main
|
Saturday Gardening and Puttering Thread 4/25/20 [KT] »
April 25, 2020
Thread before the Gardening Thread: Time standing still? [KT]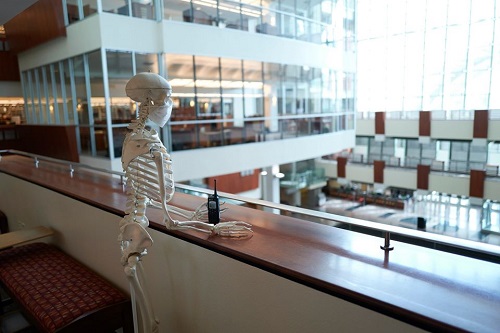 Serving your mid-day open thread needs
During this lockdown, have you ever felt sort of like you were just biding your time, waiting for things to get back to normal? Careful not to let anything calcify: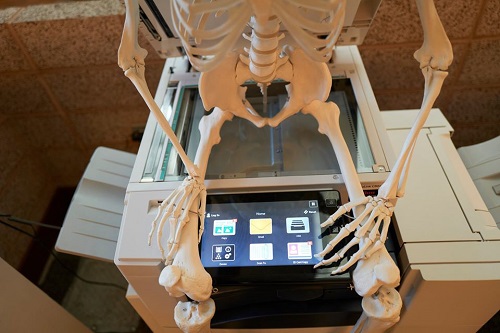 For years, Mandy the Skeleton has helped UNLV students in Lied Library prepare for anatomy and physiology exams. But Mandy has a lot of free time on his hands since the COVID-19 pandemic sent the campus into a remote instruction mode. Here's a peek at how he's spending his days, following social distancing guidelines and wearing a mask out in public, as he waits for campus to re-open and students to return.
But Las Vegas is not all that far away from Arizona. Where I live, in California, ASU has been heavily advertising 100% online degrees. Think all those students will be coming back to campus, Mandy? Are things going to get back to normal?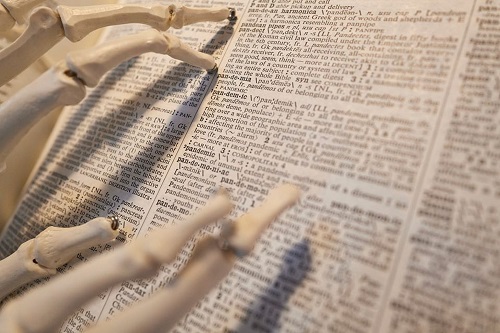 Tough time for newspapers, too. And Manhattan. Don Surber:
Manhattan will be like it was in the 1970s again, only there is no young Donald John Trump on the horizon to reverse the fleeing, and there is no Rudy Giuliani to fight the crime.

This is tragic. 8 million people will suffer for a far longer time than most people realize. If you think I get any joy out of this, you are wrong. I have seen economic devastation in West Virginia, and yes, it catches up with the local paper.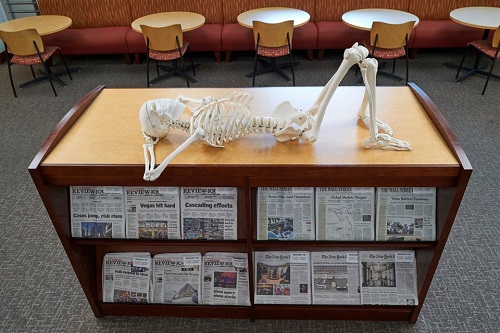 Hollywood will take a big hit, too.
Bad Celebrity Timing
Speaking of Hollywood, Meghan and Harry seem to have picked a bad time to leave the Royal Family for Celebrity Life. There's a report that British tabloids have asked them to quit contacting them.
The pair have released a statement telling four British newspapers that they are barred from all future access, but the papers have confirmed to the Velvet Hamster that they don't want it anyway.

"To be honest, they who won't stop pitching us stories and sending grainy photographs" said a spokesman for the papers in question. "When they left for Canada, we thought maybe we'd stop hearing from them, then certainly when they moved to Los Angeles, but here they are. We're honestly really confused by this statement and would like to reiterate that nobody actually cares what the second-in-line's brother does. Most of the time, we can't remember the first-in-line's brother's name. Not the Epstein one, the other one."
I have not confirmed the accuracy of this report.
They seem to have been demoted, though.


What a difference a pandemic makes.

In January, Prince Harry and Meghan Markle, Duke and Duchess of Sussex, stunned the world by announcing their intention to quit the royal family. The media gave "Megxit" saturation coverage, treating it like the most significant royal news story since the abdication of King Edward VIII in 1936. The Spectator argued the couple "represent the triumph of celebrity over royalty. "

But then this coronavirus broke out and the monarchy came roaring back.

Queen Elizabeth II gave a powerful, inspiring speech to encourage her people:

"I hope in the years to come everyone will be able to take pride in how they responded to this challenge, and those who come after us will say the Britons of this generation were as strong as any, that the attributes of self-discipline, of quiet, good-humored resolve, and of fellow feeling still characterize this country."

Many viewers said they were moved to tears. No celebrity could have united and reassured the British people the way their queen did. . .
There may be exceptional celebrities out there. Please let us know if a particular celebrity has reassured you during this pandemic.
Bad Normy Timing
I have a young relative who chose the time just before the lockdown to leave the security of unionized trash hauling to open a painting business. Trash hauling is secure in a pandemic. Painting may not be considered to be "essential" by the authorities.
Kinda scary, but he was more prepared than I expected, and I think he is going to be OK. Doing some personalized, local advertising. Has a lot of friends.
Anybody you know caught off guard by the lockdown? Have you had to make some alterations to your future plans?
Music
Do the hustle. At home, maybe.

posted by Open Blogger at
11:17 AM
|
Access Comments