« Tuesday Overnight Open Thread (4/21/20) Earth Day Too Many Karens Edition
|
Main
|
Mid-Morning Art Thread »
April 22, 2020
The Morning Report - 4/22/20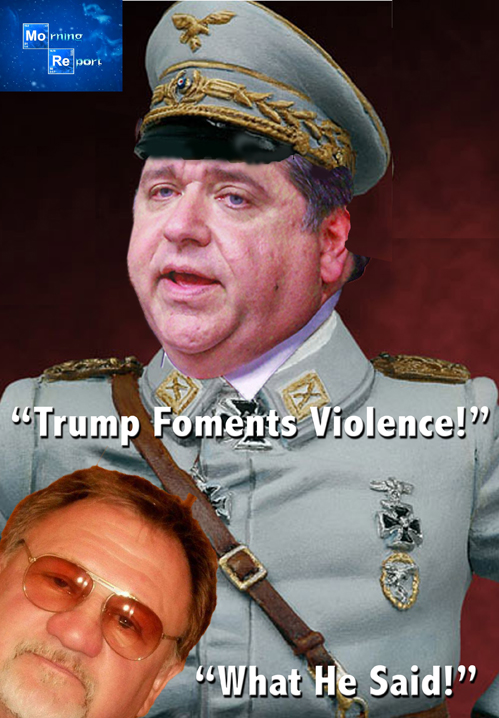 Good morning, kids. Wednesday, and another grim milestone of yet another day of America held hostage. There seem to be some very positive signs from the medical as well as political fronts meaning that perhaps there is light at the end of the tunnel. While most Democrat-controlled states will be lifting the states of siege in late May, Colorado Governor Jared Polis is bucking that trend, and will begin the lifting of his state's lockdown starting this Sunday. It's only a partial lifting but the early date is significant insofar as Polis is correctly interpreting the ill political winds of keeping the citizenry in suspended animation as their lives and livelihoods whither and die. The days and weeks may have all blended together, but it was only a couple of weeks ago that many on the Left were insisting that America remain in quarantine for upwards of 18 months. In that light, Polis' move, as well as some of the other recalcitrant dictator wannabes is significant.
Despite how the agitprop media wants to spin it, the bulk of the protests are occurring in blue states, so XiNN's Jm J Acosta's pronouncement that Trump is somehow coordinating these citizen protests is risible in the extreme. It may be that most of the protestors are Trump supporters but it's a fair bet that a sizeable and significant number are Democrats. For these politicians to continue what is in essence the opportunistic and wanton destruction of the economy as a means to defeat Trump at the expense of their own voters is political suicide. They know it and if they don't, their voters are giving them a lesson that they best heed. Comedic and schadenfreude-ish as it is to see Bill De Bolshevik get utterly destroyed with his Stasi snitch line, it also is highly indic-(no pun)-ative that all is not sweetness and light in the Commie paradise on earth that is New York City.
Whatever one professes to be politically, human nature does not change. Enlightened self-interest and an innate desire to be productive (welfare queens notwithstanding) as well as the resentment at any encroachment on one's personal freedom ultimately trump ideological bullshit. Cuomo, Newsom, Whitmer and all the other "resistance" buffoons are going to have to relent. If that does not convince them, then the emptying of state coffers as tax revenues disappear damn well should. Neither Trump nor the rest of America are keen on bailing out state treasuries and pension funds. Not after having the greatest economic boom in history intentionally wiped out in the space of a month.
Yet California, Oregon, Washington and several other blue states still have not set a date to lift their lockdowns and evidently feel confident enough that they can destroy the lives of their citizens while suffering no political consequences. That said, voters might blame their governors for their misery and merely play the Titanic Deck Chair Shuffle to dump one for another cardboard cutout commie. Maybe these states are too far gone, especially in light of 30-plus years of illegal alien invasion and 50-plus years of academic brainwashing. But if the GOP actually had the will to show the folly of voting Democrat, this is a golden political opportunity. It presupposes that average Democrat voters will put two and two together and believe their lying eyes as to what their leaders have wrought. Meh, it also presupposes the GOP actually believing in the same things we do, which obviously they do not.
That said, I think the beginning of the end of the lockdown is in sight. Yes, there still will be restrictions vis a vis what businesses are opened first, the social distancing and mask nonsense, etc. But after a while, people will grow tired of that and they'll be quickly abandoned. The snitches and Karens won't last long, especially as more and more of the medical evidence emerges to show that the Sino Sinus Syphilis, lethal as it can be to some, was nowhere near cause enough to put America into a nearly fatal coma.


STRUGGLE FOR LOCKDOWN LIBERATION
Breaking down the links, AG Barr with a warning shot across the bow of the tyrannical governors, Tank Abrams criticizes the actual governor Kemp over the planned liberation of Georgia, a Tennessee anesthesiologist is persecuted for telling the truth about Peking Pox and the lockdowns, Phil Murphy is a steaming sack of dung, Oregon lockdown propaganda about as hideous as you'd imagine, Governor Sitz-Pritzker accuses Trump of "fomenting violence." Listen, Fat, go look up Dick Durbin and his pal James Hodgkinson, m'kay? Also, De Bolshevik gets humiliated over his Stasi snitch line and lastly, Nipsy Cuomo and the danger of the consultants in crafting lockdown guidelines. I've had it up to here (pointing at my forehead) with the experts.
NOTE: The opinions expressed in some links may or may not reflect my own. I include them because of their relevance to the discussion of a particular issue.
ALSO: The Morning Report is cross-posted at CutJibNewsletter.com if you want to continue the conversation all day.
Follow us on Twitter: @CutJibNews


posted by at
07:31 AM
|
Access Comments