« Gun Thread: Pointless Productivity Edition [Weasel]
|
Main
|
The Morning Report - 4/20/20 »
April 19, 2020
Sunday Overnight Open Thread (4/19/20)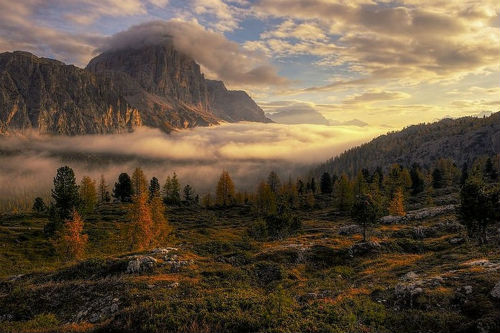 ***
The Quotes of The Day

Quote I

So look, if this insanity happens again, news sources have to rein it in. Everyone knows corona is no walk in the park, because you literally can't walk in the park, but at some point, the daily drumbeat of depression and terror veers into panic porn. Enough with 'the life will never be the same' headlines, and stop showing us this, you know everything looks scary when you magnified it a thousand times. Here's a pubic hair, boo!Bill Maher

Quote II

'Households are capitalism's pressure cookers. This crisis will see a surge in housework – cleaning, cooking, caretaking, but also child abuse, molestation, intimate partner rape, psychological torture, and more.' Far from a time to acquiesce to 'family values' ideology, then, the pandemic is an acutely important time to provision, evacuate and generally empower survivors of – and refugees from – the nuclear household," Madeline Lane-McKinley

Quote III

A quarter mil is a stiff price to pay to drink a lot of Old Milwaukee and cavort with eager booty callers for four years. You can do that at home, and without all the pronoun drama. Look for scores of mid-level colleges to die as the vast majority of students move toward a utilitarian model over the pricey vacation model.Kurt Schlichter

Quote IV

"This is not ok to take picture of people and post them. What is next? Train to Dachau?" Commenter on social media platform on Nextdoor, Los Angeles, CA.
***
The Comment of The Week

***
If you post racist screeds on social media, what is the proper penalty? If you are a senior in high school at Carrollton High School in Georgia, you are booted from school.

A Georgia high school expelled two white students after they posted a video to TikTok saying negative and racist stereotypes against Black people.

I don't expect the ACLU to jump to the students defense now that they are favoring Brown Shirt law enforcement tactics throughout the USA.
***

The ONT would like to salute Command Master Chief Mathew Rife and buy him the beverage of his choice.
One man was seen in video and photos taking a patriotic stand against the town's restrictions.

With a sign planted in the sand that read "LAND OF THE FREE," a fully decked Navy Master Chief stood in the ocean waters and drew the attention of law enforcement officers and curious bystanders on Thursday.

Wearing full Navy Service Dress Blue, the man, who was identified in a video as Retired Chief Rife, stood calmly with his back to the waters, making his silent but powerful protest. Command Master Chief Mathew Rife retired from the US Navy in 2019.
***
You would think a smaller rural county in Wisconsin wouldn't have Gestapo-Lite LEO.
Think again.

A student in Marquette County is suing after allegedly being threatened with arrest if she did not remove her Instagram post about her possible infection with the Coronavirus.

The Wisconsin Institute for Law & Liberty (WILL) filed a lawsuit in federal court Thursday on behalf of Amyiah Cohoon and her family against Marquette County Sheriff Joseph Konrath for violating the First and Fourteenth Amendment rights of the Oxford, Wisconsin teen, over the removal from the social media website of a picture of Coon in the hospital.

"There are no circumstances that would allow law enforcement to police social media in this way," said WILL Deputy Counsel Luke Berg in a statement Thursday. "At a moment when civil liberties need to be guarded most, the Marquette County Sheriff must be held accountable."

On the other hand you would think that a LEO of a larger metro area would be in love with his new found "power". That isnt the case.

Wisconsin's Racine County Sheriff Christopher Schmaling indicated in a statement he posted on Facebook he will not enforce the state's stay-at-home order, which Democrat Governor Tony Evers (D) extended through May 26.

Schmaling wrote "state law does not have the power to supersede or suspend the Constitutional rights of American citizens."
Sheriff Schmaling has more GD balls than all of the elected Republicans in the State of Wisconsin.
***

I can hear them throughout all of the capitols across the country. Duh! We never thought of that and the Law of Unintended Consequences.

NEW YORK/LOS ANGELES (Reuters) – Dwindling supplies of carbon dioxide from ethanol plants are sparking concern about shortages of beer, soda and seltzer water – essentials for many quarantined Americans.

Brewers and soft-drink makers use carbon dioxide, or CO2, for carbonation, which gives beer and soda fizz. Ethanol producers are a key provider of CO2 to the food industry, as they capture that gas as a byproduct of ethanol production and sell it in large quantities.

But ethanol, which is blended into the nation's gasoline supply, has seen production fall sharply due to the drop in gasoline demand as a result of the COVID-19 pandemic. Gasoline demand is down by more than 30% in the United States.

The lack of ethanol output is disrupting this highly specialized corner of the food industry, as 34 of the 45 U.S. ethanol plants that sell CO2 have idled or cut production, said Renewable Fuels Association Chief Executive Geoff Cooper.
***

Leave it to our "betters" to rub salt into an open wound.

But, as the MSNBC report noted and the Elizabeth PD explained, the newest drones were "on loan."

"We have been using Unmanned Aerial Vehicles (Drones) since 2018, however, the new models are equipped with voice capabilities. We were able to secure 5 DJI Mavic 2 UAV, on loan through DJI's Public Safety Disaster Relief Program – thank you to Wayne Baker, the DJI Director of Public Safety Integration," the Facebook post read.

And the MSNBC report indicated that the drones were "donated by DJI, a Chinese company," and "have gone to 43 agencies in 22 states, all to help enforce social distancing rules."
***

Thou Shalt Not Have Fun. The wages of sin fun is draconian over reach.

SAN CLEMENTE (CBSLA) — A popular skatepark in San Clemente was filled with sand to discourage skaters from using it during the coronavirus pandemic and to promote social distancing.

San Clemente had shut down all its parks and facilities on April 1 under the state's stay-at-home orders, but skaters ignored signs warning against trespassing at the Ralphs Skate Court, 241 Avenida La Pata.
Oh FFS
***
THE ONT MUSICAL INTERLUDE
***
Shopping at the mall could be considered a full contact sport.Genius Award Winner.
***
It sucks to be hospitalized. Tonight's Feel Good Story of The Day.

Challenging times are made more challenging without the support of friends and family—and for COVID patients isolated in the hospital, visited only occasionally by doctors and nurses, the challenge is even greater still.

That's why grassroots nonprofit COVID Tech Connect (CTC) is asking tech manufacturers to donate WiFi-enabled devices for hospital patients to video chat with their loved ones while they undergo medical treatment. Their goal is to collect 20,000 donated devices.

On their website, CTC explain that hospitals are no longer admitting family members or friends due to heightened demand on services and the risks of spreading the disease.
***

Tonight's ONT has been brought to you by Remorse.

Notice: Posted with permission from the Ace Media Empire and AceCorp, LLC. ONT tips, loose change, drink tokens and burner phones to petmorons at gmail dot com. Social distancing complaints and Karenish behavior to your local Stasi Department.

posted by Misanthropic Humanitarian at
09:55 PM
|
Access Comments