« Thursday ONT: Cleaning Out The Meme Folder Edition
|
Main
|
Mid-Morning Art Thread »
April 17, 2020
The Morning Report - 4/17/20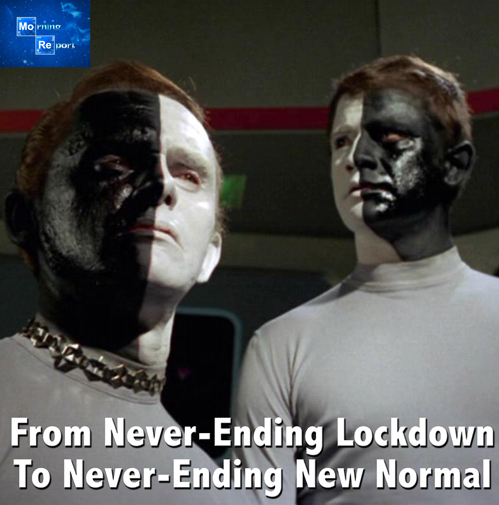 Good morning, kids. Friday, and another grim milestone of yet another day of America held hostage. The big news is that the President released his guidelines for lifting the lockdown. While some things involve logical precautions like keeping the sick, elderly and vulnerable quarantined, the fact that some of the social distancing idiocy remains in place as well as the pre-condition of a decrease in rates of infection, among other things, means that he is accepting, willingly or not, the notion that the disease is some sort of Andromeda Strain/Bubonic Plague that wipes out whole swathes of the population, along with the provably juiced statistics of number of deaths. Also it means he's disregarding the fact that the numbers, even with the juiced stats, when compared to other causes of death did not and do not justify the actions that have paralyzed the nation for two months. They also ignore the rather salient point about recovery rates and the very fact that people actually do recover from this thing, unlike AIDS for instance, which we did not quarantine and has raged for 40 years for obvious reasons.
But he has no choice. The propagandists as well as the technocrats painted him into a corner and scared the living hell out of everyone. Despite everything, even a master communicator like President Trump probably can't convince people to get out and live their lives as normal so long as Chinese Death Cooties are in the air. At least not yet. Given the mass protests in Michigan and elsewhere, plus the sense that even in residents of blue states are getting fed up with this, perhaps in the coming days and weeks the President can and will revise his guidelines and accelerate the lifting of the siege.
Trump has also decided not declare the country open unilaterally, but has taken the federalist approach and left the decisions in the hands of the governors. Places like Ohio, Alabama, and South Dakota where Governor Kristi Noem did not shut things down, as well as other normal America-America states will move swiftly. But as expected, the blue states are not only not going to open but are in fact pushing their opening dates back even further while imposing more restrictions and depredations on their citizenry. Ralph Mammy Mengele in Virginia pushed it back to the day after the scheduled GOP primary. How convenient. But they are playing with political fire. As the rest of America recovers, blue state hostages will see the people they disdain get back to work as best they can while they sit on their collective collectivist asses and watch their own bank accounts, 401Ks and businesses evaporate (state and federal handouts notwithstanding). The other thing is Cuomo, Newsome and all the rest can't hold out forever as state coffers from tax revenues disappear.
I don't know what bloated, pasty Steve Sisolak intends for Nevada, but Las Vegas Mayor Carolyn Goodman, who is listed as an Independent but is formerly a Democrat, has said the lockdown is "total insanity" and has called for an immediate lifting. With the casinos shuttered, Las Vegas and really the entire state is on track to go the way of Moe Greene and very soon. I suppose Vegas' economy is kind of a unique situation but nationwide, the Democrats have to know that this is unsustainable. Politically, the more this goes on, the more Trump is coming up smelling like a rose. Yes a bad economy is generally political death for an incumbent, but when it's his opponents that are shown to be intentionally murdering the economy, then that is a whole other thing. Do they have the self-awareness to see that America sees what they're doing? Well, after Access Hollywood mish-grabbing tape, Russian collusion, Ukraine-gate, Stormy Daniels, Michael Avenatti, Michael Cohen, Mueller and shampeachment, the smart money would be on no, they are clueless and/or deranged.
Unfortunately for the nation, the Democrats are playing politics with the lives and futures of 331 million people. It is very much life and death in very real terms, certainly much more than a virus, even one as nasty as the Peking Pulmonary Pox could ever be.
On a personal note, I got a late start this morning and will go light on the individual section-by-section recap. But there are some very important links so I urge a full review of the headlines. They'll jump out at you.


CHINESE CORONAVIRUS, FICTIONS AND FACTS
Red states no doubt will re-start the engines while Blue states will pour sand into the gas tank. They do so at their peril. This Gretchen Whitmer broad not only did not get the message but is now threatening retribution to the citizenry. Just wow. Also, CDC monkeying with the stats, George W. Bush center desperate to salvage globalism, we need a Manhattan Project for the repatriation of our industry more than a vaccine, and Victor Davis Hanson with the warning that we are now at a crossroads.
NOTE: The opinions expressed in some links may or may not reflect my own. I include them because of their relevance to the discussion of a particular issue.
ALSO: The Morning Report is cross-posted at CutJibNewsletter.com if you want to continue the conversation all day.
Follow us on Twitter: @CutJibNews


posted by at
07:48 AM
|
Access Comments