***
Good afternoon and welcome to the almost world famous Ace of Spades Pet Thread. Kick back and enjoy the world of pets and animals.
***
A Little of This. A Little of That.

This stay in shelter is getting out of hand. H/T ibguy
***
Not quite a pet. But, wildlife.

There was a lion in my friends neighborhood yesterday. They tranquilized it and moved him. He's a juvenile male. These aren't my photos so you can't use them, just thought I'd share. He also texted me video of the mountain lion jumping a fence and running across the street. They are very shy so getting to see one is rare. I've only seen one in the wild. - Kandi
***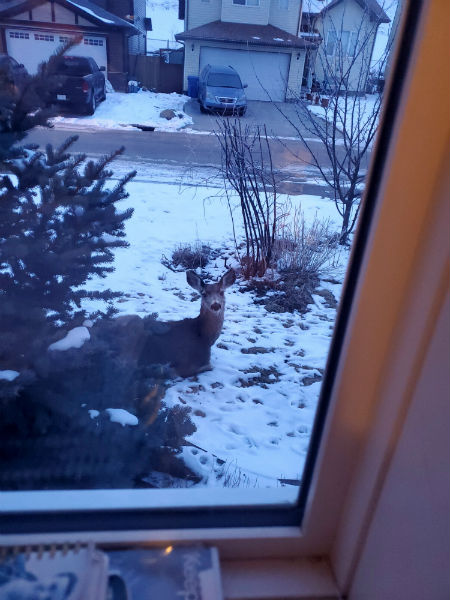 This obviously isn't a pet but she's been hanging around my front yard lately. There will be lots of evidence after the snow melts. - Northernlurker
***

I love Hobby Lobby. And so will your pets. H/T C&C Pet Thread lurkers
***
Meet The PetMorons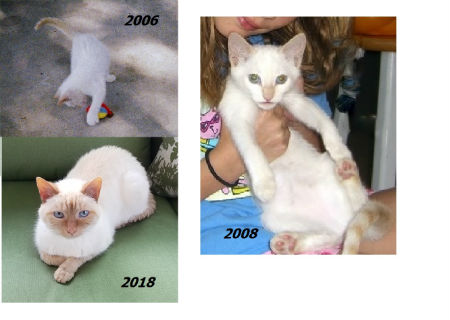 In 2006, I heard this weird intermittent screeching, screaming noise
that seemed to inch closer and closer. After a couple days of it, I
found this screaming shivering gray kitty under a rose bush in my
yard. Poor little feller. I washed it off - HEY! It's white and
orange! Took it to the vet, fattened it up, all that. I had two cats
at the time that DID NOT like this kitten, really seriously no they are
not going to get along. So I found it a home with some reasonably rich
that were looking for a siamese. ."Howse about a nice colorpoint
instead?". . tried to get them to adopt me, too, but no dice. Anyway,
Straycat found a very nice home. They named her Tiger Lily and spoiled
her rotten. They even went out and bought another colorpoint so she'd
have proper company. She was little Miss Personality from day one and I
am so pleased they send me pics from time to time. If she had a
pedigree, this would be a show cat, I'm sure of it. $400 dollars and up
.. I can't imagine how she ended up under a rose bush.

So here she is in all her glorious beauty. Thank you for the pet
thread, it is always so cheering!

- Persnickety, occasional poster
It is stories like this that make the Pet Thread so cheerful. Thank you for sharing this wonderful story. She's a cutie.
***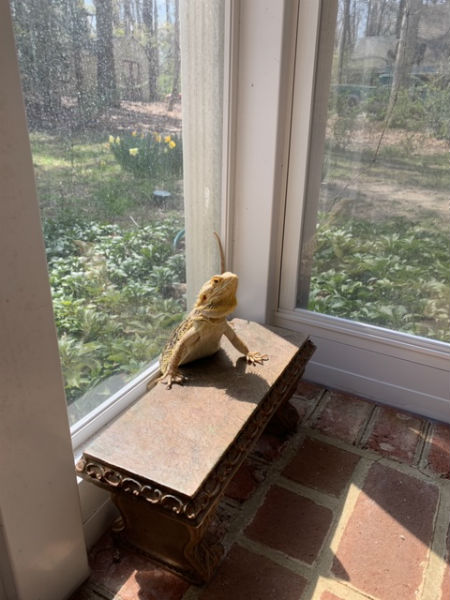 Nyaro Catching some sun on our porch on Thursday in the picture. Showing signs of impending quarantine stir-crazy in the video on Friday. - Christopher
Thanks for the submission. Sorry we can't use videos unless they are a YouTube video. Our pet hamsters just can't do that.
***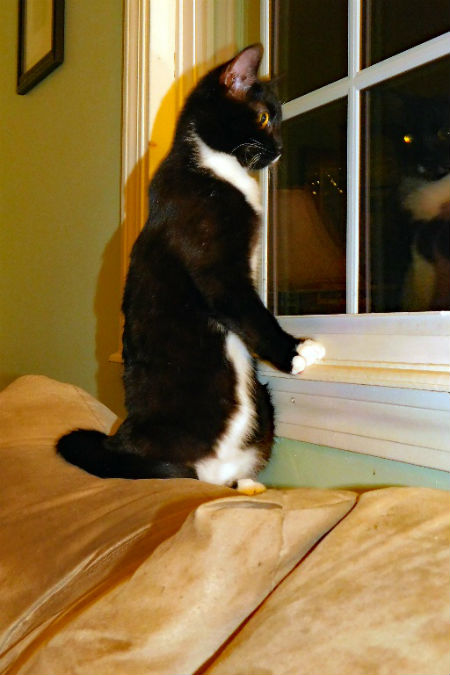 Max has been diagnosed with heart-worm and in the hands of Vet. He's only seven months old.

He and his brother were abandoned in a dumpster as kittens, that must have been when he picked up the infection.
Good thing we canceled the cruise we were going to go on, we'll need the money now for his medical care.

Pray for him, he's a good kitty!

John
Hopefully this handsome little guy is on his way to full recovery. I'm positive the Horde will say their prayers.
***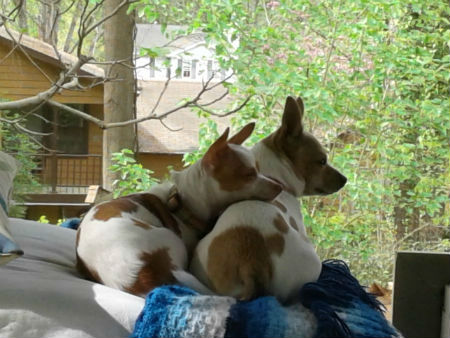 Hello again from the small town of Lilburn Georgia. We're all going a little nuts here with stay at home orders, but spring has arrived and it's warm and nice now that most of the nasty pollen has washed away, so what a great reason to be outside. I've actually met a few more neighbors down the street while walking Flynn and Sadie Mae, and I've lived here since 1993! Anyway, attached are pictures my two chi-wow-wows. They're so much fun and are quite bonded to each other and me too. This picture is from my back porch on yet another calm and peaceful Sunday morning. Thanks for all your work and dedication - AoS Pet Thread is such a weekly joy and an oasis of happiness amidst all events that besiege us at present. Thanks, Dana
You're welcome Dana. And thank you for submitting this photo of your pets. They certainly seem content, sweet and ever vigilant.
***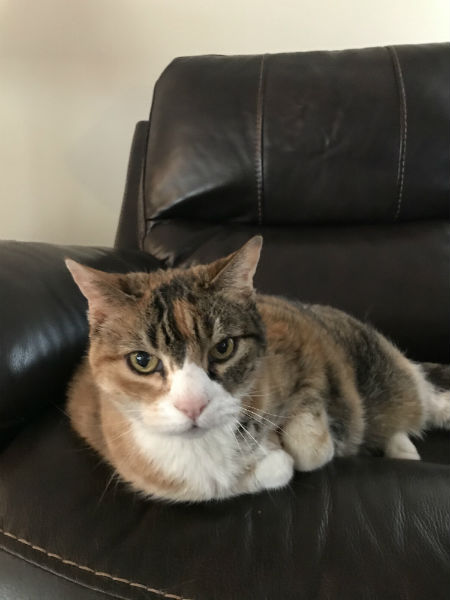 This is Sasha. We inherited her when my sister-in-law passed away some years ago. She took awhile getting comfortable with us but now she feels free to take up most of my chair! She is vocal when itís time to eat and loves to be scratched behind the ears.

Iím a lurker mostly but I love the Pet Thread!! - MyMind
We are sorry to hear how Sasha came about to being your pet. She certainly seems quite at home with you folks. A very pretty cat.
***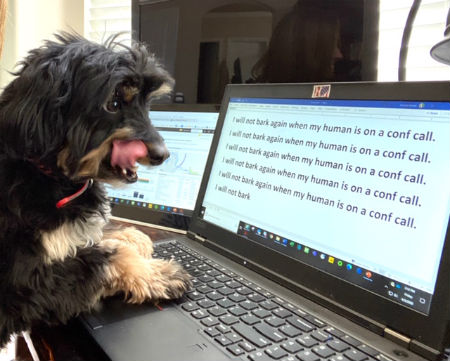 New challenges working from home during stay at home orders.

My former spouse, (still my good friend), can no longer work from her
company office and must now work out of her home office. Her work day
is full and consists of many business conference telephone calls as
well as video calls.
In addition to home schooling our two school age boys, she also has to
contend with her dog Izzy, who is not used to her being home in the
day, a sweet two year old 2nd generation mini Bernedoodle.
With new and differnt sound in the house of which Izzy is not
familiar, she is under a lot of stress and doing a lot of barking at
these new strange sounds.
Here is a picture of my former spouse trying to teach Izzy she must
not bark while she is on the phone working.
PS: My former spouse approves of my submitting this photo of Izzy for
possible inclusion in the Ace of Spades Pet Thread.

Thanks,
Mel
Wow, Izzy has thumbs and can type. How awesome is that!!! Cute photo thank you for sharing with us today.
***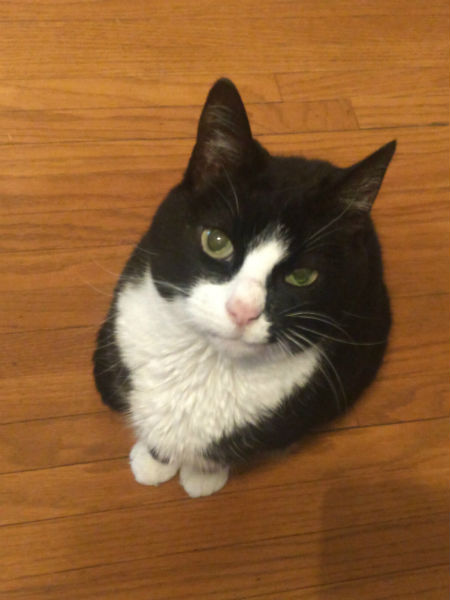 This is my home office supervisor, Moonie. She was abandoned and abused before we got her about 10 years ago. Since she moved in she's been queen of the house and lets my husband know every chance she gets which one of them is low man on the totem pole. - Kris
That little sweetie is not the low man on the totem pole? That's hard to believe. You must have a very understanding hubby. Thanks for the submission.
***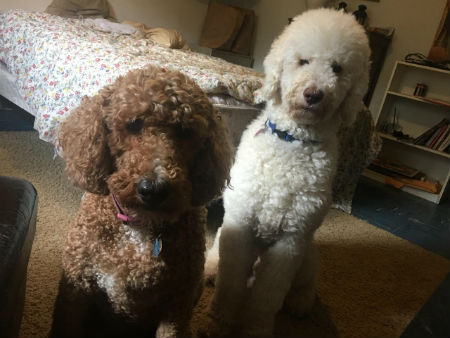 Here are Molly (6 y/o female) and Oliver (3 y/o male). Oliver is the one I rescued at Christmas. They are getting along wonderfully well. We have new construction next door so white Oliver often looks dreadful. The mud is winning. -The Garde Vieux
So how many snacks were you holding for that pose? Great photo! Glad the rescue is working out well.
***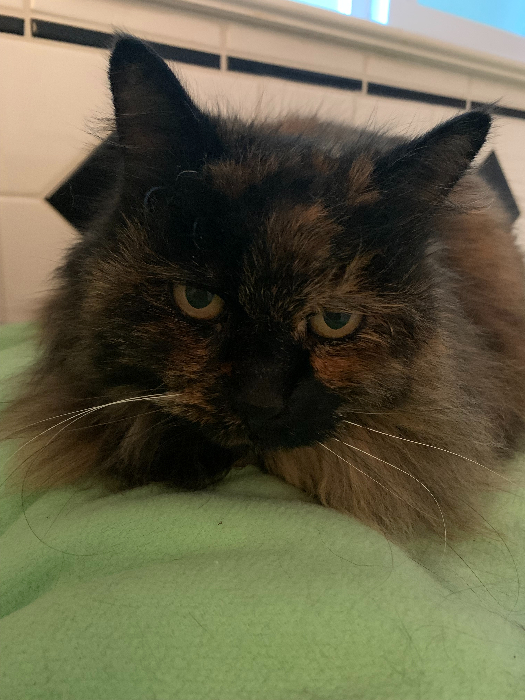 Love the pet thread!! Please post this when you have room. Thanks!

This is Angus Mac, my 16-year-old tuxedo cat. He is blind, from a herpes virus at birth. I rescued him from being euthanized at nine weeks. Vet said he had a tiny bit of vision in his one blue eye (kitten pic) but that soon failed; the other "eye" is only scar tissue. From the start he was confident, has never known he has a problem. That first year he was a blind feline retriever; he'd chase the mousie by listening to it bounce, bring it back slinking like a panther, circle me once, and drop it to be thrown again. Sometimes he'd bring it to me and drop it, like a puppy, and I'd stop whatever I was doing and play. Then we had to remove the eye because it had gone black (it had long since lost vision) and the cornea was hurting him. That seemed to disorient him, because he would never play mousie again.

Angus's strong personality comes through in so many ways. He's vocal and bossy, and I'm expert at reading his body language. He listens contentedly to music, TV and conversations. Loves to prowl the back yard after rain, to smell things. He "cows" my young male tabby by climbing on top of him, and Linus allows it out of affection ("yeah, pops, you still got it, uh-huh"). Angus's purr is deep and quiet like a ship's engine--vroomm, vroomm. He's slow now, and we've had digestive issues, but vet says he's doing okay. I have other cats, but he's my baby and my grand old fellow, and it will break my heart when he goes. I'm hoping for another few years! - skywch
What an amazing story and what a big heart you have. It sounds like Angus has had a wonderful life. Thanks for sharing.
***

We are living in troubled and at time depressing times indeed. However, you Pet Thread Horde members have been uplifting with your kind words and wonderful contributions. Thank you for making this place an enjoyable escape.
If you have something you wish to submit please feel free to contact us at petmorons at gmail dot com
Have a great week!!!

posted by Misanthropic Humanitarian at
03:00 PM
|
Access Comments