« Monday Overnight Open Thread (4/6/20) Kung Flu Link Free Edition
|
Main
|
Mid-Morning Art Thread »
April 07, 2020
The Morning Report - 4/7/20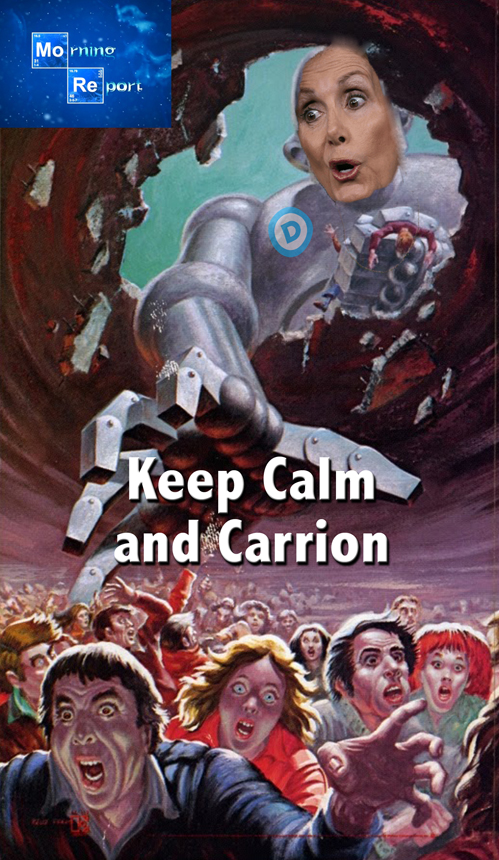 Good morning, kids. Another grim milestone of 24 more hours just marking time, otherwise known as Tuesday from a casual glance at the calendar. Actually, there are some signs of hope from here in NYC, one of the epicenters of the Kung Fu Grippe. Despite our idiot health director's claim that mass graves are being dug in Central Park (the same idiot health director who only a month ago exhorted people to party on in Chinatown), the Rotting Apple's hospitals have been discharging more patients than admitting for four straight days, Governor Nipsy Cuomo stating that no more ventilators are needed, and an economist from MIT reporting his analysis shows the so-called "curve" flattening in NYC. On a national level, President Trump is already calling for the formation of another committee to spearhead the post-lockdown restarting of the economy. With the Institute for Health Metrics and Evaluation (IHME) model that has been cited by the administration now lowering its death projections in the US, the lifting of the lockdown can't happen fast enough. At the very least, the administration should be looking at targeted and phased in lifting of restrictions where people who test positive (sick or asymptomatic), the elderly, and those with poor pulmonary or immune systems remain quarantined until a date TBD. The President, who had been uncharacteristically glum for the past week, said on Sunday "we see light at the end of the tunnel."
Broken record time from me: every death and every person suffering with this Chinese-originated pestilence is for sure a tragedy. Yet it is being dealt with as an extinction-level catastrophe that has caused untold more suffering, and needlessly in my opinion. The ultimate death toll from the disease will not have justified the wholesale wiping out of businesses and the life savings of millions while setting a very dangerous precedent in the erosion of our liberties. As to the death toll itself, Julie Kelly is echoing my concerns that the stats are going to be juiced, intentionally or perhaps merely driven by the mass hysteria of the media so as to cloud the judgment of doctors and nurses when they fill out the death certificates:
... Guidelines recently released by the Centers for Disease Control bolster concerns that the death toll is being rigged to show a higher fatality rate. "In cases where a definite diagnosis of COVID-19 cannot be made, but it is suspected or likely (e.g., the circumstances are compelling within a reasonable degree of certainty), it is acceptable to report COVID-19 on a death certificate as 'probable' or 'presumed'," the agency advises. "In these instances, certifiers should use their best clinical judgment in determining if a COVID-19 infection was likely."

That clinical judgment, alarmingly, does not require administering a test to confirm the presence of the virus.

"Ideally, testing for COVID-19 should be conducted, but it is acceptable to report COVID-19 on a death certificate without this confirmation if the circumstances are compelling within a reasonable degree of certainty," the guidelines state...
And you can bet your bottom dollar that the Democrat-Media Complex is going to make sure that every death from here on out will be murder by Chi-Com Lung AIDS with Donald Trump as the perpetrator. But I digress.
The nature of viruses, including what we know of this one, means that there will be secondary and perhaps tertiary infections and a concomitant rise in deaths after we lift the lockdown, but this is normal. Then again, the lockdown itself is thought to have prevented what's known as a herd immunity from occurring, which could make a recurrence of infection that much more severe. And Anthony Fauci's stance is that the lockdown should remain in place until there are zero reported cases if infection. That means permanent lockdown, which is clearly impossible. Yet still he persists.
The sickness and death of several thousand people, even if it comes close to the nearly 70,000 who died from flu alone last year, or the nearly 3,000,000 (2017) from a litany of diseases or other causes still does not justify putting the lives of the other 315,000,000 Americans through hell. Life must go on. That doesn't mean we tolerate or dismiss even one death. It's what makes the current talking point/attack line of the Left so risible and infuriating given the history of Socialism and the body count it has left and continues to leave, in its wake; that Trump and normal America care more about money than human life.
Back in the real world, so-called "essential" businesses such as supermarkets and pharmacies as well as liquor stores are allowed to remain open, but everything else is ordered shuttered. Does the Peking Pox know not to traipse into the Whole Foods Market or hang ten offshore in Santa Monica? Tucker Carlson nailed it:
... "We've decided that offices are somehow more dangerous than supermarkets, far more dangerous, though no one has bothered to explain how. The result: by some estimates, more 17 million Americans are unemployed right now. That's the highest number in the history of this country. A year from now, we should think about this. How will we feel about all this, about our decisions in the face of this pandemic? Is there a single person who sincerely expects the coronavirus itself will hurt more people in the end than the damage we're causing in our response to it? Probably not. Mass unemployment is almost certain to cause far more harm - including physical harm - to the average family than this disease...

Once again, coronavirus is not the only bad thing that's happening in America right now, horrifying as it is" Carlson concluded. "We should never minimize the danger of this pandemic, or minimize our obligation to respond to it wisely... No thoughtful person wants to reopen baseball stadiums tomorrow or book a cruise to Shanghai, but there has to be a more balanced course than the one we are on now. For most people, going to work cannot be more dangerous than buying produce at Safeway twice a week. And if it is more dangerous, tell us how it's more dangerous, and be specific when you describe that. Otherwise, it's time to start caring about the entire population. Healthy people are suffering badly too."
President Trump: Lift this lousy lockdown.


CHINESE CORONAVIRUS, FICTIONS AND FACTS
Looking at the latest links, aside from the good news mentioned coming out of the epidemic epicenter in New York, it certainly appears our response is being driven by fear than facts, a look at how Sweden has handled this by not locking down and focusing on the next wave of infection instead vis a vis herd immunity, Nipsy Cuomo evidently is ignoring the media and wants HCQ for use in New York, after his dumb Pearl Harbor and the Explosions line, the surgeon general lays down some truth, I'm shocked(!) to learn that this disease strikes the elderly much harder than the young, St. Louis Fed head wants plague victims to wear an identifying badge, the lockdown and not the disease is the cause of medical staff shortages, despite the propaganda the US is near the bottom of the list on deaths per capita, and Lloyd Billingsley with an unflattering look at a CDC unit and how it utterly failed in its mission.
NOTE: The opinions expressed in some links may or may not reflect my own. I include them because of their relevance to the discussion of a particular issue.
ALSO: The Morning Report is cross-posted at CutJibNewsletter.com if you want to continue the conversation all day.


posted by at
07:35 AM
|
Access Comments