« Saturday Gardening and Puttering Thread 4/7/20 [KT]
|
Main
|
Saturday Afternoon Chess thread 04-04-2020 »
April 04, 2020
Ace of Spades Pet Thread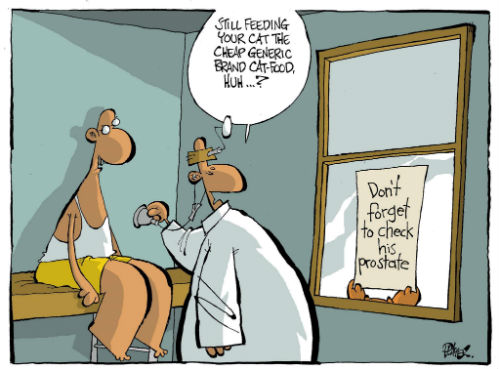 (H/T Legally Sufficient)
***
Good afternoon and welcome to the almost world famous Ace of Spades Pet Thread. Escape reality for the next couple of hours and enjoy the world of pets.

Leave current events out would you please? Thanks.
***
A Little of This. A Little of That.
Pretty funny dog walking method. Love the moron pets thread every week. Thanks! (H/T MTF)
***
Cute video of a bird dancing.(H/T Clyde Shelton)
***

Breaking the rules. Funny turtle. H/T KT
***

This afternoon's feel good story of the day.
(H/T Shibumi)
***
Meet The PetMorons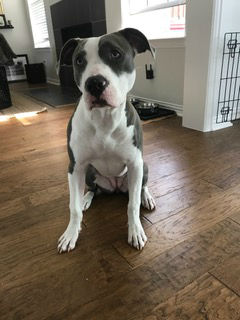 Here's our pup adoptee Tilda now at 6 months.
She's obstinate, selective hearing, restless and walking her is like dragging a 50lb bag of cement down the sidewalk. I will NEVER give this dog up! We love her.
Tilda at 6 months: Love Ace.mu.nu - P. Aaron
So, Tilda is a typical puppy? Congrats on your newest family member and good luck with raising her. Please keep us posted in the months to come.
***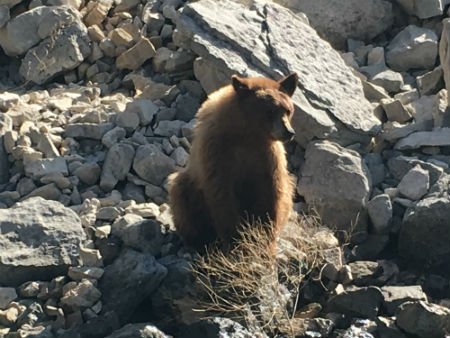 &&&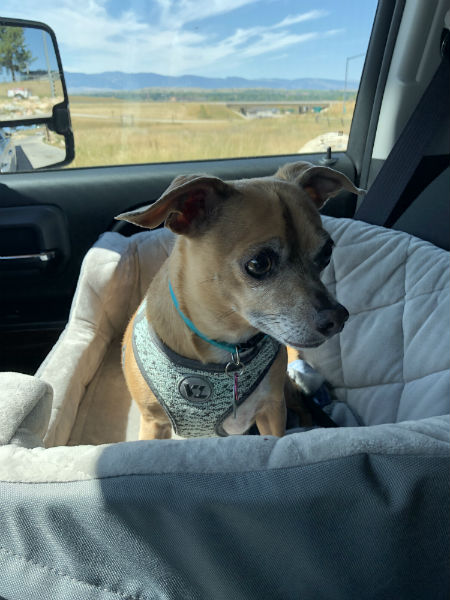 First is a bear from 2016 at Yellowtail Dam/Bighorn Lake in MT. Obviously not a pet, just like the photo if you want to use it. We were in a boat when the photo was taken and there is always a decent probability you can see a black bear back in the canyons along the shoreline.

Second is Chloe on a road trip to MT at a pitstop in Sheridan, WY. When the ex moved out we each got a pup. Probably for the best, she doesn't like to share her toys. -Infrequent poster, lurker. MH-53J

So two animals that don't play well with others? Beautiful territory and really nice photos. Thanks for sharing today MH-53J
***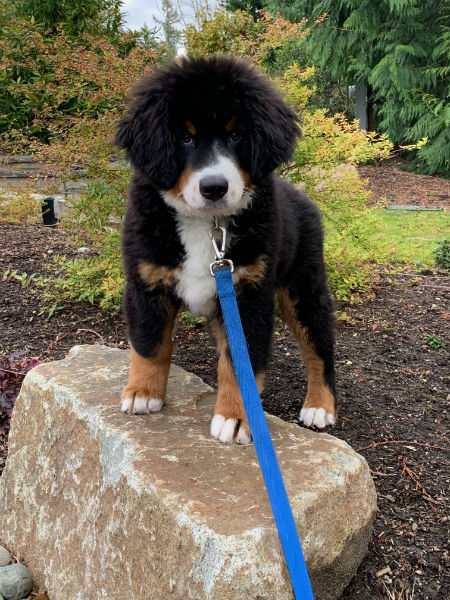 This is Bennett at age 15 weeks. He is a Bernese Mountain Dog that recently became a member of our family. He is a handful now but we hope to train him (and us) to be a therapy dog. - No name provided.
Puppeh!!! Just too cute! Who would have thought a 15 week old puppy would be a handful? I had no idea J/K. Thank you for your submission today.
***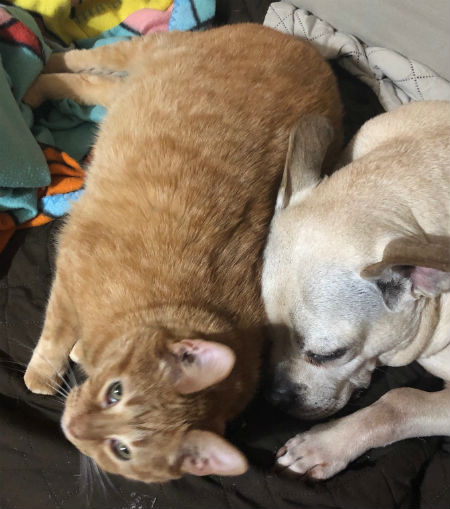 I submitted a picture of Dallas a few months ago. This is her little cat sister Freckles. The ex-Mrs saw her in the road one rainy day as a kitten and pulled over to get her. Freckles ran under the car and when she tried to snatch her, she jammed her fingers into the red hot exhaust. She still somehow managed to grab Freckles despite a serious burn.

According to the vet, she had the worst ear mite problem they'd ever seen, but Freckles made a full recovery and here she is 10+ years later antagonizing the dog as she does on occasion. She's still very slow to trust new people and although I rarely see her now, she still runs to greet me immediately when I do. Hopefully she has another 10+ years of laser pointers and randomly vomiting only on carpeted areas. - Shawn
Sorry to hear you don't get to see Freckles that often. Sounds like she hit life's jackpot when the ex found her. We hope she has lots of time left as well.
***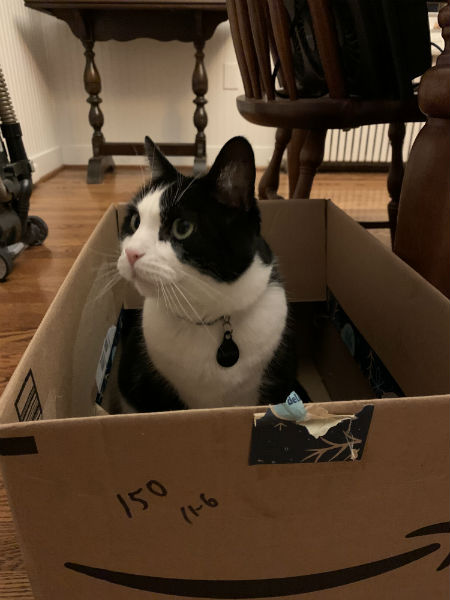 Hello, Mis Hum.

I am a lurker and thus do not have a creative handle, so you can just call me "SnowChick" if you need something. 😉

This is my little buddy, Dexter (so named because he was born under my deck). He was totally feral. The car pic is Dexter and his mommy about a week before we caught him with an animal friendly trap. We quarantined him for a time in the guest bedroom. The radiator pic is the first day of his capture. The video is exactly 5 days after his capture. This was the result of daily handling, love, and t-r-e-a-t-s.

Dexter was a little scraggly when we caught him. He was cross-eyed and had a terrible case of worms, but with proper care and some love, he has turned out quite well. Dare I say, he's the best cat ever! He's a true member of the family. He can be upstairs and if mommy and daddy are having a conversation downstairs, he'll come downstairs, sit so as to make a triangle out of the three of us, and announce himself with a peep or meow. Let the meeting begin.

Love this spoiled kitty, now 8 years young!!

Thanks for the story and photo of Dexter. A happy ending for this handsome guy. Can't tell he is loved, not one bit. Thanks SnowChick.
***
Keeping the dog safe. This is Jagger. - Name withheld
No mask for the dog? C'mon Man! J/K. Fun photo. Thanks for sharing.
***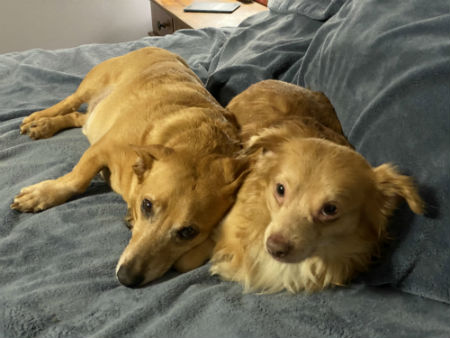 This is Stumpy (left) and Leo (right). Stumpy is a foster fail. We were fostering Stumpy, who appears to be a mix between a Dachshund and a Chihuahua, for our local animal shelter. He had a very bad case of heart worms. So we fostered him through his treatments. Turns out he's the most laid back and lovable little guy so we ended up adopting him. Our poor animal shelter is so inadequate based on the size of our county. The good people there do stellar work but they have so little to work with. So we try to help them by fostering. My wife was at the animal shelter to do the official adoption paperwork for Stumpy when someone shows up with 16 Chihuahuas. Leo is one of those 16. We're fostering him until gets adopted. He's a very scared little guy but really became best friends with Stumpy. Wherever Stumpy goes, Leo follows. Just a friendly reminder to folks to please help your local animal shelter by fostering if you are able. - Andrew
What a heartwarming story Andrew. Also a very valuable lesson for treating your dogs monthly for heart worm. Awful disease that is completely preventable. Thanks for sharing today.
***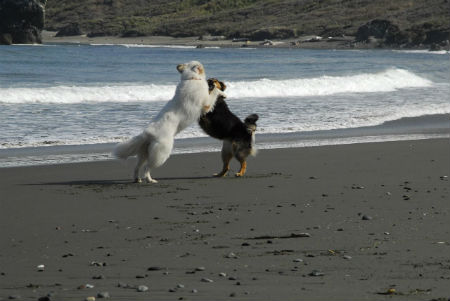 Greetings, Morons!
I'm mikesixes, and I mostly just lurk around here.

Here's a picture of our dogs rasslin' on the beach. The white one is
Thelma, the great pyrenees, and the black and tan is Dingo, a german
shepherd/border collie cross. We got Dingo as a pup in 2005, Thelma we
found on the side of the road in 2007 when she was about a year and a
half old. The 2 of them were bestest pals for 12 years, until Thelma
died suddenly last July 9. Dingo followed her about a month later, on
August 11. We miss them. We'll never get another pair like them.
Bummer, I hate a story with a sad ending. So sorry to hear of your pets passing. They certainly don't live long enough do they?
***
The In-box is still plenty full. So please be patient while we get to your pets. Every pet will have its day in the AoS Pet Thread spot light.
Thanks to all who contributed pet stories and the interesting pet links.
May you and your pets be safe this next week. Have a great week!!!!

posted by Misanthropic Humanitarian at
03:00 PM
|
Access Comments