« EMT 04/05/20
|
Main
|
One Thing Of Which We Can Be Certain; When Given A Range Of Options, California Always Chooses The Worst One »
April 05, 2020
Sunday Morning Book Thread 04-05-2020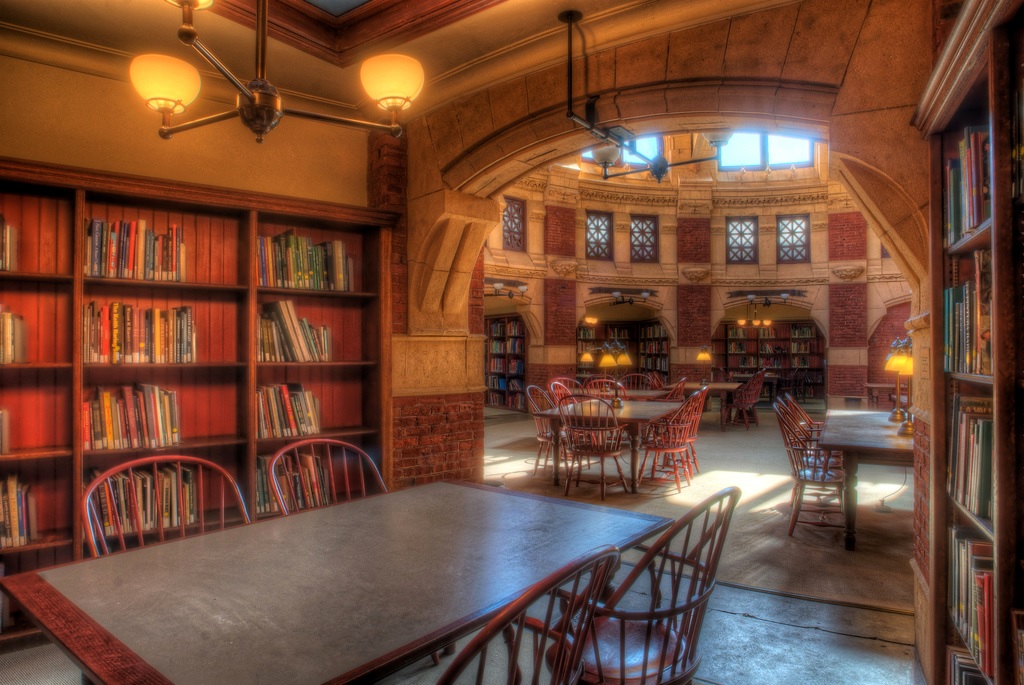 Fisher Fine Arts Library, University of Pennsylvania

Good morning to all you 'rons, 'ettes, lurkers, and lurkettes, wine moms, frat bros, crétins sans pantalon (who are technically breaking the rules), outcasts, rejects, the disaffected, and other rebel scum. Welcome once again to the stately, prestigious, internationally acclaimed and high-class Sunday Morning Book Thread, a weekly compendium of reviews, observations, snark, witty repartee, hilarious bon mots, and a continuing conversation on books, reading, spending way too much money on books, writing books, and publishing books by escaped oafs and oafettes who follow words with their fingers and whose lips move as they read. Unlike other AoSHQ comment threads, the Sunday Morning Book Thread is so hoity-toity, pants are required. Even if it's these pants, which, I would love to wear while attending a PETA party.


Pic Note:
The Fisher Fine Arts Library collects materials to support research in art and architecture, the decorative arts, photography, historic preservation, city planning, and urban design. The entire history of art is represented, from antiquity to the present. Fisher collects items in most languages and, in principle, no language is excluded. Monographs, exhibition catalogs, journals, facsimiles, reference materials, ephemeral materials, and microforms are all of interest. The Fisher acquires electronic resources, including image databases, electronic journals, indexes, and other reference works.


It Pays To Increase Your Word Power®



Can This Age of Stupid Get Any Worse? Many Signs Point To 'Yes'.
That's the premise that's argued by Edward Dutton and Michael Woodley in their book At Our Wits' End: Why We're Becoming Less Intelligent and What it Means for the Future:
We are becoming less intelligent. This is the shocking yet fascinating message of At Our Wits' End. The authors take us on a journey through the growing body of evidence that we are significantly less intelligent now than we were a hundred years ago. The research proving this is, at once, profoundly thought-provoking, highly controversial, and it's currently only read by academics. But the authors are passionate that it cannot remain ensconced in the ivory tower any longer. With At Our Wits' End, they present the first ever popular scientific book on this crucially important issue. They prove that intelligence — which is strongly genetic — was increasing up until the breakthrough of the Industrial Revolution, because we were subject to the rigors of Darwinian Selection, meaning that lots of surviving children was the preserve of the cleverest. But since then, they show, intelligence has gone into rapid decline, because large families are increasingly the preserve of the least intelligent. The book explores how this change has occurred and, crucially, what its consequences will be for the future. Can we find a way of reversing the decline of our IQ? Or will we witness the collapse of civilization and the rise of a new Dark Age?
This is sort of a non-fiction version of the classic C. M. Kornbluth story The Marching Morons. Or the movie Idiocracy, if you will.
I am reminded of the controversy that was stirred up by this book, The Bell Curve: Intelligence and Class Structure in American Life by Richard Herrnstein and Charles Murray when it was first published in 1994.
The authors argue that human intelligence is substantially influenced by both inherited and environmental factors and that it is a better predictor of many personal outcomes, including financial income, job performance, birth out of wedlock, and involvement in crime than are an individual's parental socioeconomic status. They also argue that those with high intelligence, the "cognitive elite", are becoming separated from those of average and below-average intelligence. The book was controversial, especially where the authors wrote about racial differences in intelligence and discussed the implications of those differences.
Progressives seem to have a deep antipathy to the concept of "innate." The idea that some things are what they are and therefore can't be something else sends them into a frothing rage (yeah, I know, how can you tell?). Their concepts of "equality" and "equity" are all wrapped up in this. But at the bottom of it all is the idea that man is a 'blank slate' upon which anything can be written. And progressives want to be the ones who do the writing.
This view is discussed in Steven Pinker's book The Blank Slate: The Modern Denial of Human Nature, a book which
...explores the idea of human nature and its moral, emotional, and political colorings...Pinker argues that the dogma that the mind has no innate traits - a doctrine held by many intellectuals during the past century - denies our common humanity and our individual preferences, replaces objective analyses of social problems with feel-good slogans, and distorts our understanding of politics, violence, parenting, and the arts...Pinker shows the importance of an honest acknowledgment of human nature based on science and common sense.
The Kindle edition is only $4.99.
(h/t Hans Schantz)


Who Dis: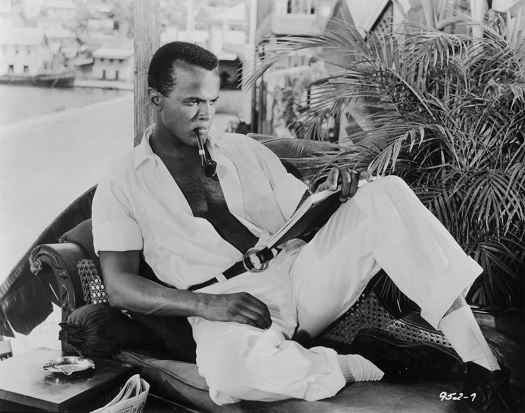 Last week's 'who dis' was punk rocker
Patti Smith
, who won the National Book Award for her memoir about meeting and hanging out with photographer Robert Mapplethorpe in the New York art/music scene,
Just Kids
.


Moron Recommendations
I've been reading The Dark Ages 476-918, by Charles Oman. It was published in the 1800s, and I'm not sure how much value it has as a history book. What I like about it is the tone. Books from the era have a confidence in their narrative that's missing from today; modern nonfiction writers try, but it just comes across as whiny to me. Older authors happily tell you what to think about XYZ historical figure, and while I don't usually like people telling me what to think, it is kind of fascinating in these cases.

Posted by: right wing yankee at March 29, 2020 09:35 AM (zlzYb)
If you're a noob just starting out (like me on most subjects), I don't think it matters if you're not reading the latest scholarship. I believe these older writers had enough of it right that you will actually learn something valuable and worth knowing.
Here is what wikipedia has to say about Oman:
Sir Charles William Chadwick Oman, KBE, FBA (12 January 1860 – 23 June 1946) was a British military historian. His reconstructions of medieval battles from the fragmentary and distorted accounts left by chroniclers were pioneering. Occasionally his interpretations have been challenged, especially his widely copied thesis that British troops defeated their Napoleonic opponents by firepower alone. Paddy Griffith, among modern historians, claims that the British infantry's discipline and willingness to attack were equally important.
Oman wrote a number of books, including The Art of War in the Middle Ages A.D. 378-1515, A History of England and The Byzantine Empire. They're available on gutenberg for free. A wider selection is available on The Internet Archive. Also Amazon.
___________
On the Kindle, I read The Last Marine by T. S. Ransdell. An ad for the book describes it as "culture war fiction." In a future totalitarian America, the SJW's are running the show. The President is just a figurehead, and the real power rests with a woman (of course) general who is not only the head of the military, but of the internal security forces as well. She hires a young, ambitious historian/journalist, Joel Levine, to write a piece to remind the nation of its past sins in the Sino-American War. Levine is allowed to interview Sean Harris, the last living Marine veteran who has been in prison for fifty years after a failed coup attempt against a SJW government. Harris tells the story of the war from a Marine's point of view. The last battle scene is especially well written. Riveting. The premise of the book is frightening because it looks like we are heading in that direction. Ransdell is a Marine veteran and served deployments in the Middle East. I'm going to spend the $4.99 on the second book.

Posted by: Zoltan at March 29, 2020 09:26 AM (3ugDL)
So Levine is getting news that isn't fake news. And when the unrepentant combat veteran's account of the final war, and what happened afterwards, differs from the official government history; Levine begins to question all he has accepted and believed his entire life. Thus leaving the historian to decipher between propaganda and history, and the consequences of acknowledging the difference.
The SJW future is Brian Stelter, sitting on your face, forever.
The Kindle version The Last Marine: Book One can be had for $4.99. The title of the sequel is, get this, The Last Marine: Book Two.
---
And, apropos of last week's discussion on the war of 1812, here is a novel that came up in my Amazon mentions as I was looking at Zoltan's rec, Backlash: A War of 1812 Novel, which I thought looked interesting:
With questionable justification and inadequate preparation, the newly-united States of America declared war on Great Britain, the most powerful nation on earth. From Canada to New Orleans, sixteen-year-old backwoodsman Lemuel Wycliffe seeks revenge for the massacre of his family. Silas Shackleton, a soldier in the American army, reluctantly fights in battles from the Niagara River to Lake Champlain. Recruited by Tecumseh, Muskogee warrior Hadjo fights to drive the whites back into the sea. Canadian-born infantry-lieutenant George Sherbourne spies on the government of President James Madison. In Washington City, Rachel Thurston helps her Federalist father plot to break the northeastern states away and realign with the British.
It sounds like there's a lot of plot going on there. $9.99 on Kindle.
___________
...look for Red Sky at Morning by Richard Bradford. It's a 1968 novel, a coming-of-age story of a teenage boy during WWII, when his father, a shipbuilder, joins the Navy and sends him and his mother to Sagrado, NM (a town modeled on Santa Fe), to keep them safe. Hilarious, with colorful eccentric characters -- a novel with people you'd want to spend time with in real life...

The novel is dynamite.

Posted by: Wolfus Aurelius at March 29, 2020 09:58 AM (rpbg1)
One review called this novel "a sort of Catcher in the Rye out West", but I'll bet, unlike Holden Caulfield, Joah ian't an annoying little twerp.
In the summer of 1944, Frank Arnold, a wealthy shipbuilder in Mobile, Alabama, receives his volunteer commission in the U.S. Navy and moves his wife, Ann, and seventeen-year-old son, Josh, to the family's summer home in the village of Corazon Sagrado, high in the New Mexico mountains.

Josh becomes an integral member of the Sagrado community, forging friendships with his new classmates, with the town's disreputable resident artist, and with Amadeo and Excilda Montoya, the couple hired by his father to care for their house.

Josh narrates the story of his fateful year in Sagrado and, with deadpan, irreverent humor, reveals the events and people who influence his progress to maturity. Unhindered by his mother's disdain for these "tacky, dusty little Westerners," Josh comes into his own and into a young man's finely formed understanding of duty, responsibility, and love.
I was afraid a book like this was going to be OOP, but it's still available in hardcover, paperback, and, surprisingly, on Kindle.
___________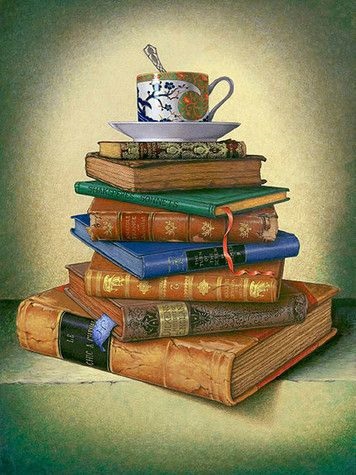 Excerpt From A Lost Jane Austen Novel, 'Gentlemen Never Cough':
"Girls!" Mrs. Browning called as she swept into their bedroom, "Put those books down and do your hair! We have an engagement at Pleasanton Hall this evening!"

"Oh must we, Mother?" Anna sighed. "More boring retired colonels and dances with no gentlemen! I could die!"

"Shush, my dear, and stop your cynicism. There are two gentlemen, fresh from London this very evening, both very eligible! Mr. Prachett, I hear has eight thousand rolls a year."

"Eight thousand?" The sisters gasped and stared at each other in disbelief. "They must be sandpaper two ply, surely!"

"The finest Charmin. You doubt your own mother? Up! Hair! Petticoats! Move!"

Posted by: Vanya at April 04, 2020 07:44 PM (BAsqb)
Thanks to Vanya for posting this on the chess thread yesterday.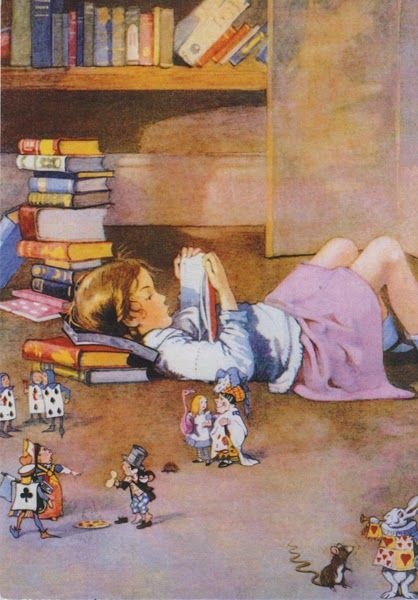 Books By Morons
Moron author George Eliseo has just published a new book, Tea For Three: Three Stories of Mystery and Imagination, which the Amazon blurb describes as:
Three very different mystery stories that span a variety of genres. A heroic men's room attendant in an upscale restaurant that always seems to be in the right place at the right time. A Viet Nam veteran Army tracker, turned LA private eye in the 70's deals with his most difficult case, finding a woman that doesn't exist, with a unique item for sale. An alternative take on Edgar Allan Poe's "Cask of Amontillado", and what really happened that night of Carnival, and the repercussions from it.
3 stories, 200 pages. And only $2.99 on Kindle.
___________
Moron author Neovictorian has a new novel out, called Reality:
Since childhood Cal Adler had felt that the world didn't make sense. Why do people believe such silly things? Why do people do such dumb things, over and over again? Like most people with such feelings, kept them quiet and bottled up while trying to get ahead in a game whose rules often seemed absurd. In his senior year in high school, he encounters a substitute guidance counselor who tells him precisely how he feels...and his initiation into a secret world begins.
Available on Kindle for $3.99, this is both a sequel, and a prequel to Neovictorian's previous novel, Sanity.
___________
'Ette author right wing yankee has just published a new story, The Road to Stonberg. She says "it's medieval fantasy; the man character is a big tough guy who goes around slaying monsters and ogling pretty girls, so I think the Morons will enjoy it. And more episodes will be forthcoming."
From the blurb:
Gavril of Grimsby is not your ordinary monster-slayer for hire…

Gavril thought defeating a giant was the most interesting thing he'd do all week. But when a merchant caravan needs guards for the treacherous journey over the mountains to Stonberg, he can't resist signing on, and learns that even peaceful men don't always have peaceful lives.
Just 99 cents on Kindle.
___________
An hitherto unknown (lurking) moron author informs me that he was written a science fiction novel, Server Extant:
The singularity has come and gone and nobody noticed. Quantum servers, and the artificial intelligences that feast upon their unbounded bounty, have made half of humanity obsolete, robbing them of that popular substitute for purpose, a job, and leaving them to wallow in the possibilities of a dubious online immortality. At this time, Knet, something that began as a freeware experiment in a physics engine that modeled scarcity as a feature of its own processing limitation, has expanded into an entire world, running as an OS source on thousands of linked mega-servers, each capable of simulating an entire planet in real time.

Steve had thought he had broken his Knet addiction, informed, partially, by his self-professed resolve to lead a more meaningful life but, more realistically, by the possibilities of actual sex with a physical woman, his girlfriend Gillian...

However, as Steve has emerged from the Knet's delirium, his more creative and intelligent brother, Colin, has fallen deeper.

Now to save his brother's life, Steve will be forced to re-enter the game, to challenge the vindictive fury of an online hegemon, General Motor, master of the unstable but all-conquering Player's Federation, and follow his wayward brother into the heart of Motor's power.
You can read it for free online here, but at almost 300 pages, it might be easier just to cough up 99 cents for it on Amazon.
And whatever platform you choose, please leave some sort of comment or review. All moron authors appreciate reviews.
___________

So that's all for this week. As always, book thread tips, suggestions, bribes, insults, threats, ugly pants pics and moron library submissions may be sent to OregonMuse, Proprietor, AoSHQ Book Thread, at the book thread e-mail address: aoshqbookthread, followed by the 'at' sign, and then 'G' mail, and then dot cee oh emm.
What have you all been reading this week? Hopefully something good, because, as you all know, life is too short to be reading lousy books.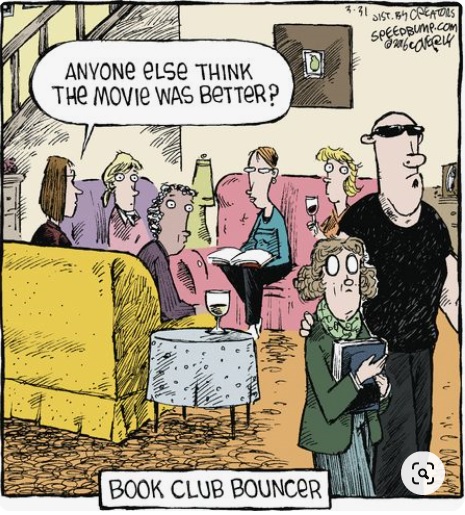 posted by OregonMuse at
08:57 AM
|
Access Comments