« Social Distancing...Pros And Cons
|
Main
|
Gun Thread: Biohazard Edition [Weasel] »
March 29, 2020
Food Thread: We May Be Just Weeks From A Diet Of Long Pig, But That Doesn't Mean That We Shouldn't Eat Well!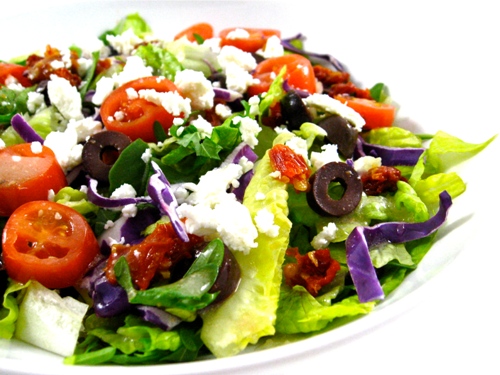 It's certain that fine women eat
A crazy salad with their meat.
-- William Butler Yeats
Before you call Ace and tell him I have lost my mind...let me explain. I love the counterpoint that a good salad provides for the rich, fatty goodness of a main course of meat. Beef, pork, chicken, fish, lamb...I don't care...but very few meals at Chez Dildo are centered around anything other than protein laced (either naturally or by other means) with unctuous. life-giving fat. And the acidic, bracing pop of a well-constructed salad improves the experience.
That doesn't mean that there is no fat in the salad, because usually there is plenty! I have begun to use crumbled feta, which adds another layer of tart plus a bit of richness, and since I am not a savage I use a nice fatty dressing.
Salad does not have to be food purgatory...something you eat because you have been bad. It can be a well constructed and pleasing dish. Just don't overwhelm it with too many ingredients (the one in the photo has one too many. Can you guess which one it is?), and try to make them fresh. Yeah, sometimes we are in a rush and forego the salad, but recently because of some complexities in our social contacts we have had plenty of time to make salads, and it has been a pleasure.
******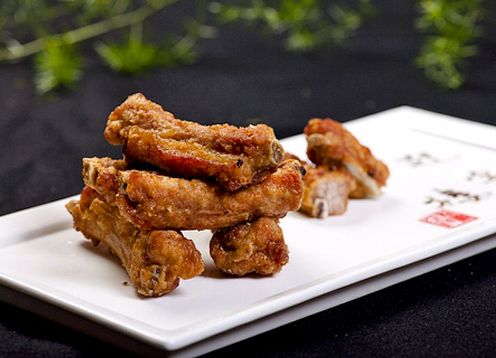 I was watching a cooking show last night (Diners, Drive-Ins and Dives) and was flabbergasted to discover that there is a at least one person on earth who has figured out that deep frying pork ribs may be the platonic ideal of eating. And until last night I had no idea that they even existed (yes, I am embarrassed).
What a good idea! Lightly battered so the meat can shine, it reminds me of the chunks of pork belly that I have had that were fried, but not battered, and of course there is the flaw. The problem is that nobody around here is smart enough to have figured that out. Apparently I will have to visit Florence's Restaurant in Oklahoma City to experience the real thing. It's a really long drive!

******
He makes it look so damned easy, but anyone who has ever baked bread knows that the ease with which he handles the dough comes from thousands of hours of practive and a fair amount of talent. I am also informed by others in Chez Dildo that he is "adorable." So don't ever complain that I never give the women around here a treat.
Baguettes Masterclass with Patrick Ryan
A steam oven is just cheating though.
******
Alton Brown is a loon. But a very appealing one, and he does know how to cook. My only complaint is that he makes simple foods like popcorn just a bit too fussy. But he, like many of us, is going a bit stir-crazy, so I will forgive him this once.
I know we have discussed popcorn toppings before, but it's always amusing to discover what some deeply deluded people put on it. I have no doubt that there is some Aussie out there sprinkling Vegemite on his popcorn and being immensely satisfied.

******
We live in the golden age of booze, and the only downside is the incredible variety out there that makes choosing something a difficult proposition. I saw this behind the bar of a local place a few months ago and commented to the bartender that I had never heard of it. To his credit, he said the same thing and poured me a very large taste, just to check that it hadn't spoiled.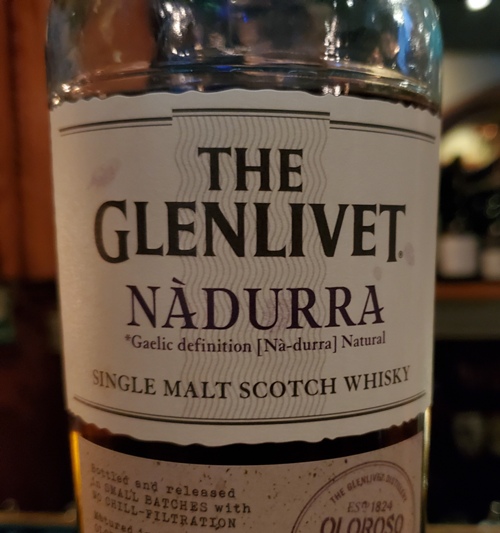 And it hadn't, but we are so lucky now that it is a rare thing to find a truly crappy drink. The technology has improved immeasurably, and more and more people are dedicated to making excellent liquor (and wine too). It is now a matter of style rather than overall quality that drives my purchases.
How about you? Anyone have a tough time finding booze or wine that is pleasing and also fits into your budget?

******
Um...okay.
The Pie You Need Right Now
doesn't sound awful, but it is certainly regional, and I imagine doesn't travel well. There are dishes I love when I am in other cities, but wouldn't dream of ordering or making when i am in other places or at home.
******
This looks good. Really, really good.
From commenter "Bitter Clinger"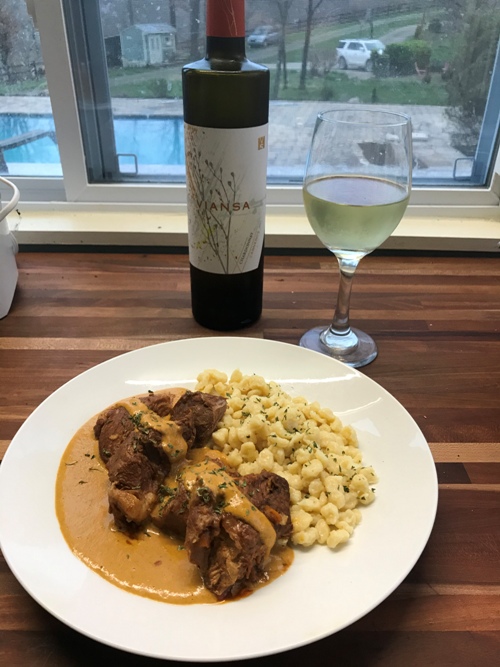 Social distancing ain't all bad.

Time away from work means time to prepare more labor-intensive meals. I intended to make this with chicken leg quarters but, wouldn't you known it, apparently they are in high demand during the burning times and the store was out, so I improvised with a pork roast.

Pork Paprikash (with advanced apologies to Miklos)

2-3 pound pork roast, cut into 6 to 8 pieces

1 large sweet yellow onion, diced

1 large orange bell pepper, diced

1 large beefsteak tomato, chopped

3-4 cloves of garlic, minced

2 tbsp of smoked hot Hungarian paprika

1 tbsp of sweet Hungarian paprika

Salt to taste

Chicken stock

1/4 cup-ish heavy cream

1/4 cup-ish sour cream

Nokedli (tiny dumplings)



2 eggs

2 tbsp olive oil

1/4 cup whole milk

1/2 tsp salt

2+ cups A-P flour

1 cup water

Sauté onions and peppers over medium high heat in a Dutch Oven with a little olive oil until soft and translucent. Add garlic gloves and paprika and toast another couple of minutes until you smell paprika in the air around your kitchen. Add pork and and tomatoes and enough chicken stock to almost cover the pork.

Reduce heat, cover and simmer until pork is fork tender (mine took about 1.5 hours).

Meanwhile, bring a large pot of salted water to a boil.

In a bowl, combine eggs, olive oil, salt and milk and whisk until combined add flour and stir. Add water and mix together until you form something between a batter and a dough (you may need to add more flour or water to reach the right consistency).

Push globs of your dough-batter through a spaetzle maker (or slotted spoon or cheese grater) into boiling water. Allow dumplings to cook approximately 2 minutes, then fish them out and toss with a little butter (I used bacon grease because, well, bacon grease).

Remove pork chunks from pot and add in cream and sour cream. Buzz all that mess up with an immersion blender until smooth. Add salt to adjust to your taste.

Serve all that up like a big plate of goodness or geek it up and take a picture of it like my bored self did!

Enjoy!
******
Food and cooking tips, Large-breasted Muscovy ducks, young wild pigs, bartenders who use vermouth in Martinis, crisp bacon (although I am moving toward less crisp), low-temperature-roast chicken, and good tomatoes that aren't square, pale pink and covered with Mestizo E.coli:
cbd dot aoshq at gmail dot com
. Any advocacy of French Toast with syrup will result in disciplinary action up to and including being
nuked from orbit.
And yes, shaking a Manhattan is blasphemy...it's in the Bible!
&topic=world_news">

posted by CBD at
04:00 PM
|
Access Comments