« Sunday Overnight Open Thread (3/22/20)
|
Main
|
Mid-Morning Art Thread »
March 23, 2020
The Morning Report - 3/23/20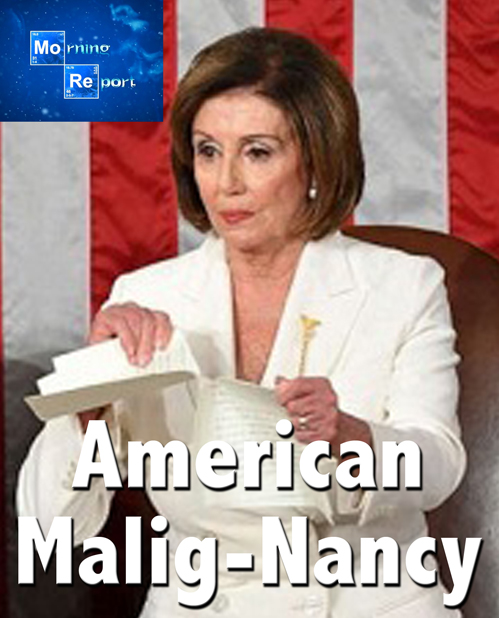 Good morning, kids. A new week and the nation remains in a bizarre state of limbo courtesy of the Chinese communists who inflicted, unwittingly or otherwise, a viral contagion upon us and the world. As a New York City resident, I've always wished I didn't have to endure the incessant din of street noise, traffic and sirens that although one grows accustomed to, nevertheless finds irritating. I guess now I'm getting my wish, only in Monkey's Paw fashion. To put it mildly, the silence is extremely unsettling. And while I'm free to leave my apartment to relieve cabin fever, there's nowhere to go to. Streets are deserted, traffic is virtually nonexistent and the people you encounter seem to be walking around in a daze. I smile and nod, or say hello, even sing or whistle a few bars of an upbeat tune (which is something I normally do anyway). Maybe it helps, if not the passersby then at least me in that moment. Forget the medical aspects of this Chinese coronavirus. The long-term effects on our collective psyche are going to be something we'll be reckoning with well into the future.
Anyway, I've really not got much more to say on this that I have not expressed over the past week or so since this plague of fear of the unknown, exacerbated and in my view instigated by the Democrat-Media Complex fell on us like a pall. Whatever natural consequences to our health and well-being we have to deal with (and for me, I am still highly skeptical of the real health risks compared with flu and other similar viral outbreaks of the recent and distant past) what the latter have done, and continue to do to exploit this crisis for their own political gain is beyond criminal; it's pure evil.
Let's unpack the links, because if I add anything more to my declamation, Ace will no doubt fire my ass just before I get a visit from the FBI.


CHINESE CORONAVIRUS, FICTIONS AND FACTS
The President is activating the National Guard in three Chinese plague hotspots and has announced that he will be making a decision on any further federal action in 15 days. Many states are in a lockdown (New York as of last night) and hopefully two weeks will be a point where it can gradually be lifted, and limited to only those that are at risk or with symptoms such as the elderly or those with chronic/compromised respiratory systems. Meanwhile, Anthony Fauci is full on praising Trump's initial travel ban as perhaps the factor that will spare us from a worst-case scenario now devastating Italy and most of Europe.

Before moving away from the good doctor, it should be noted that his comments over the past few weeks that have fueled the media's feeding frenzy are in sharp contrast over his words and deeds 10 years ago during the H1N1 outbreak. He downplayed that and along with Obama's dithering incompetence and a media that was eager to cover it up, the result was 60 million infected, over 300,000 hospitalized and 17,000 dead. Funny how there were no panic headlines, no quarantines and no stock market crash back then, but now with a death toll of perhaps 300 or so, America is being put into a forced coma while its guts are ripped out.

Also, several links on how this situation is bringing out the best and sadly the worst in us, a comprehensive timeline of the outbreak, the FDA just approved a test for the plague that can give results in 45 minutes while Trump gives several corporate giants the go-ahead to crank out ventilators, 3-M promising 35 million masks a month, Rand Paul tests positive for Wu-Flu, Bob McManus at the NY Post praises Andrew Cuomo, some predictions political and otherwise about the American landscape post-plague and in praise of the President's leadership in this time of crisis.
NOTE: The opinions expressed in some links may or may not reflect my own. I include them because of their relevance to the discussion of a particular issue.
ALSO: The Morning Report is cross-posted at CutJibNewsletter.com if you want to continue the conversation all day.
Follow us on Twitter: @CutJibNews


posted by at
07:34 AM
|
Access Comments