« Media Continues Corporate/Chinese Propaganda Push
|
Main
|
Quarantine Cafe »
March 20, 2020
Politico: Majority of Americans Approve of Trump's Management of the Chinese Flu
A majority of Americans now approve of President Donald Trump's handling of the coronavirus pandemic, according to a new survey, as the administration has issued stricter federal guidelines in recent days and the president has adopted a more public-facing role in combating the disease.

An ABC News/Ipsos poll released Friday reports that 55 percent of respondents approve of Trump's management of the public health crisis, while 43 percent disapprove. The latest figures represent a boost in the president's rating from the previous iteration of the survey, published one week ago, which showed only 43 percent approval for Trump and 54 percent disapproval.
You know what finding ABCNews decided was the big headline-worthy news?
Coronavirus upends nation, as three in four Americans' lives changed by pandemic: POLL
Is that really a surprising finding? You incited the worst panic in world history and 75% report their lives were upended?
That's the big take-away here, huh?
More:

Addendum:
76 ABC poll is adults.


So ya approval is higher.
Posted by: Ha
And a new Harris Poll:

I'm noticing that now that their latest attempt to drive Trump out of office has failed, the media are suddenly not being so blatant about trying to incite a panic.
Leftwing "reporters" -- the people who are supposed to dispassionately report the facts to you -- immediately sprang into Poll Truther mode.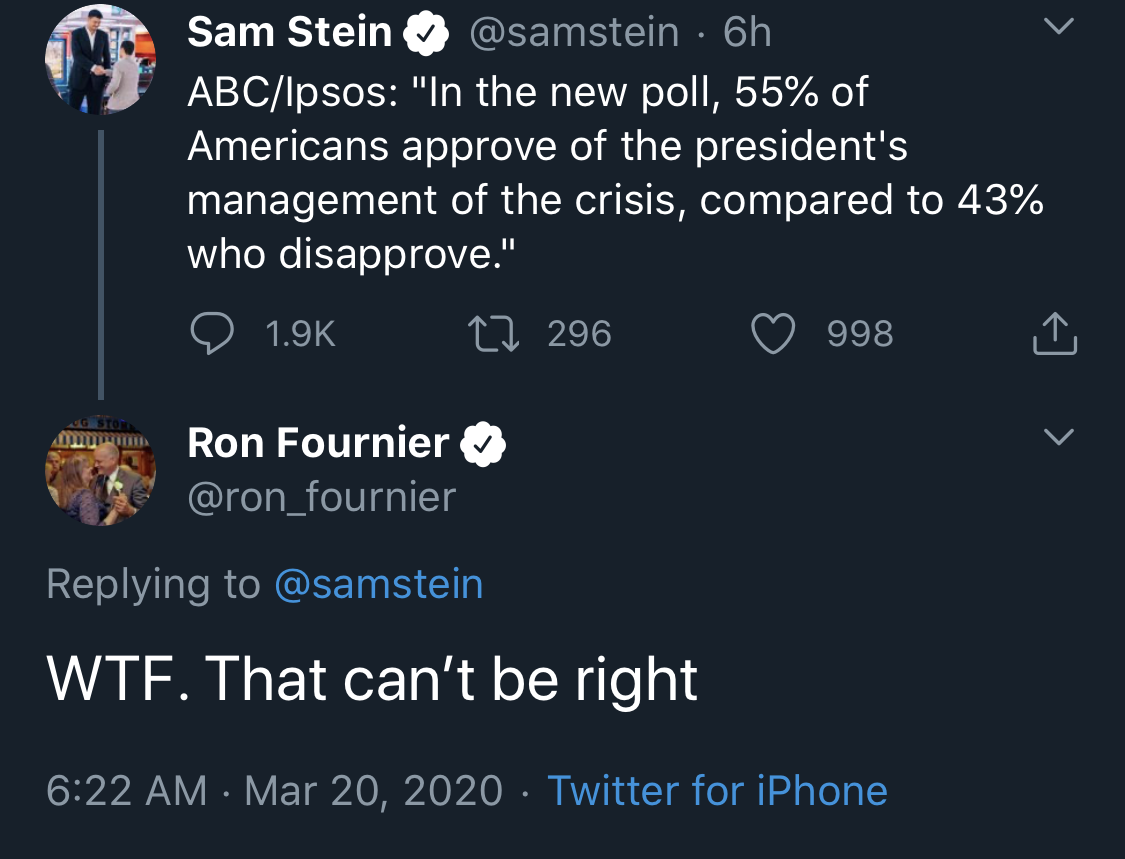 Consider: The people who claim they're part of the "Reality-Based Community," and only care about facts, not partisan rooting interest (or, as Joe Biden says: who prefer "facts" over "truth") immediately deny facts at odds with their partisan rooting interests.
So: Now that your latest political operation, this time to destroy the US economy, is backfiring and causing a rally-round-the-flag effect, do you think we can stop destroying the US economy?
I truly hate these people. "Hate" is a big word. I mean it. I mean every little letter of it. I mean it the whole way.
Several things here from this Tim Poll video.

posted by Ace at
04:32 PM
|
Access Comments