« EMT 03/15/20
|
Main
|
What To Do...What To Do?
Torch Our Hair? Or Something Fun? »
March 15, 2020
Sunday Morning Book Thread 03-15-2020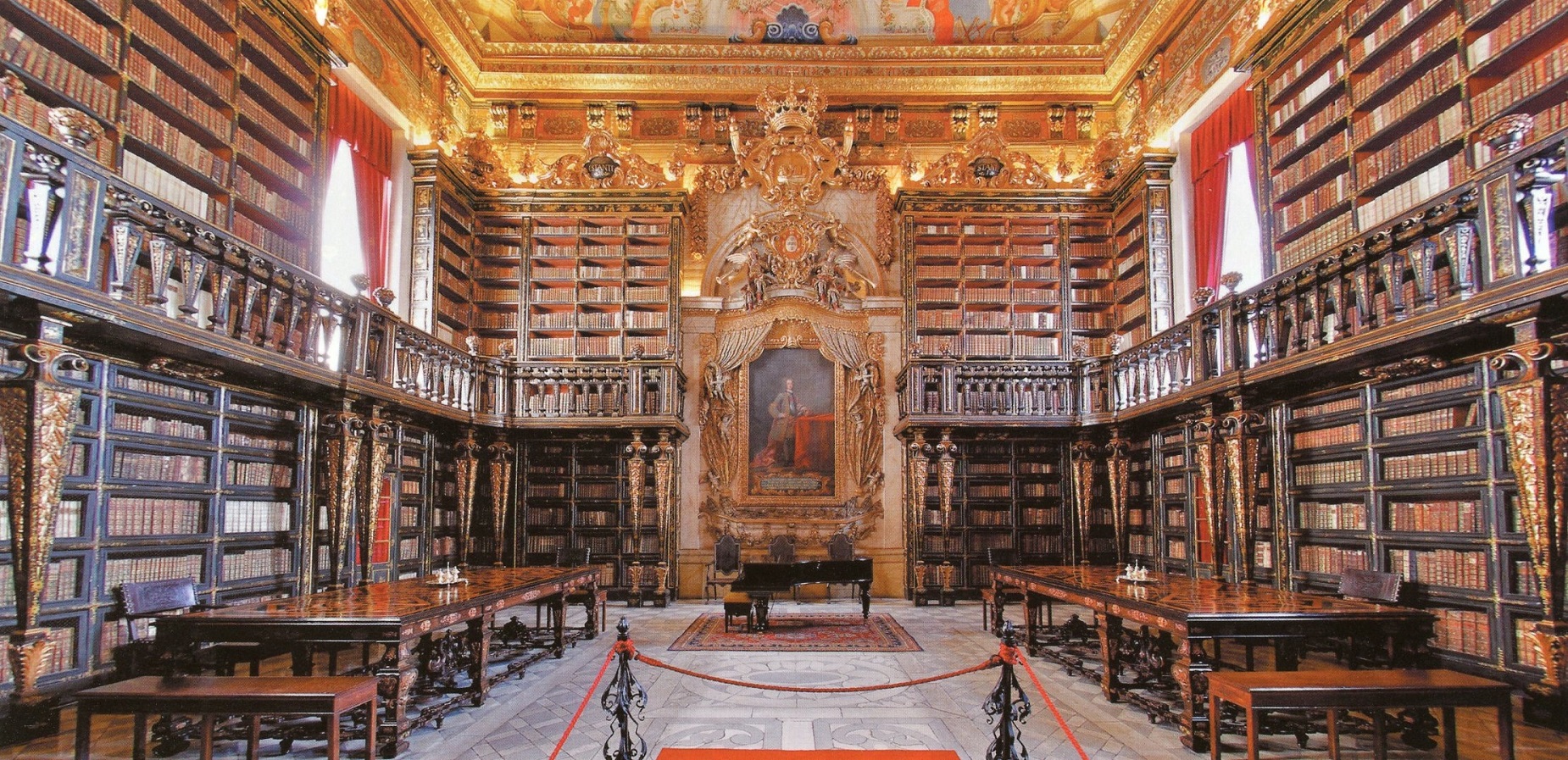 University of Coimbra General Library, Coimbra, Portugal

Good morning to all you 'rons, 'ettes, lurkers, and lurkettes, wine moms, frat bros, crétins sans pantalon (who are technically breaking the rules), hoi polloi riff-raff, nobodies, untouchables, and other deplorables. Welcome once again to the stately, prestigious, internationally acclaimed and high-class Sunday Morning Book Thread, a weekly compendium of reviews, observations, snark, witty repartee, hilarious bon mots, and a continuing conversation on books, reading, spending way too much money on books, writing books, and publishing books by escaped oafs and oafettes who follow words with their fingers and whose lips move as they read. Unlike other AoSHQ comment threads, the Sunday Morning Book Thread is so hoity-toity, pants are required. Even if it's these pants, obviously a failed attempt at Clockwork Orange cosplay. Some of you 'ettes may like the boots, though.


Pic Note:
This is a repeat, but I found a better photo of this baroque-inspired library:
The Biblioteca Joanina, or university library, is one of the most visited buildings in Coimbra's university complex. Construction was started in 1717 at the instigation of King Joao V, after whom the library is named, and was completed in 1728.

Today the university library houses some 250,000 books dating from the 12th to the 19th centuries, most focused on law, philosophy and theology...The library is a sight to behold for its bold exterior and its rich Baroque embellishments that adorn the interior.
From back in the day when tiny Portugal was a world power.


It Pays To Increase Your Word Power®


Good to Know:
"It is what you read when you don't have to that determines what you will be when you can't help it."

--Oscar Wilde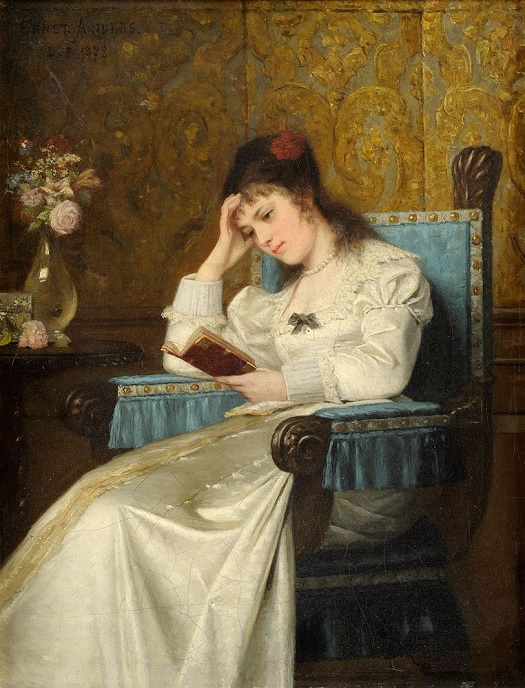 The Plagues of Yore
https://en.wikipedia.org/wiki/A_Journal_of_the_Plague_Year
This recommendation has been sitting in my queue for awhile, but I could never think of a good enough reason to use it. Until now.
Journal of the Plague Year is so detailed and authoritative that it's likely to be based on a true account.

I highly recommend it for people who want to know what a zombie outbreak would really look like, because that was basically what plague outbreaks were.

For example, people outside the city set up roadblocks and used mobile patrols to move cross-country, hunting down people who broke through. They didn't bother to get close and see if they were healthy, they shot first.

Someone who did get through the lines better have a good reason for why they were there, because no one was interested in unknown visitors.

Really neat stuff.

Posted by: Ace-Endorsed Author A.H. Lloyd at September 01, 2019 09:45 AM (cfSRQ)
This is a novel by Daniel Defoe, first published in March 1722. The wiki blurb has more:
This novel is an account of one man's experiences of the year 1665, in which the Great Plague or the bubonic plague struck the city of London...

Presented as an eyewitness account of the events at the time, it was written in the years just prior to the book's first publication in March 1722. Defoe was only five years old in 1665, and the book itself was published under the initials H. F. and is probably based on the journals of Defoe's uncle, Henry Foe.

In the book, Defoe goes to great pains to achieve an effect of verisimilitude, identifying specific neighborhoods, streets, and even houses in which events took place. Additionally, it provides tables of casualty figures and discusses the credibility of various accounts and anecdotes received by the narrator.
You know what this reminds me of, Orson Welles' adaptation of H.G. Wells' novel War of the Worlds as a radio play in the form of news broadcasts.
Or, in short, fake news. But unlike our MSM's fake news, these, at least, were entertaining.
Anna Puma left the following rec in one of this week's rant threads:
So the final lesson of 1918, a simple one yet one of the most difficult to execute, is that those who occupy positions of authority must lessen the panic that can alienate the members of a society. A society that takes as its motto "every man for himself" is no longer a civilized society.

pg 462. The Great Influenza: The Story of the Deadliest Pandemic in History. John M. Barry. Penguin Books. 2005.

Posted by: Anna Puma at March 13, 2020 11:23 AM (7iU8/)
I was surprised to learn, some years back, that the 1918 flu epidemic was the worst plague in history, even more so than the bubonic plague(s) that decimated Europe during the medieval era.
At the height of World War I, history's most lethal influenza virus erupted in an army camp in Kansas, moved east with American troops, then exploded, killing as many as 100 million people worldwide. It killed more people in twenty-four months than AIDS killed in twenty-four years, more in a year than the Black Death killed in a century. But this was not the Middle Ages, and 1918 marked the first collision of science and epidemic disease.
The Great Influenza: The Story of the Deadliest Pandemic in History by John Barry is $13.99 on Kindle, about what the paperback edition costs.
Here's perhaps a portent of things to come, namely, the time San Francisco narrowly avoided an outbeak of bubonic plague.
The plague first sailed into San Francisco on the steamer Australia, on the day after New Year's in 1900. Though the ship passed inspection, some of her stowaways—infected rats—escaped detection and made their way into the city's sewer system. Two months later, the first human case of bubonic plague surfaced in Chinatown.
The Barbary Plague: The Black Death in Victorian San Francisco is the account of one of the great, if little known, triumphs in American public health history.
I'm dreading the day that some feces-born disease breaks out in San Francisco and it can't be contained because of a bunch of 'woke' fights breaking out. People will be dying while city officials bicker over why a transgender lesbian midget wasn't put on the public health task force. One of you moron authors could probably write a darkly comic novel about this.
___________


Who Dis: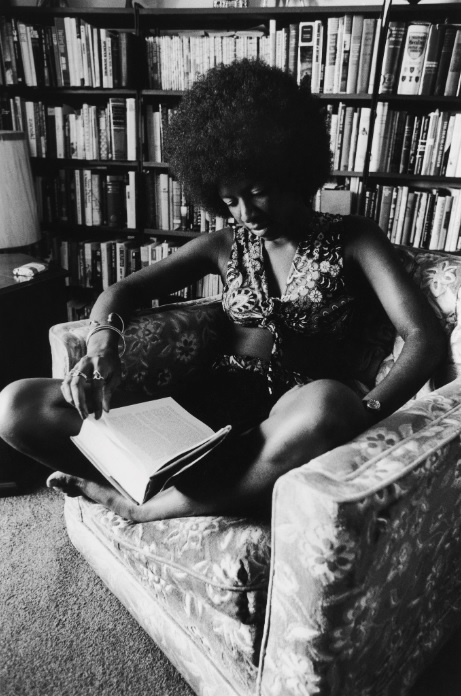 (hint: not Angela Davis)
Last week's 'who dis' was
Gloria Swanson


Books By Morons
Moron author Francis Porretto has just released a new fantasy adventure novel, The Warm Lands:
Gregor of Serebal, a journeyman sorcerer educated at the Scholium Arcanum in the East, is on a cross-continent trek through the Great Waste: the lifeless desert left by the Dieback that all but eliminated life from Aeol...

Laella of Anam is a gifted one: a potential sorcerer not yet trained to the disciplines that would make it safe to practice. Yet the mana has already touched her to ill effect...when Gregor arrives in Anam.

Mutual admiration brings them together...But though his intent was to walk all the way across the continent, charting the mana streams as he traveled, events will force them to return to Urel, the site of the Scholium Arcanum in the East where Gregor was made an initiate of the Arcana. There he and Laella will confront mysteries the sorcerers of the Scholium cannot unravel. Beneath those mysteries lies a threat to the life of Aeol that will demand all that Gregor, Laella, and their colleagues have to give.
The Warm Lands
is only $2.99 on Kindle.
___________
Moron author Vince Milam has released the latest in his 'Case Lee' series, The Hawaiian Job:
When Case Lee is contracted to investigate a mysterious company and its secretive billionaire CEO in Hawaii, things quickly go sideways. The CEO, through unknown backchannels, unleashes contract killers to eliminate a problem...Lee.

Assassins flock. His family is in the crosshairs. Case calls on his former Delta teammates to lend a hand. In the course of protecting his family, one of the killers reveals the source of the bounty. A bounty that has dangled over the heads of Case and his three teammates for years...

From Hawaii to Africa and back again, it's a wild roller-coaster ride with no quarter asked. Or given.
You can purchase The Hawaiian Job on Kindle for the introductory price of 99 cents for a limited time.
___________
Ben, a lurking moron tells me his wife has written a couple of urban fantasy novels with a third coming out soon. The first is Strangehold, which introduces you to Morgan Tenpenny, who
...has retreated from her painful, magical past, choosing to live quietly as a guardian of one of the gates between worlds. But her sister Gwen is married to a lord of the High Court of Faerie—and when Gwen asks her to protect her nieces, it's time for Morgan to emerge from her seclusion. The gates to Faerie have inexplicably closed, and no one knows why, not even Falcon, the fae Morgan finds trapped on her side of the gate.
More at the Amazon blurb. The magic-rich world built in the novels is somewhat complex.
Ben also says
If you are at all a fan of fantasy or urban fantasy give it a shot. She treats magic uniquely. I'd be lying if pretended to be unbiased, but for my money reading her story is a damned fine way to while away an afternoon.
Strangehold is only 99 cents, but the sequel, Sorrow's Son, will cost you $2.99.
You can find out more at the author's website.
And if you sign up for her newsletter, you will get a free story.
___________


They Don't Publish Books Like This Any More: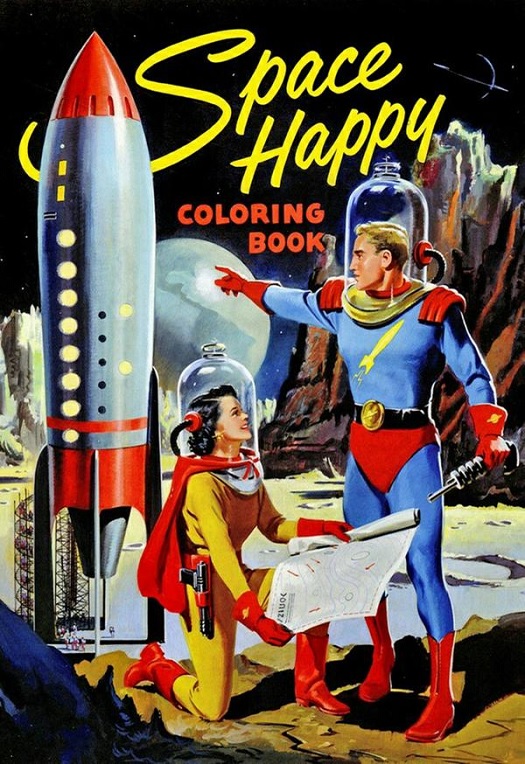 I really like those old-timey rocket ships and fish-tank spacesuit helmets.


Moron Recommendations
38 Finished All the Pretty Horses last night. First time with McCarthy. Interesting writer. Posted by: Mel Gibson at March 08, 2020 09:27 AM (QZCjk)
There was some back-and-forth about this book in the book thread last week. The story is
...the tale of John Grady Cole, who at sixteen finds himself at the end of a long line of Texas ranchers, cut off from the only life he has ever imagined for himself. With two companions, he sets off for Mexico on a sometimes idyllic, sometimes comic journey to a place where dreams are paid for in blood. Winner of the National Book Award for Fiction.
All the Pretty Horses is the first book of 'The Border' trilogy. The sequels are The Crossing followed by Cities of the Plain.
___________
Last week, MP4 mentioned that he had read
Vanity Fair's Tales of Hollywood. This is a collection of articles regarding classic movies that have been published in VF over the years. I bought it for "When Liz Met Dick," about Cleopatra, but there are also stories about The Graduate, All About Eve, The Producers, Saturday Night Fever and six others. Good behind-the-scenes gossip and interesting details of how these movies were written, cast and directed. Light reading, but intriguing.

Posted by: Mary Poppins' Practically Perfect Piercing at March 08, 2020 09:28 AM (Ki5SV)
Nothing I can add to this from the Amazon blurb except: "For pop-culture fanatics and movie buffs alike, Vanity Fair's Tales of Hollywood is an irresistible glimpse at how classic films-and box office bombs-are made."
The price of the Kindle edition of Vanity Fair's Tales of Hollywood: Rebels, Reds, and Graduates and the Wild Stories Behind the Making of 13 Iconic Films is a reasonable $8.99. Or you can get the paperback edition for $17.00.
___________
82 "The Discoverers" by Daniel Boorstin (?) is a great book about the "discovery" of time, clocks, and the impact of the technology on the history of man. It's a great book if you want to undserstand why things are the way they are in certain aspects of the world of man.

Posted by: pawn at March 08, 2020 09:54 AM (+LeF+)
This is one book I've always wanted to read. I should move it closer to the top of my TBR stack.
An original history of man's greatest adventure: his search to discover the world around him. In the compendious history, Boorstin not only traces man's insatiable need to know, but also the obstacles to discovery and the illusion that knowledge can also put in our way. Covering time, the earth and the seas, nature and society, he gathers and analyzes stories of the man's profound quest to understand his world and the cosmos.
The Kindle edition is $14.99, but you can get used hardcover copies for as little as $5.
This is actually the 2nd book in Boorstin's 'Knowledge' Trilogy. The first one is The Creators, basically a history of art, and the third volume is The Seekers, a survey of philosophy and theology.
___________


The Honor Harrington Flow Chart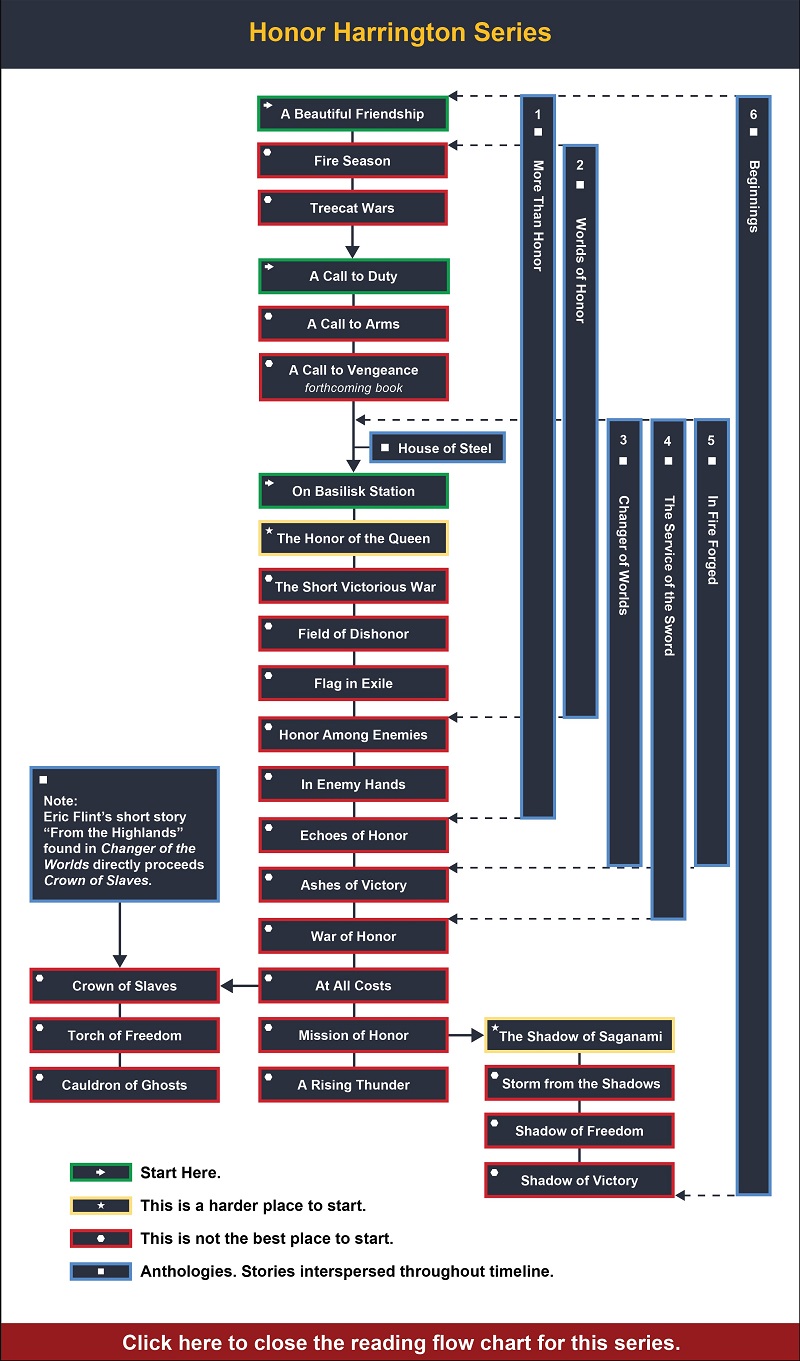 (click for larger version)
Courtesy of Baen I thought this was pretty neat. Tells you what order is best to read the Honor Harrington novels.
The original at the Baen site is here, but it's just yuuge.
___________
If you like, you can follow me on Twitter, where I make the occasional snarky comment.
___________
So that's all for this week. As always, book thread tips, suggestions, bribes, insults, threats, ugly pants pics and moron library submissions may be sent to OregonMuse, Proprietor, AoSHQ Book Thread, at the book thread e-mail address: aoshqbookthread, followed by the 'at' sign, and then 'G' mail, and then dot cee oh emm.
What have you all been reading this week? Hopefully something good, because, as you all know, life is too short to be reading lousy books.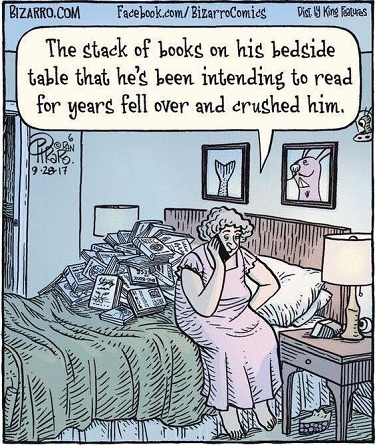 posted by OregonMuse at
09:00 AM
|
Access Comments