« President Trump: The Anti-Marionette
|
Main
|
Gun Thread: National Emergency Edition! [Weasel] »
March 15, 2020
Food Thread: The Hopes, Dreams And Aspirations of The Home Cook
(Does That Sound Pompous Enough?)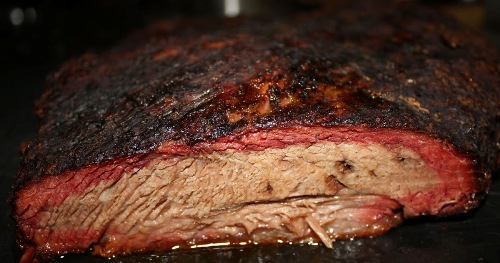 Looks good...doesn't it? But look a bit more closely, and it hints of that horrid bite of something that looks and smells glorious but is just a bit too dry to enjoy. And that's the challenge of brisket. I have made it, and I have failed. I have made it, and have been partially successful, but it was never what I really wanted.
But rumor has it that Sous Vide is the way to go. An old friend of mine (Hi Mike!) swears that 48 hours at 150 degrees and then three hours in his smoker impresses even smoked meat connoisseurs. And he is a better cook than I, so he should know.
The problem is that I can get only the flat or the whole brisket...the point (that's the fatty part) seems to be reserved for restaurants around here. So I either risk 15 pounds of ruination, order one to be shipped (at a ridiculous premium), hope I stumble across the point during one of my food shopping expeditions, or try to make the flat taste good without the requisite fat.
Ain't life grand! This part of the fun of cooking, and I wouldn't have it any other way. And I know that lots of you have similar projects simmering in the deep recesses of your psyches.
Come on....tell Mr. Dildo what you really want to make...
******
One of the interesting things I noticed this week, as seemingly the entire area has gone off its collective rocker and pillaged the local supermarkets has been the strange choices that the hysterics have been making in the supermarkets. In a true emergency I would focus on calorically dense foods: olives and peanut butter and oils and fatty meats, etc. But people seem to have stuck to some decidedly odd choices. As much as I like pasta, I'm not sure that I want to eat only noodles during the zombie apocalypse. Although, some cruel and heartless bastard got the last of those marvelous bangers that IrishEi recommended.
After I stocked up on the fatty stuff, I think I would head over to the spice aisle and corner the market on salt and pepper and maybe chili powder. After that? Sugar and flour and rice.
Anyway, it's all ridiculous, stoked by the scum in the media and the equally scummy politicians. It simply makes no sense that we would have any sort of collapse of the food distribution network. it is too decentralized and independent. Sure, maybe you won't be able to get pork or flour, but somewhere very close to you are a bunch of farmers or ranchers who would be more than willing to sell you their cows or sheep or chickens or rice or oats.
At a nice premium. With smiles on their faces.

******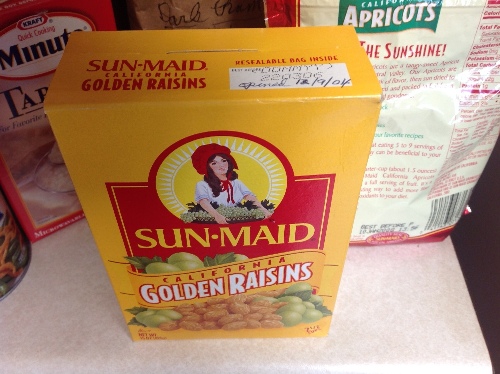 More from commenter "Just Wondering." Well, she's sort of cheating, because it came from her mom's pantry. But still...a solid entry!

******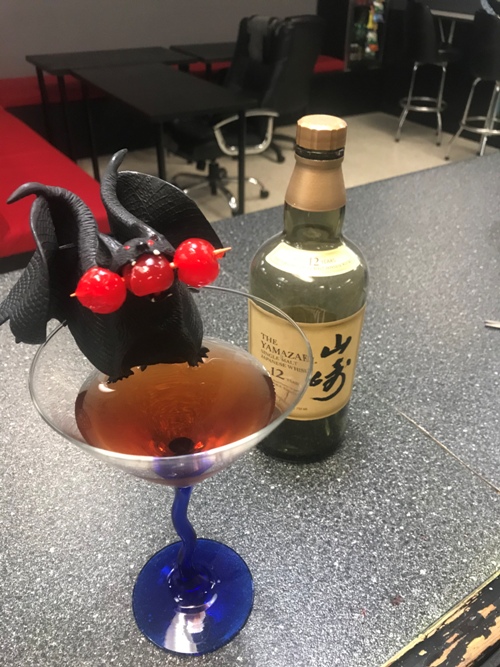 The Wuhanhattan
2.5 oz Yamazaki Japanese Whisky
1 oz Chinese Plum Wine
2-3 dashes of Rambutan Bitters
Combine ingredients with ice and stir vigorously.
Strain into chilled cocktail glass.
Garnish with disease-riddled bat and maraschino cherries.
From: Bitter Clinger -- Racist Mixologist

******
From regular reader (alas...not a commenter) "Patrick," his entry in the shrimp-bacon wars:
Regarding the shrimp-bacon thingee, I make a variation that is always in demand from friends who don't owe me money.

1 lb. bacon
1 lb. 21-25 per lb shrimp, raw.

Cut the bacon in half, lay out on a cookie sheet and bake at 350 for 10-12 minutes to render a little.

Wrap bacon around shrimp, toothpick to secure.

Mix equal parts brown sugar and catsup, stir/melt over medium heat till blended
Brush over shrimp/bacon

Bake at 375 for 20-25 or so minutes, till the bacon starts looking crispyish.

Screw going to the party; wolf down all of it yourself and send pics to the party.

I am suspicious. They sound like they would be overdone. I mean, I'd still eat a few dozen just to be polite, but there must be the Platonic ideal of bacon-wrapped shrimp out there!
******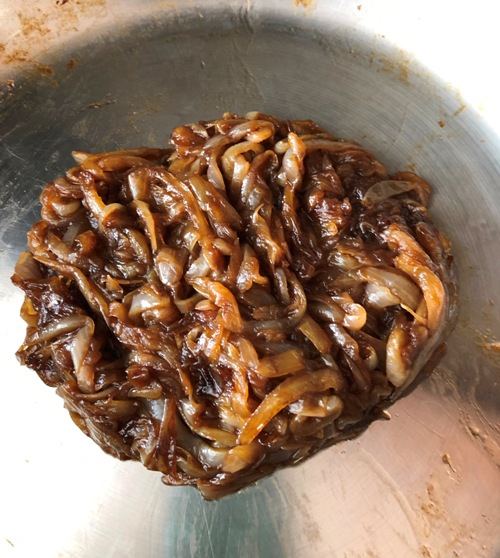 Regular commenter "Legally Sufficient" sends along her favorite recipe for onion jam, and a photo of the results. Onion Jam is always a good thing, and she adds bacon to make it even better.
It's not complicated, and the only technique that is required is patience, something that I have very little of when it comes to caramelizing onions.
I wonder whether it can be done in the oven...like those oven rouxs we talked about last week?
Or is that beyond the pale?

******
I was in the City of Brotherly Love* last week and had an absolute knockout of a cocktail. It was called a "Classic Philly," whatever that means, and it was just grand.
Thank you to Rebecca,
our lovely and talented bartender.
3 parts Rye
1 part red vermouth
1 part Benedictine
Spritz of Absinthe (I used more...)
3-4 dashes Peychauds Bitters

Stir with ice, serve in low ball with a good cherry.
I bounced it off one of AoSHQ's resident bartenders (Bitter Clinger), and he suggested that it was "Somewhere between a Sazerac and a Vieux Carré," which seems to me exactly right.
I found that my relatively sweet vermouth was a bit overpowering (I think the bar used their own homemade vermouth), so I backed of a bit. But even as written, it is a fine drink, and one that will go into my regular rotation.
* Wow...it's getting seedier and seedier. More bums than ever, and I noticed that the beat cops ignore some pretty flagrant low-level, quality-of-life crime. Hopefully the Democrats will sweep the vermin out of city government and really clean up the place.

******
Food and cooking tips, Large-breasted Muscovy ducks, young wild pigs, bartenders who use vermouth in Martinis, crisp bacon (although I am moving toward less crisp), low-temperature-roast chicken, and good tomatoes that aren't square, pale pink and covered with Mestizo E.coli:
cbd dot aoshq at gmail dot com
. Any advocacy of French Toast with syrup will result in disciplinary action up to and including being
nuked from orbit.
And yes, shaking a Manhattan is blasphemy...it's in the Bible!

posted by CBD at
04:00 PM
|
Access Comments