« In Mexico City, Antifa Feminists Try to Throw a Firebomb at Riot Control Police, But Hit Themselves Instead
|
Main
|
Terrible: Hot US Female Golfer With Huge Cans is Destroying the Prim Reputation of the Sport by Showing Off Her T & A »
March 11, 2020
Elizabeth Warren Campaign Staffers Get Tattoos On Their Arms That Look Exactly Like Holocaust Camp Tattoos, Because They're #Smart
The tweets have now been deleted. But here they were: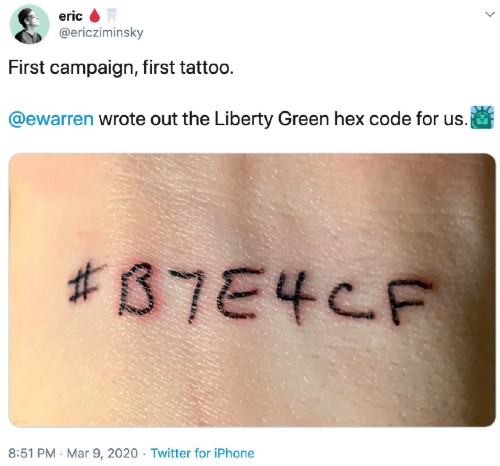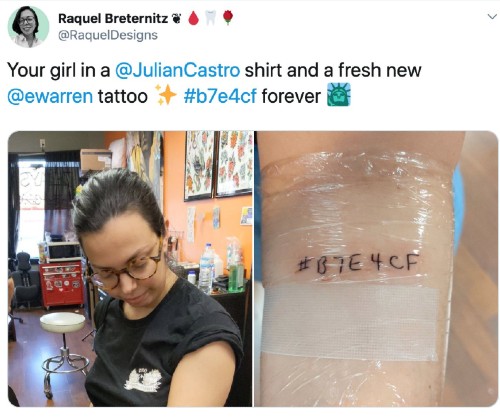 "Hex" I assume means hexidecimal code, where which is a base-16 system. Numbers beyond 9 are represented by letters: 10 = A, 11 = B, 12 = C, 13 = D, 14 = E, 15 = F. Numbers beyond that use multiple digits, so "30" would be 1E.
The hexidecimal system is used in two main contexts: Character statistics in the Traveler Role Playing Game, and to designate colors (with each two-number group indicating one value in the Red-Green-Blue trinity).
Apparently Elizabeth Warren adopted "Liberty Green" as her main campaign color theme, so this "hex code tattoo" is just what you'd input to put this pale pastel green on your gay-ass website.
And it also looks just like a Holocaust tattoo.
So it has the added benefit of reminding us that these coddled weakling Millennial brats think that working for this old bat for a couple of months is like being at Auschwitz.
I mean, in a way: Sure.
But in other ways, not so much.

posted by Ace at
06:46 PM
|
Access Comments