« Pig-Faced Bridge Troll Rashida Tlaib: You Shouldn't Want to Have Sex With Me (If You Don't Support Abortion)
|
Main
|
Trump Announces The Government Will Begin Withholding Federal Funds From Sanctuary Cities and States; ICE Teams Up With the Border Patrol to "Flood the Streets" of Sanctuary Cities and Arrest as Many Illegals as Possible »
March 05, 2020
Golden Fleece: New Organization Convinces Born-Wealthy SJW NPCs to "Make Peace With Their Privilege" By Giving Away Chunks of Their Fortunes
And I'm guessing the organization takes a cut, right?
So brilliant. It's like taking money from a mentally ill person of extremely diminished IQ.
It's literally like that. It's exactly like that.
It is that.
Which of you came up with this brilliant grift, and how do I become one of your employees?
It began with the sale of the family farm. That's what David Roswell remembers as the moment when he first began to see himself in opposition to his family's capitalist legacy. Though his parents objected to the decision to relinquish the property to developers, the extended family went ahead, selling off most of the 220 acres piecemeal starting in 1998. Roswell, then only 7 years old, showed his displeasure by shoving rocks into the tailpipes of the bulldozers that came to dig up the pastoral expanse outside Baltimore to make way for new construction. He remembers watching "as this gorgeous farm that was my everything was torn up and turned into a subdivision." He saw it, he told me, as "a decision of people in my family to value money over the environment, over people, over family."

...

Roswell finally outed himself as rich when he volunteered to front the travel costs for a group of Oberlin students who wanted to attend a climate-change conference.
That's when two housemates told him about an organization called Resource Generation (RG). A nonprofit group based in New York, Resource Generation focuses on organizing wealthy young people to recognize their unearned privilege, make peace with it -- and then relinquish much of it by giving away a large percentage of their money.

...

So far, Roswell, now 29, has given away about $1.6 million of the $7.5 million he knows he will inherit.
Um, sounds like he's still keeping $5.9 million of his privilege, no?
It sounds an awful lot like he's trying to buy indulgences with $1.6 million so he can get into NPC Heaven while still clutching tight his $5.9 million hoard.
Oh My Goodness! Check out their website!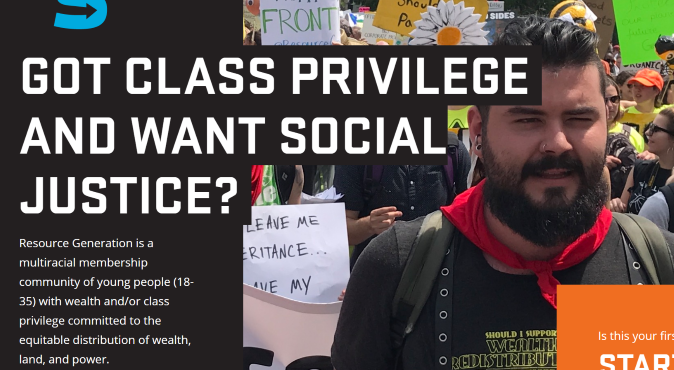 Thanks to Circa (Insert year here).

posted by Ace at
03:56 PM
|
Access Comments