« Bootygag Out?
|
Main
|
Sunday Overnight Open Thread (3/1/20) »
March 01, 2020
Gun Thread: Fun With Velocities! [Weasel]
Folks, if you are getting a server error, try this link. It should get you to the comments. [CBD]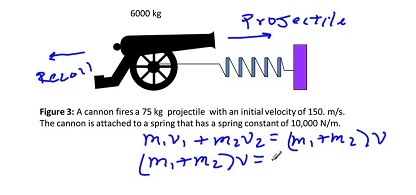 I spent a few days at the farm this week. The nice thing about tree farming in general, and tree farming in the winter in particular, is there isn't a lot of, you know, actual farming to do. So what do I do while I'm there? Well, besides riding around on the tractor, talking to myself and making up little songs about WeaselDog, I like to do some recreational shooting. Go figure, huh? And when shooting for funsies gets boring, I make up stuff for the Gun Thread. Let's find out more below, shall we?
Ammo Test
Not long ago, I bought a bunch of surplus 7.62x51mm NATO ammunition made by PMC of South Korea in the 1980s. Since then, I've wanted to do a chrono test to see how consistent it was compared to commercial ammunition of recent manufacture, in this case, Federal Gold Medal Match in .308 Winchester. I know, I know - they aren't the same ammo. I get it. What I wanted to do was take a small sample of each and compare muzzle velocities among groups as a sign of consistency for each type. With me so far?
So here are today's contestants: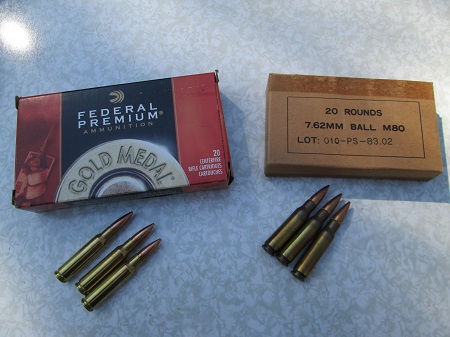 And here is the setup I used for testing. The rifle is one of my practice guns and the chrono (the orange thing on the right) is a doppler radar setup made by the Canadian firm Labradar. These things are slick, very accurate, and once you read the instructions, reasonably easy to use. That's the whole setup; no screens or magnetic bayonet hanging off the rifle, as is the case with conventional screen-type chronos or the improved MagnetoSpeed type.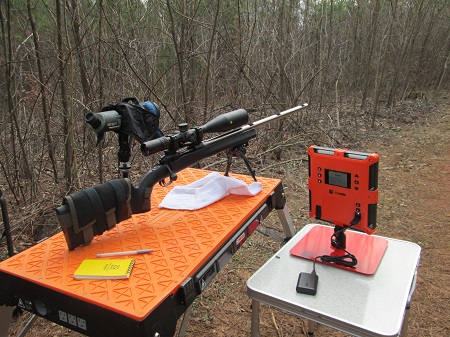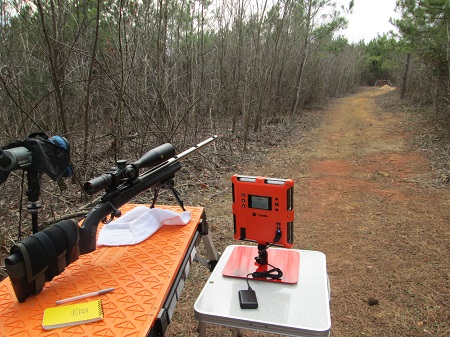 So to keep things simple, I decided to fire and record data for three groups of three rounds for each type of ammunition.
NOTE: I realize this isn't a statistically significant sample, I didn't conduct the test in a controlled laboratory environment wearing a lab coat and writing results on a clipboard, and a bunch of other things I either didn't think of, or otherwise didn't feel like doing. It was a simple little test to see if anything interesting was observed regarding the consistency of old ammo versus new ammo. 'Kay?
Here are the results. Please excuse the fuzzy image - the HTML for inserting a table was creating goofy results. Click HERE for a more bigly and cleaner image.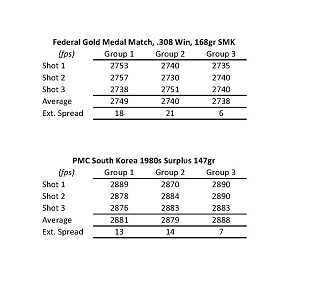 * There must be a rounding issue in the software ES calculation for the Federal Group #3.

Well that is interesting! The new FGMM is about where I thought it would be, but the surplus stuff is quite a bit more consistent than I expected, and consistency is key. You will remember that, all things being equal, variations in velocity show up as vertical dispersion on the target, so always focus on velocity excursions in the form of the extreme spread of a group. That is what makes one shot high and the next low. Although the differences we see here are not really meaningful for recreational shooting inside about 500 yards, after that the differences begin to stack up. It is also illustrative of whether or not "old" ammunition goes bad. Lord only knows where the PMC stuff has been, or how it's been stored, but the results at least in this test speak for themselves.
Why are we learning this? How will we use this information in real life? Also, the dog ate my homework.
Well that's a stupid question. First, it allowed me to shoot a little and play around with my spiffy chronograph. And second, how about using the data to analyze the effects of velocity differences on the target? How much of your group size is likely attributable to your ammunition and how much might be because you just suck at shooting? Let's find out.
Take a look at the Federal Gold Medal Match Group #2 with an extreme spread of 21 fps which isn't bad at all for commercial ammunition. Using a ballistic computer (Ballistic AE is the app I use) plug in the high (2751 fps) and low (2730 fps) velocities to compute the theoretical elevation necessary for each round at 500 yards. In this case, the predictive results are 9.11 MOA and 9.29 MOA, respectively, for a difference of .18 MOA between the two rounds. Multiplying .18 by 1.047 (inches/MOA) we get a potential vertical dispersion of .19 inches. That doesn't sound like much, and it isn't really, but imagine if the velocity spread were larger or you were measuring the effect at 1000 yards instead of 500. You can easily begin to see point of impact differences approaching one full minute of angle, or worse, and that's before you consider the effects of general marksmanship and goofy gun handling.
Correction! Commenter An Observation wins the alertness test. My example above is incorrect. The vertical at 500 yards in this example is about an inch. What I did in taking the difference at 500, didn't account for the fact 1 MOA at that distance is 5.235 inches. Multiply 5.235 by .18 and you get .9 inches.

I stand corrected. Good catch, An Observation!

How about you all? Do you chronograph your loads, and how do you use the data? For the handloaders, how stable are your velocities? Lastly, have you had similar or different experiences with surplus ammunition?
******
Virginia
As we discussed last week, the 2nd Amendment situation in Virginia remains fluid after some legislative back and forth last week. A good summary as of February 27th is available courtesy of the Virginia Citizen's Defense League. A number of bills remain in legislative limbo, a number are still under consideration, and some are ready for Governor Shit-for-Brain's signature. In all, the results could have been better and they could have been worse, and I will continue to post updates as this mess moves along.
******
.22LR Performance
I have been talking a lot lately about the fun of shooting the .22LR. It's the round with which many of us started our shooting careers, but it is often forgotten later as we move on to more powerful centerfire cartridges. Almost no trip to the farm goes by without my spending at least a half hour or so plinking at steel targets with a little .22 caliber rifle, however, I was having a FTF problem with an old Colt bolt rifle I had recently purchased. Some ammunition seemed to be more prone to misfires than others, and it seemed to happen with Federal "Value Pack" bulk ammunition the most. Unfortunately, the Federal is what I had the most of so I needed to find a solution.
You will be delighted to know that after cleaning about 60 years of accumulated, solidified crap out of the firing pin channel, the free-floating firing pin is once again free floating and the problem is greatly diminished. The rifle has a 2 part bolt, and I stopped short of disassembling it completely to replace the striker spring. I have a new spring but had trouble with a drift pin and decided to leave that project for a another day. So while the problem hasn't been eliminated, the Federal bulk ammunition now seems to perform about as well as any of the other types I've tried. How about you all? I know .22s can be finicky, but is there any ammunition you simply cannot get to work in your firearm?
Here is a good article from the Shooting Sports USA Magazine with money saving suggestions for competitive shooters. Among the ideas offered is a section on the use of .22LR for practice. So get out there and shoot your .22! [h/t redc1c4]
******
This week we received an email from our mostly lurker pal Raytonium who has a question about Sig Sauer magazines:
I just bought a new Sig P229 Enhanced Elite (California model) pistol in 9mm. Now I want to buy some extra mags, which I did from Lanbo's Armory in Texas, one of my favorite online stores. What I received was Mec-Gar mags in a Sig box. I don't think this was a bait and switch—I think Sig might have licensed Mec-Gar to make mags for them. I want actual Sig mags and I'm having trouble locating some online. Even a review at the Sig store said they received Mec-Gars. Does anyone know where I can get actual Sig mags (they have to be 10 rounds only currently)?
How about it, guys and gals? This was news to me, but admittedly I haven't purchased a new Sig in a while. Has anyone else seen this, or know what's going on?
******
NoVaMoMe 2020!!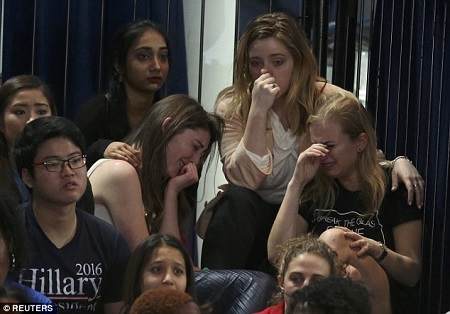 Sad, sad people who missed the registration window
Did you hesitate to sign up for the NoVaMoMe 2020? Did you ignore the frequent reminders to register? Did you think there would always be time to sign up later? Welp, if that's the case then I have some bad news... we've reached capacity and registration is now closed. For those who may still be interested we are starting a wait list in case there are any cancellations (HA!). To list your name, email us at NoVaMoMe2020 at gee mail dot com, beg for bluebell's forgiveness, and we'll put you on the list.
******
Link-O-Rama
I'm really very seriously not kidding around anymore. Buy Ammo
AmmoSeek - online ammo search tool
GunBot - online ammo search tool
SG Ammo
Palmetto State Armory
Georgia Arms
AmmoMan
Target Sports USA
***Mail Bag***
This weeks entry comes from out pal ibguy. Great idea!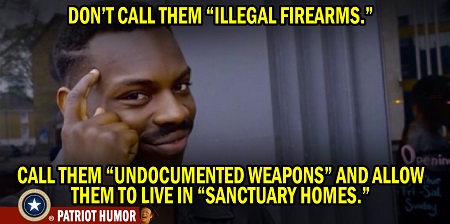 ******
Please note the new and improved gmail account morongunthread at gmail dot com. An informal Gun Thread archive can be found HERE. If you have a question you would like to ask Gun Thread Staff offline, just send us a note and we'll do our best to answer. If you care to share the story of your favorite firearm, send a picture with your nic and tell us what you sadly lost in the tragic canoe accident. If you would like to remain completely anonymous, just say so. Lurkers are always welcome!
That's it for this week - have you been to the range?


posted by Open Blogger at
07:00 PM
|
Access Comments