« Wednesday Overnight Open Thread (2/26/20) My Real Job Got In The Way Edition
|
Main
|
Mid-Morning Art Thread »
February 27, 2020
The Morning Report - 2/27/20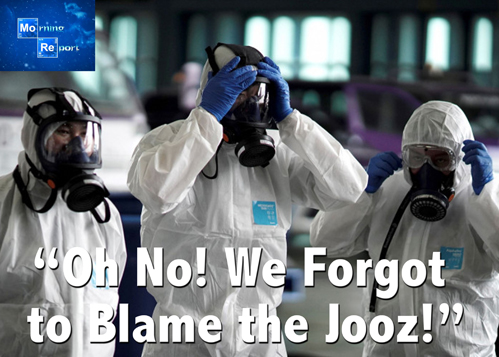 Good morning, kids. Thursday and we are now forced to confront the Wuhan coronavirus. No, not as an actual menace as Plague 2, Mass Death Boogaloo, but as a convenient "crisis-that-must-not-be-let-gone-to-waste" with which the Democrat-Media Complex has attached itself to finally drive President Trump from office. Before going off on them as they roundly deserve, let me just state right here and now that I am not into tinfoil hat conspiracy pimping. It's just that so far, the facts as we know them on the ground here and in China, to the extent that we can really know what is going on in a tightly controlled totalitarian regime (China, lefties, not the US), just do not jibe with the level of abject hair-on-fire doom that is being pelted at us by the media. You know, the media that gave us the past four years of Trump stealing the election with the help of Russia (on top of the past over 100 or more years of turning journalism into a controlled national soap opera of events as they wanted us to see them).
I don't have a link, but a good friend said he was tuned in to the President's press conference on ABC's YouTube channel feed and the reporter's banter before Trump took to the microphone was not about the virus, the precautions or even the spat between Trump and the Dems over funding. No, the big problem that proved Trump was completely incompetent was that everyone on the virus task force was white, while Obama's ebola team was much more diverse. RUFKM? Look at any headline or report over the past 48-72 hours and I can guarantee you the slant is either a direct or barely indirect attack on Trump.
Now that said, I do not want to poo-poo the potential - potential - seriousness of the outbreak and spreading of the virus. So far, the only reported deaths from the disease have been in China which it should be noted has too many people, too little food, poor healthcare, worse sanitary conditions and an evil political system that views the death of a few thousand people in a country of a billion that they are finding increasingly harder to control a feature, not a bug (no pun). From what I understand of the virus, it's certainly not the common cold, but at the same time, it's not bubonic plague. So far, we have about a few dozen confirmed cases, who have been quarantined or otherwise isolated and zero deaths. Considering we are a nation of over 315 million people, I think that that's rather a significant fact. Second, as the link below indicates, 45 million contracted garden-variety influenza which killed 61,000 people two years ago, and no one said boo.
UPDATE: Commenter Gnu Breed informs me that there have been deaths reported in other countries, including South Korea. Considering the proximity, it's not surprising. That said, I stand by my comments on China.
Yes, the fact that this is a new strain of flu and that it is spreading globally indicates a need to take it seriously. But if the Left is going to play politics with bullshit fear-mongering in order to ding Trump, then let's play hardball and use the coronavirus as a terrible swift sword of truth as proof that open borders and lack of strict immigration controls are dangerous to our health. To try and counter-argue that would be foolish and idiotic in the extreme, and so I fully expect the Democrat-Media Complex to do exactly that.
The other phenomenon related to this virus is the two-day 2,000-point dive the market took. Wall Street, a solid majority of which is Democrat contra to the stereotypes, hates Trump. Considering that Nazi collaborator and convicted felon George Soros destroyed the British pound and wrecked the Malaysian economy (for which I believe he has been sentenced to death?), for all I know he, Warren Buffet and a few of the big banking houses might have massively shorted stocks to pour fuel onto the already volatile markets and sent them tumbling. Tens of millions of 401-Ks got hammered yesterday. Mass ruination of peoples' lives for political advantage is every bit as evil as what the Chi-Coms did and are doing to their citizens. Is that tinfoil hat cray-cray? All I can say is qui bono?
Look, I've heard all kinds of theories from a biological warfare experiment that got out of hand, to Xi Jinping intentionally doing this to tank the markets and destroy Trump to opponents of Xi doing this to try and derail his efforts to become the next Mao Tse-Tung. I get the fact that the Chinese are doing whatever they can to get rid of Trump. But the Chinese ironically enough depend upon a prosperous America for their own prosperity. I guess this "crisis" also illustrates that Trump's policies of fair trade based upon national interests and a dismantling of economy-killing globalism are 100% correct and need to be bolstered. Given the fact that much of our medicine and other goods are now manufactured over there only underscores that argument for disentangling ourselves from China as soon as possible. Anyone who argues against that is a fool or a traitor. Hello, Little Big Gulp Bloomberg.
Ultimately, I think this virus, like the ebola scare of a few years back, will burn itself out, and the markets will recover. The only thing the President can do, which he is doing, is to monitor the situation and take all reasonable precautions to insulate and mitigate the effects here at home. The Left will attack him no matter what, and Trump being Trump will no doubt return fire. G-d forbid this thing does turn deadly, it might be something that he will have a real problem with from a political standpoint. Hopefully most Americans will understand that even that is beyond his control. Stay tuned.


CORONAVIRUS, FICTIONS AND FACTS

NOTE: The opinions expressed in some links may or may not reflect my own. I include them because of their relevance to the discussion of a particular issue.
ALSO: The Morning Report is cross-posted at CutJibNewsletter.com if you want to continue the conversation all day.
Follow us on Twitter: @CutJibNews
Too Wong Flu Def Dedication:


posted by at
08:02 AM
|
Access Comments