« Monday Overnight Open Thread (2/17/20) President's Day Edition I Went Fishing And You Don't Get Much Edition
|
Main
|
Mid-Morning Art Thread »
February 18, 2020
The Morning Report - 2/18/20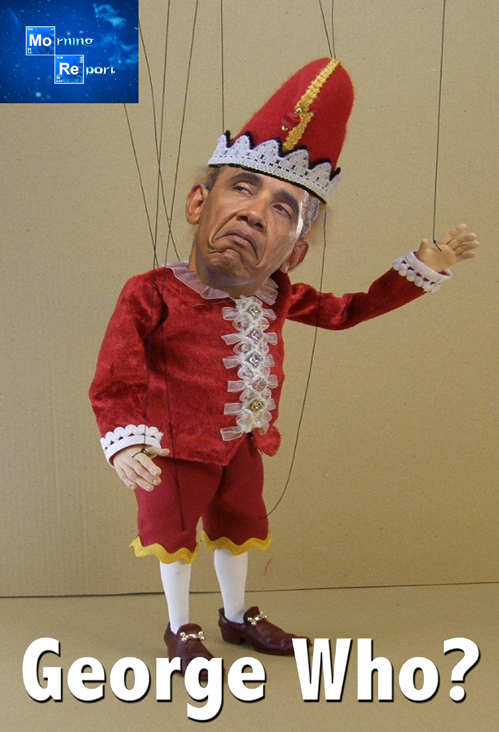 Good morning, kids. Tuesday and there are a few things popping that in theory should get us excited but considering the two-tiered justice system we live under, I'm tempted to just throw my hands up and shout what's the point? Meh, it is what it is, but it still doesn't take away from the gravity of the items in light of the situation.
First up, liberal legal eagle Alan Dershowitz revealed during an interview with Breitbart's Joel Pollak that he has absolute proof that Nazi collaborator and convicted felon George Soros either asked, or perhaps ordered, Barack Obama to have the FBI investigate someone. Dershowitz did not reveal the identity of the individual in question nor how he came about this information but he stated that it will all be made public during the course of an impending lawsuit. Nowadays when you hear the word "investigate" coupled with "FBI" the immediate conclusion is Gestapo-like persecution of political enemies. During the Obama Reign of Error, the names Sharyl Atkisson, James Rosen and Nakoula Basily Nakoula come to mind without even having to probe the memory banks too deeply. He weaponized the federal bureaucracy as a tool of political repression like no other president in history, especially the law enforcement and intelligence gathering agencies. Not that they had any misgivings at all about following orders or even doing dirty work on their own initiative to further the cause of fundamental transformation. But circling back, if Obama is doing Soros bidding then who really was running the country from 2009-2016? That is what we call in the trade a rhetorical question. Also, if you take a look at the second link, I'm sure you'll be shocked - shocked! - to find that not only was that letter signed by over 1,000 ex-prosecutors and DoJ officials demanding AG Barr's resignation not a grassroots effort at all, but that it was organized and funded by none other than... George Soros. Considering Paul Manafort, Michael Flynn, George Papdopoulos and now Roger Stone have all been put through hell as if Obama was still in office now lends credence to the theory that he was just a cut-out doing Soros' bidding.
CORRECTION: The letter was funded by Pierre Omidyar, not Soros. That said, Soros has his fingers in so many corrupt operations, it's easy to get them confused.
Meanwhile, speaking of Michael Flynn, the FBI has admitted that it arranged a "briefing" with candidate Donald Trump and his then erstwhile NSA director under the pretext of investigating alleged Russian interference in the 2016 election, but in actuality for the sole purpose of secretly gathering anything they might say to be used as evidence with which to rhetorically, if not literally, hang them. This puts things in a new light with the announcement that AG Barr has reportedly decided to have an outside prosecutor look into the Flynn case.
It's just staggering to me that people like Alan Dershowitz, and more importantly Peter Schweizer and Lee Smith can connect the dots up with dates, names and figures (if not the evidentiary proof) of the plotters that would surely, in a just world, send them all to federal prison for the rest of their miserable lives. But, no. Even on one provable and actual count of perjury, the Department of Justice refuses a slam dunk case against Andrew McCabe who, along with his gum moll Lisa Page and now other assorted vermin including Sally Yates take to the airwaves to do an impression of John Gotti after Bruce Cutler got him off via rigged and/or intimidated juries. That is the unkindest cut of all. And yes, I'm aware of the irony of Rudy Giuliani eventually sending him to his fate, but hold that thought.
For sure, the attempt to discredit and destroy William Barr is because the coup plotters fear prosecution. But considering what was done to all the aforementioned victims as well as Brett Kavanaugh and even Clarence Thomas, it's also the dead-fish-in-Luca Brasi's-flak-jacket/horse's-head-in-Jack-Woltz's-bed. Or does he really need this reminder considering his over-30-year career in DC?
Even if by some miracle actual serious Federal charges are brought to one or more of the conspirators, given the behavior of Roger Stone's jury foreperson Tomekah Hart and the hack-in-black judge Amy Berman Jackson, any trial would have to be moved as far into the hinterland away from DC as possible. But, I'm getting way ahead of myself. Even the usually optimistic Rush Limbaugh who had been a big Barr booster voiced his disappointment that he let McCabe get off scot-free.
But, as Rush himself has stated numerous times since the miracle of November 2016, what we are witnessing is part and parcel of what pushback looks like. It's why I have absolutely no problem whatsoever in Trump taking to the airwaves or Twitter to blast the Democrat-Media Complex directly. The Swamp is the Swamp and it's not going to drain itself. This President is working miracles in that regard if by no more than forcing them to reveal themselves for everyone who has eyes to see and a mind to think. It was never going to really change overnight or in his first term, and probably not even in his second. But he (and we) has brought us to an inflection point in history. Whatever happens, we cannot go on as before. Something's got to give. Perhaps Malig-Nancy Pelosi's rather quiet instructions to her party to stop going after Trump for the duration of the electoral cycle is a harbinger of things to come. It may not mean the Deep State is going to face real consequences for its actions past and present, but it means that we the people are at a minimum aware that they exist and of their malign intentions. So, at least that is something to build on.


CLINTON/OBAMA COUP, CONGRESSIONAL PERSECUTION, SPYGATE, DEEP STATE, MUELLER DECEPTION, SHAMPEACHMENT

NOTE: The opinions expressed in some links may or may not reflect my own. I include them because of their relevance to the discussion of a particular issue.
ALSO: The Morning Report is cross-posted at CutJibNewsletter.com if you want to continue the conversation all day.
Follow us on Twitter: @CutJibNews


posted by at
07:51 AM
|
Access Comments