« EMT 02/16/20
|
Main
|
Is This The Truck For You? »
February 16, 2020
Sunday Morning Book Thread 02-16-2020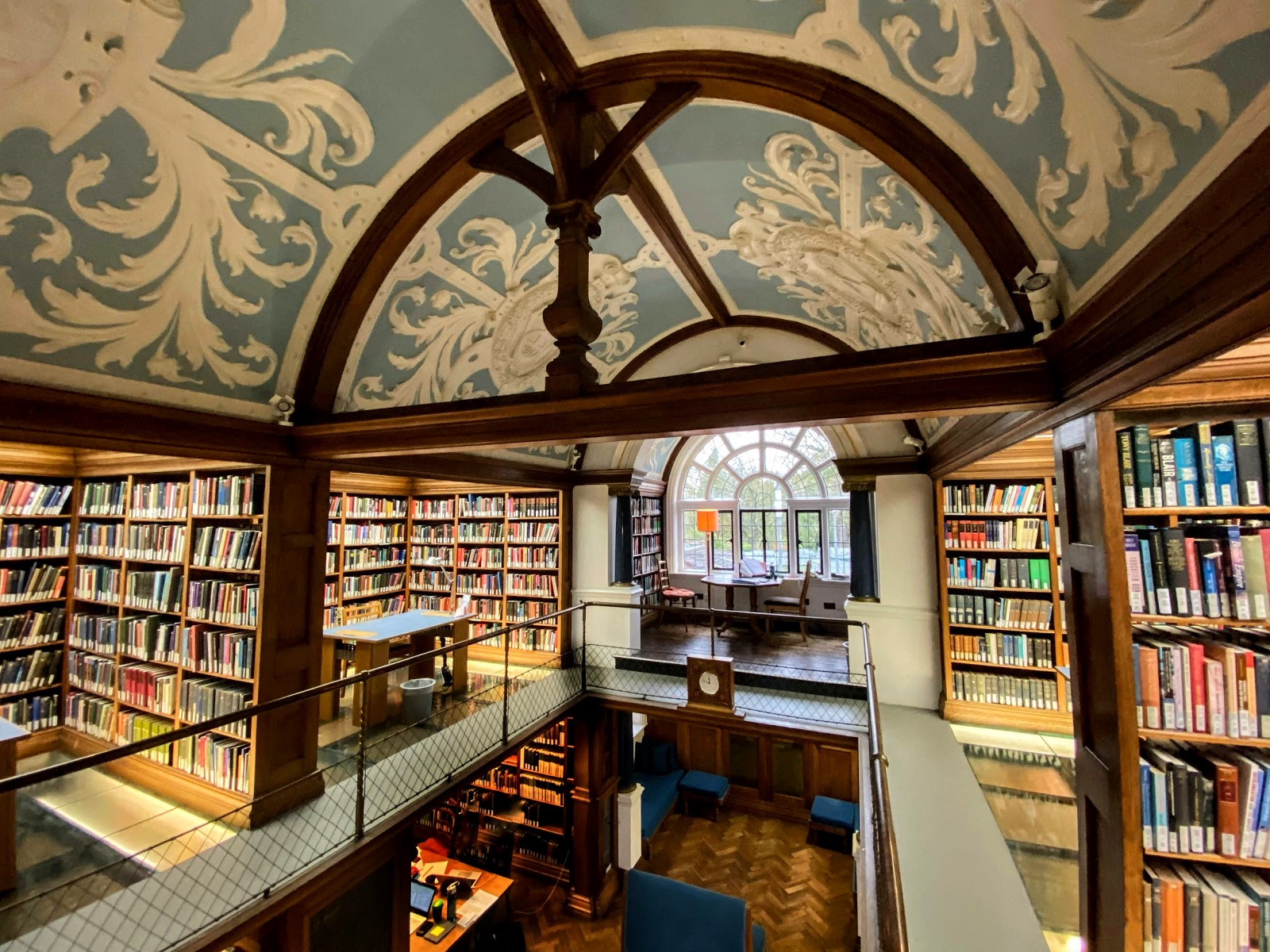 Newnham Library, Cambridge University

Good morning to all you 'rons, 'ettes, lurkers, and lurkettes, wine moms, frat bros, crétins sans pantalon (who are technically breaking the rules), roadies, toadies, flunkies, hangers-on and other posterior osculators. Welcome once again to the stately, prestigious, internationally acclaimed and high-class Sunday Morning Book Thread, a weekly compendium of reviews, observations, snark, witty repartee, hilarious bon mots, and a continuing conversation on books, reading, spending way too much money on books, writing books, and publishing books by escaped oafs and oafettes who follow words with their fingers and whose lips move as they read. Unlike other AoSHQ comment threads, the Sunday Morning Book Thread is so hoity-toity, pants are required. Even if it's these pants which appear to be making a statement, namely, hey everybody, look at me, I'm a dork.


Pic Note:
...one of the best-stocked undergraduate college libraries in Cambridge, with a collection of some 100,000 volumes, including approximately 6,000 rare books. The collection is kept as relevant, up-to-date and useful as possible by the annual purchase of more than 1,000 new titles to support undergraduate study in all subjects.

A dedicated library building was first built at Newnham in 1897. It has developed since then and was greatly expanded with a new building in 2004.
I was impressed by the library's hardwood floor. You get a better view of it in this photo.

It Pays To Increase Your Word Power®
The Germans have a word for everything.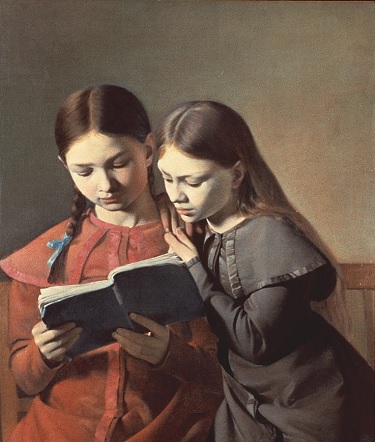 Trump's Books -- Part 1
If I were a reporter assigned to cover Trump, the first thing I'd do is try to find out as much as I could about him. I'd try to find out what he thinks and why he thinks what he thinks. And one of the ways I could accomplish this is to find out what books he has read, what books he recommends and which books are his favorites.
I wonder how many of the reporters yelling questions at the president as he walks to his waiting helicopter have actually done this?
Anyway, I found this article that contains a list of Donald Trump's 10 favorite books. The author doesn't say how she knows this is the definitive top-10 list, so I'm taking her word for it here.
What surprised me most about Trump's book list is how much China seems to occupy his attention. 5 out of the 10 listed books are about China. The article also says:
The Los Angeles Times once reported that Trump once listed his favorite 20 books on China off the top of his head.
Oooh that Drumpf is such a big dummy! Sitting around in his bathrobe, guzzling Diet Coke and watching the Gorilla Channel all day. So they keep telling us.
Anyway, the idea that I've heard floated that Trump was going to get rolled in any deal made with the Chinese is laughable.
The first book on China on Trump's list is the one that's probably the most known: Mao: The Unknown Story by Jung Chang
The most authoritative life of the Chinese leader every written, Mao: The Unknown Story is based on a decade of research, and on interviews with many of Mao's close circle in China who have never talked before — and with virtually everyone outside China who had significant dealings with him. It is full of startling revelations, exploding the myth of the Long March, and showing a completely unknown Mao: he was not driven by idealism or ideology; his intimate and intricate relationship with Stalin went back to the 1920s, ultimately bringing him to power; he welcomed Japanese occupation of much of China; and he schemed, poisoned, and blackmailed to get his way. After Mao conquered China in 1949, his secret goal was to dominate the world. In chasing this dream he caused the deaths of 38 million people in the greatest famine in history. In all, well over 70 million Chinese perished under Mao's rule — in peacetime.
Maoists and Mao's apologists really, really, really hate this book.
The second book deals with Mao's Communist Party legacy: The Party: The Secret World of China's Communist Rulers by Richard McGregor, which is
...Financial Times reporter Richard McGregor's eye-opening investigation into China's Communist Party, and the integral role it has played in the country's rise as a global superpower and rival to the United States. Many books have examined China's economic rise, human rights record, turbulent history, and relations with the U.S.; none until now, however, have tackled the issue central to understanding all of these issues: how the ruling communist government works. The Party delves deeply into China's secretive political machine.
And, in post-Mao China, Tide Players: The Movers and Shakers of a Rising China by Jianying Zha, a book which
...depicts a new generation of movers and shakers who are transforming modern China. Through half a dozen sharply etched and nuanced profiles, Tide Players captures both the concrete detail and the epic dimension of life in the world's fastest-growing economy.

Zha's vivid cast of characters includes an unlikely couple who teamed up to become the country's leading real-estate moguls; a gifted chameleon who transformed himself from Mao's favorite "barefoot doctor" during the Cultural Revolution to a publishing maverick; and a tycoon of home-electronic chain stores who insisted on avenging his mother, who had been executed as "a counter-revolutionary criminal." Alongside these entrepreneurs, Zha also brings us the intellectuals: a cantankerous professor at China's top university; a former cultural minister turned prolific writer; and Zha's own brother, a dissident who served a nine-year prison term for helping to found the China Democracy Party.
One Billion Customers: Lessons from the Front Lines of Doing Business in China by James McGregor
...shows how to navigate the often treacherous waters of Chinese deal-making. Brilliantly written by an author who has lived in China for nearly two decades, the book reveals indispensable, street-smart strategies, tactics, and lessons for succeeding in the world's fastest growing consumer market.

Foreign companies rightly fear that Chinese partners, customers, or suppliers will steal their technology or trade secrets or simply pick their pockets. Testy relations between China's Communist leaders and the United States and other democracies can trap foreign companies in a political crossfire. McGregor has seen or experienced it all, and now he shares his insights into how China really works.
I'm impressed with these choices. Trump picked books on China's history, who the movers and shakers in China are, how their government works, and how to do business in this rapidly expanding market. Again, the idea he's going to get taken to the cleaners by the Chinese is simply not credible.
Next week I'll discuss the other books on Trump's favorites list.


Who Dis: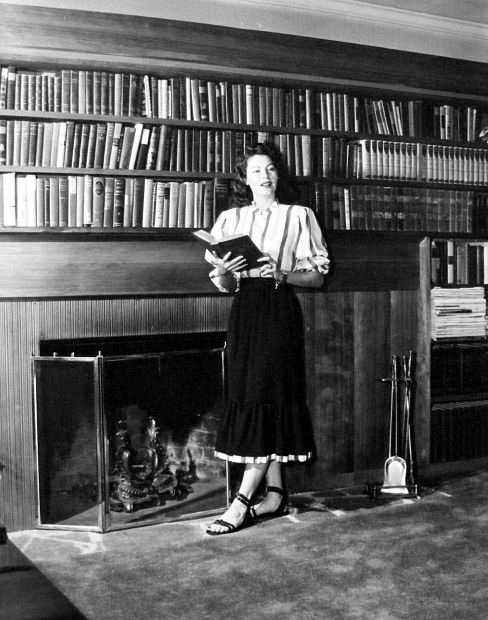 Last week's 'who dis' was child actress
Margaret O'Brien
who continued to act into adulthood and her last film credit was in 2018.


Moron Recommendations
27 So a couple of weeks ago I mentioned Rosemary Taylor's Chicken Every Sunday, which was a memoir of growing up in Tucson in the early years of the 20th century.

While looking for other books of hers (she did a handful, all set in the West), I saw that she penned a sequel to Chicken called Ridin' the Rainbow. While her first book concentrated on her mother and the boarders who lived with the family, Rainbow centers itself on her father and his schemes for getting the family on to Easy Street.

If you liked Chicken, you will like Rainbow. Thumbs up!

Posted by: Mary Poppins' Practically Perfect Piercing at February 09, 2020 09:11 AM (Ki5SV)
It's a national tragedy that Rosemary Taylor's books are long OOP. I've read Chicken Every Sunday: My Life with Mother's Boarders and it's an absolute delight. This sequel, Ridin' the rainbow: Father's life in Tucson, sounds like more of the same:
The uproarious sequel to Rosemary Taylor's bestseller "Chicken Every Sunday". With a mind full of ideas and promotions and a thrifty wife by his side to boot, father goes west. Here are all the schemes and plans that ten men could have had, some foolhardy, some implausible, but many panning out in new riches, ostrich farms, and pine nuts plantings, real estate and laundries, coffee beans and street cars. You'll learn the most original manner for getting a lady out of a cellar (don't ask), what happened to a telegram father sent the Pope, how a President was kidnapped, and what makes a mule run? Father could outwit a dowager, start a railroad in two days, and yet a New York city slicker could steal twenty dollars from him with a hard-luck story.
Reading the first book, I was struck with how you could just go to Tucson and find something to do, start some business venture, or perhaps provide some service, to earn money and even bring in a bit of prosperity. America seemed like a place where anything could happen and the possibilities seemingly endless.
___________
Always nice to get a rec/review from JTB:
33 I rarely pay attention to various book of the year type awards as they almost never contain books I care about. But there is the odd exception. I just read "The Boy, The Mole, The Fox and The Horse", written and illustrated by Charlie Mackesy. It's difficult to describe. In short, the characters meet in a rural area, get to know one another, and exchange some pholosophical observations. All this accompanied by minimalist pen and ink drawings. The end.

The effect of the book is more complicated to explain its appeal, at least to adults. There are echoes of Winnie the Pooh and Wind in the Willows in the childhood (not childish) innocence of wonder and discovery. The setting could be The Hundred Acre Wood or the Shire. The artwork is rough and sketchy but is still very effective, even poignant, and contributes to the feel of childhood. Even the text is cursive, with the appearence of being written with a broad nib dip pen. It is almost caligraphy. Some criticisms gripe about the simplistic, sugary observations. Others that the text is difficult to read or the illustrations are too sketchy. They miss the point. And I suspect they value a sophistication (theirs) over basics in life.

I found the book to be charming and relaxing. It was easy to get into the world of the story. The 'sugary' observations are a reminder that the basics in life are important. That there is joy in discovery and friendship. And it is a wonderful distraction from the constant noise, lies and hate bombarding us from the 24 hour news cycle.

The book isn't cheap but most libraries will have it. And I noticed it is in the adult section, not the children's area. I liked it enough to get a hardcover edition to own.

Posted by: JTB at February 09, 2020 09:15 AM (7EjX1)
Looking at The Boy, the Mole, the Fox and the Horse, I definitely picked up a "Wind in the Willows" impression from it. It features 100 color and black-and-white drawings. And when JTB said the book "isn't cheap", I was expecting something in the $30-40 price range. So I was pleasantly surprised that the Amazon price for the hardcover edition is $13.49.
So it may go on my Christmas list.

___________
31 I read The Princes of Ireland by Edward Rutherfurd. The author of Sarum, London, and Russka turns his attention to the history of Ireland as he traces the lives of a handful of families through the ages in this work of historical fiction. A sequel, The Rebels of Ireland, completes the history. I love Rutherfurd's writing as he weaves an interesting story while giving me much new knowledge of Irish history.

Posted by: Zoltan at February 09, 2020 09:13 AM (PevXk)
So The Princes of Ireland: The Dublin Saga is a historical novel that covers, like, 900+ years:
The saga begins in tribal, pre-Christian Ireland during the reign of the fierce and mighty High Kings at Tara, with the tale of two lovers, the princely Conall and the ravishing Deirdre, whose travails cleverly echo the ancient Celtic legend of Cuchulainn. From that stirring beginning, Rutherfurd takes the reader on a powerfully-imagined journey through the centuries. Through the interlocking stories of a memorable cast of characters—druids and chieftains, monks and smugglers, noblewomen and farmwives, merchants and mercenaries, rebels and cowards—we see Ireland through the lens of its greatest city.
And that's just Part 1. It's 800+ pages of sprawling epic. The sequel, The Rebels of Ireland takes almost 900 page to bring you to the modern era. Sounds like something to read on a rainy winter's night.

___________
Plucked this rec out of one of this week's rant threads:
TJM, go find The Authorized Biography of James Bond ca. 1973, by John Pearson (Fleming's first biographer). It purports to be the actual Bond's life as told to Pearson by Bond. It explains a few things we'd always wondered about, like how he came by the Bentley and his knowledge of high-quality life. It features some original missions, which read very much like Fleming's, and ends with a perfect scene. Highly recommended.

Posted by: Wolfus Aurelius at February 14, 2020 11:51 AM (Ejm1K)
First published in 1973, Pearson's James Bond: The Authorized Biography of 007 has been OOP since the 1990s, although used copies are available. It has been reprinted as James Bond: The Authorised Biography which you can get on Kindle for $6.99.
James Bond has graced our bookshelves and screens for over fifty years. The martini-drinking, super-smooth character has become an icon and national treasure. Like most of the many million James Bond fans around the world, John Pearson assumed that the world's most famous spy was no more than a figment of Fleming's highly charged imagination. Then he began to have his doubts. He finally became convinced that James Bond was not only real but alive and well in Bermuda. With candour, Bond began to recount the story of his life to Pearson, revealing the most amazing series of adventures only hinted at in Ian Fleming's novels. This sensational biography promises to show a side of Bond never seen before.
Wikipedia calls it a "spoof novel", which is perhaps the literary equivalent of fake news. So I guess this is like a book that purports to be the "real" biography of Sherlock Holmes.
Anyway, this sounds like it might be fun for Bond fans. If fiction is blulsiht, then this book is blulsiht overlayed with an additional layer of blulsiht. Purporting to be the truth, it tells you another lie. Which is entertaining in its own way. I'll bet the Germans have a fancy, 10-deutschmark word for this sort of thing, I just don't know what it is.
Author John Pearson also wrote is considered the definitive biography of James Bond's creator, The Life of Ian Fleming. He worked with Fleming at the Sunday Times, and based this biography on
...his own memories of Fleming, on Fleming's private papers, and on a series of interviews with an extraordinary collection of Fleming's contemporaries – family, friends, enemies, teachers, colleagues, mistresses, and former spies from around the world.

First published in 1966, John Pearson's famous biography remains the definitive account of how only Ian Fleming could have dreamed up James Bond, for he led a life as colourful as anything in his fiction, which in turn became a covert autobiography. Charming, debonair and a ruthless womaniser, globetrotting from wartime Algiers to beachside Jamaica, Fleming was as elusive and opaque as his imaginary creation.
On Kindle for $9.99.

___________
So that's all for this week. As always, book thread tips, suggestions, bribes, insults, threats, ugly pants pics and moron library submissions may be sent to OregonMuse, Proprietor, AoSHQ Book Thread, at the book thread e-mail address: aoshqbookthread, followed by the 'at' sign, and then 'G' mail, and then dot cee oh emm.
What have you all been reading this week? Hopefully something good, because, as you all know, life is too short to be reading lousy books.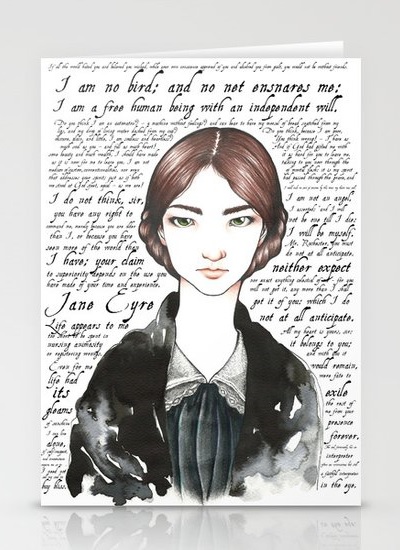 Buy your Jane Eyre Stationery Cards here. Or not. They appear to be rather spendy.

posted by OregonMuse at
09:10 AM
|
Access Comments