« Monday Overnight Open Thread (2/10/20)
|
Main
|
Mid-Morning Art Thread »
February 11, 2020
The Morning Report - 2/11/20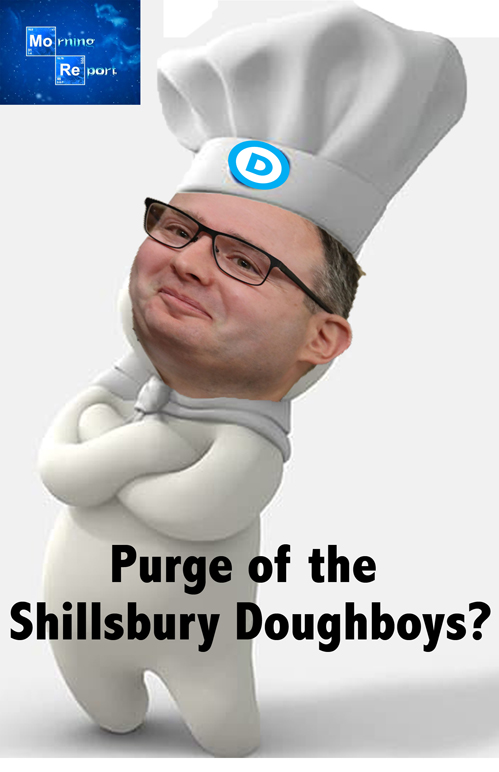 Good morning, kids. Tuesday and now that the Democrats' Sham-peachment banzai charge has been thoroughly blunted, it seems as if a long-awaited counteroffensive all the way to next November and beyond may at long last be underway. Along with the sacking of the Shillsbury doughboys Alexander and Eugene Vindman, and ex-EU Ambassador Gordon Sondland comes news that the administration is conducting a full-scale purge of the National Security Council involving some 70 Obama holdovers including reportedly that "anonymous" Deep State apparatchik who wrote an op-ed for the NY Times, which was the moral and intellectual equivalent of making underarm fart noises, boasting of sabotaging Trump from within. The important thing is that the President has to be confident that everyone working under him, at whatever level and regardless of their political affiliations and worldview is going to faithfully discharge their duties in carrying out the orders and policies handed down from above. This is something that should have been done as of 12:01PM on January 20th, 2017 not only in these departments and agencies, but across the board at every single bureaucracy and agency in DC. I suppose that is the Achilles heel of an outsider, but this President is no dope, and I assume will do a thorough house cleaning starting now. It can't wait until after the next inauguration (G-d willing) because there are still hundreds of other Vindbags burrowed in, ready to do their worst.
Yet like clockwork, the usual gang of idiots is there to proclaim that the President's actions are illegal and demand, get this, another investigation and, you guessed it impeachment. Despite the overwhelming schadenfreude of watching Cuck Schemer and Malig-Nancy Pelosi have one disaster after another explode in their face as they step on another landmine, it is nevertheless enraging in the extreme to hear them proclaim the mantle of righteousness and virtue in spouting out their blood libels against this President and we the people. Encouraging though it is that their criminality and propaganda is having less and less effect on more and more people, it's still cold comfort for people like Mike Flynn, Paul Manafort and Roger Stone, who continue to go through hell as their lives are destroyed in the ongoing and non-stop attempt to overthrow the will of the people. While they rot in jails, have their reputations trashed and their finances ruined, literal scum like James Comey, Andrew McCabe, John Brennan, James Clapper and Hilary Clinton are free as a bird and more than indirectly profiting off of the former's misery and persecutions. But what of the lower-level apparatchiks, saboteurs, traitors and flunkies like the Vindmans and Sondland who do their bidding, directly or of their own accord? From George Parry at American Spectator:

... As described by the hysterical media, you would think that President Trump had "settled all family business" in the manner portrayed in The Godfather's climactic scene, in which Michael Corleone has the heads of New York's five Mafia families whacked. But the truth is altogether to the contrary. In May of this year, Alexander Vindman will enroll in the Army War College. This is a highly sought and selective program and a singular opportunity to advance one's military career. It is open only to the favored few who are being groomed for top leadership positions in the military.

As for Sondland, he is a hotel magnate who was a big contributor to Trump's 2016 campaign. Recalling him is not the equivalent of terminating the livelihood of a career State Department official. Sondland can go back to his day job of running his hotel empire. And since the Obama regime is no longer in charge, he can do so without fear of the IRS auditing his company, OSHA inspecting his hotels, and ICE vetting his employees.

As retaliation goes, removing the Vindmans from the National Security Council and stripping Sondland of his ambassadorship is pretty weak stuff. Which raises the troubling question as to whether or not such pallid measures will be enough to deter others who may wish to emulate Sondland and the Vindman twins in any future coup attempt...

... Since the definition of insanity is doing the same thing over and over again while expecting a different result, you can count on the Democrats again impeaching Trump at least once between now and the November election.

That is why President Trump should seriously consider taking firm and decisive punitive action to discourage all deep-state partisans from promoting yet another impeachment hoax. In that regard, he has a positive obligation to the nation to make clear to one and all that they will pay a heavy price if they meretriciously participate in any future attempted coup...
Well, what can the President really do especially in light of the fact that the bureaucracy generally protects its own where and when it can? Since said bureaucracy itself is more than likely 90% Democrat-Globalist and anti-Trump in the extreme, the odds of Trump using them like Obama used the IRS for example are slim and none, as Parry points out. Again, it's an off-shoot of the now undeniable fact that we have two systems of justice in America; one for the ruling power elite and one for the rest of us that ensures that the former's status as a ruling elite is never challenged. And that, more or less, encapsulates what the past four years was all about.


CLINTON/OBAMA COUP, CONGRESSIONAL PERSECUTION, SPYGATE, DEEP STATE, MUELLER DECEPTION, SHAMPEACHMENT

NOTE: The opinions expressed in some links may or may not reflect my own. I include them because of their relevance to the discussion of a particular issue.
ALSO: The Morning Report is cross-posted at CutJibNewsletter.com if you want to continue the conversation all day.
Follow us on Twitter: @CutJibNews


posted by at
07:45 AM
|
Access Comments