« Saturday Afternoon Chess Thread 02-08-2020
|
Main
|
Saturday Overnight Open Thread (2/8/20) »
February 08, 2020
The Occasional Fishing Thread, What's In a Name Edition
[Bandersnatch]
Welcome Piscators and Piscatrixes, Nimrods and Nimrettes, and Rough Riders of all genders to the current installment of the occasional fishing and hunting and other wholesome outdoorsness thread. What's in a name?
I suppose this all started when I was a wee tyke with a fishing addiction and a library card. The names of the fish were passed around among boys who fished, but the books in the library had different names. This, for instance, is a Calico Bass:
Except the book said it's a Crappie. Which, hey, when you're seven is kind of exciting. Back then of course there was no Wikipedia, which now tells us that
Other names for crappie are papermouths, strawberry bass, speckled bass or specks (especially in Michigan), speckled perch, white perch, crappie bass, calico bass, (throughout the Middle Atlantic states, and New England), sac-a-lait (in Louisiana, lit. "milk bag", sometimes sounding like "sokaline"], an alteration by folk etymology from Choctaw sakli) and Oswego bass.
I did not grow up making Spey casts at Atlantic salmon, I grew up throwing worms into puddles to see what's there. This was there and I caught a catfish! No, Dad said, that's just a hornpout. Way to harsh my mellow, Dad. Anyway, it's a Brown Bullhead.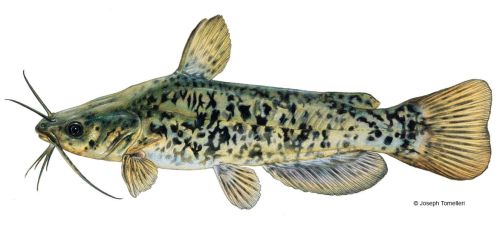 Species Name: Ameirus nebulosus
Common Names: bullpout, mud pout, horned pout, hornpout, mud cat
Up here (in the pure clean North) this is a Bonito.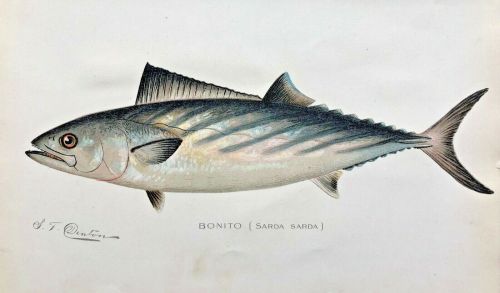 Down South the fish they call Bonito is a False Albacore. What we call a False Albacore is their Little Tunny. Or the other way around. One has stripes and one has squiggles. One is good eating and the other isn't. Bonito, our Bonito, is good eating. I can always remember the difference because of the mnemonic stripes = sashimi. Or is it squiggles = sashimi? Mnemonics have their limits.
Down in the Gulf if you say Speckled Trout you mean a Sea Trout, or Weakfish, or Squeateague.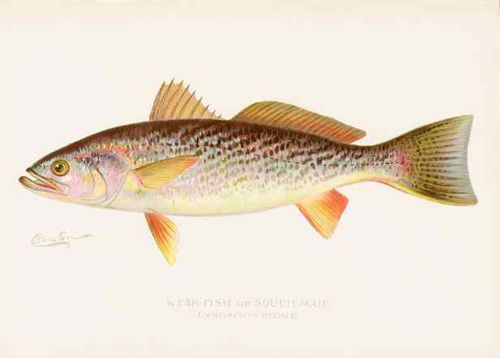 In New Hampshire if you say Speckled Trout you mean a Brook Trout.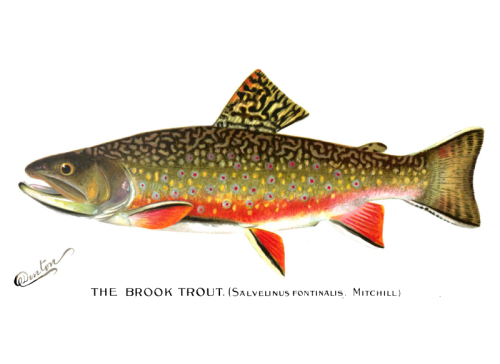 And while it's a salmonid it's not a true trout, it's a char. Trout have dark spots on a light background and char have light spots on a dark background. There's also something about volmer teeth, but I'm not really sure what that means.
This is a sunfish: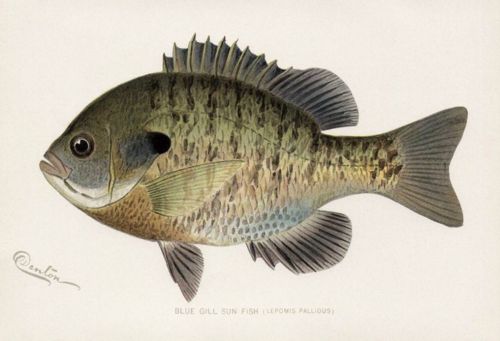 Sunfish have useful names for subdivision, bluegills, punkinseeds, longears, and such, but they're all sunfish.
This is also a sunfish: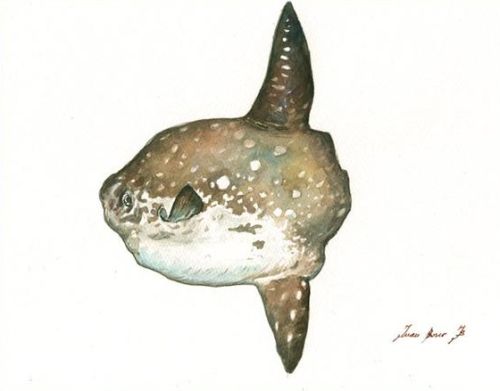 The Ocean Sunfish or Mola Mola is the largest bony fish in the world. (Whale sharks, while larger, are cartilaginous). They're really goofy looking, like the front half of a fish that God got bored designing and just released into the wild, unformed.
This is a dolphin: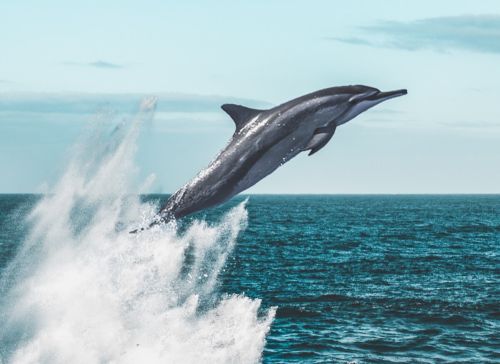 It's not a fish. You knew that. Everyone knows that. It's a marine mammal and marine rhymes with rapine.
This is a dolphin: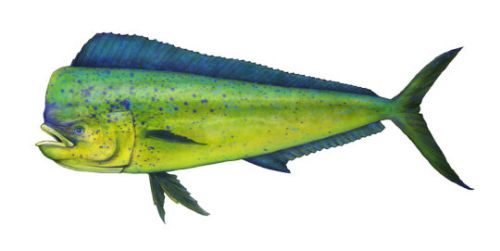 People tried calling them dolphinfish for a while just to avoid the confusion and say no I didn't kill Flipper and turn him into sushi, and then everyone gave up and adopted the Hawaiian word Mahi Mahi.
So, do you have any good regionalisms?
Let's get to the mailbag.
Gunslinger has something astounding: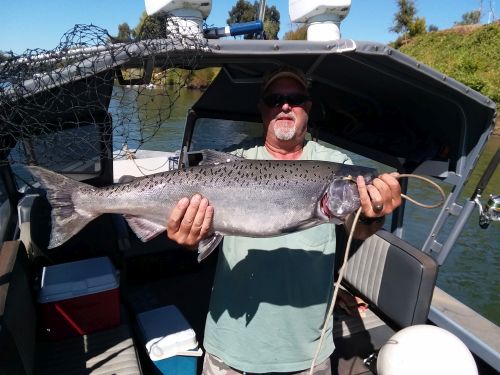 Only went out twice this season, as we moved our homestead. Amazing that fish like these regularly move through downtown Sacramento. I fish north of that by about an hour.

California's insane water policies have all but decimated the salmon runs, but the incredible 2 water years out of the last 4, should help rebound the population.
Larro has a different kind of fish tale.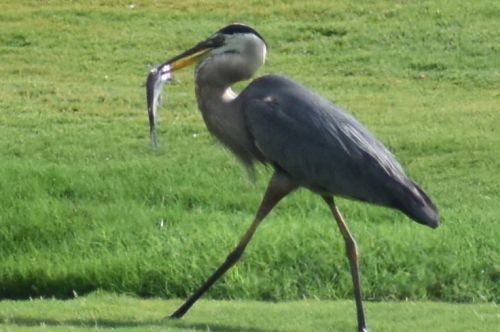 Taken back behind my house on a pond. I swear this bird snagged my pet catfish "Charlie"

This bird is a troublemaker
Toxic Jeff brings us a pic…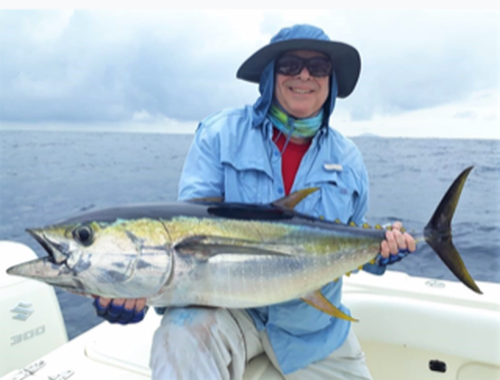 … from a trip to Panama, fishing on the Hannibal Bank on the pacific side, over 1200 feet of water. Dolphins were schooling up baitfish with a school of yellowfin tuna below them. Once the dolphins commenced feeding, the tuna would hit as well. In the frenzy, the tuna were occasionally jumping clear out of the water. Quite a spectacle. Anyway, the guides would scan the horizon looking for this surface feeding, and then heave a live bait into the froth. They finally hooked one and I brought it in, a 60 pounder. Best tuna I ever ate; delicious raw sashimi and when pan seared.
And with that we move on to the raison d'etre of this here HQ, the comments section. Brickbats, praise, and fish brag pics are welcome at aoshqfish at sign gmail thing

posted by Open Blogger at
07:26 PM
|
Access Comments