« Trump Now Delivering Remarks on Sham Impeachment
|
Main
|
Nancy Pelosi Defends Her Bitter Rip: "I'm Always Dignified" »
February 06, 2020
The Soyciety Pages: Jonah Demands to Know, "Don't You Know Who I Am?!!;"
Aging Twitter Thot S.E. Cupp Has Thoughts on Bravery and Hypocrisy
The video of Mollie Hemingway appearing with, as usual, a phalanx of NeverTrump Soy Troopers is here.
Brett Baier needs a lot of protection from his NeverTrump buddies.
A friend says of Brett Baier right now, "Brett looks like his head is going to explode." He then claims, bizarrely, that Trump's remarks "veered into the bizarre."

Apparently Harris Faulkner had to slap his fat ass down. Brett needs to go back to playing Ookie Cookie with his BFF and BFB Steve Hayes.
Julie Kelly @julie_kelly2

Good for @HARRISFAULKNER for pointing out the obvious difference between Clinton's post-impeachment speech and Trump's to Bret Baier.


exactly, you should have seen Brett's face. He was holding back anger at being challenged.
Posted by: artisanal 'ette
FoxNews' fat old white Low-T pseudomen are prone to emotional outbursts when challenged by women. Have you noticed that?
I'm so tired of FoxNews. We need to boycott this bitch and put them out of business. Get Woke, Go Broke. That applies to Fake "Fair and Balanced" bullshit news networks too.
Real Clear Politics posted the link of Mollie sparring with Busty Jonah Goldberg, and identified Goldberg as an editor of The Bulwark.
Well! Jonah Goldberg took great umbrage that a commoner did not recognize him or recall which Noble House he was a part of.
I think Jonah did recently say "I think I'd like to rewatch Infinity War while my wife is humiliating me with a busboy who caught her eye at Chi-Chi's."
And he was right -- he did want to watch Infinity War.
So there was that time.
Meanwhile, S.E. Cupp, who was always an airhead but was promoted well beyond her merit because she was cute and female (affirmative action hires work out so well), really wants you to know she has Princibuls and is a Brave Firefighter.
Isn't S.E. Cupp one of those Fake Republicans who's always droning on about gay rights?
"I never heard of my former foreign policy adviser who is the currently serving Ambassador to Germany."
All right.
Meanwhile, Thrice-Married Charlie Sykes makes the completely unexpected play of wrapping his fat pharisee ass in God's robes: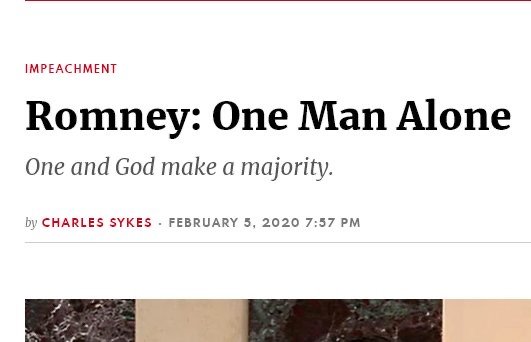 "God told me I pw3d you on Twitter"
But of course it was Mitt Romney who put it into Sykes' head that God had told Romney to vote guilty.
Ahead of the vote, the Utah senator delivered a hand-signed note to each of his Republican colleagues.


The note, obtained and published by Axios, was delivered to Republican senators' individual boxes in the Senate cloakroom ahead of the vote Wednesday. In it, Romney defends the decision that he predicts will result in immense backlash against him, including from President Trump, insisting that his vote is "an act of conviction" stemming from the seriousness with which he takes his oath, "before God, to exercise 'impartial justice.'"

"Does anyone seriously believe I would consent to these consequences other than from an inescapable conviction that my oath before God demanded it of me?" he asks.
And all this talk of God Commanding His Servant Romney isn't just jibing -- there is talk that Romney believes in a Mormon prophecy that one day, the Constitution would be in jeopardy, and a Hero on a White Horse would have to save it:

I wonder if God had previously advised Romney to beg for Trump's support -- and publicly praise Trump, as part of the bargain -- when Romney needed Trump's political help: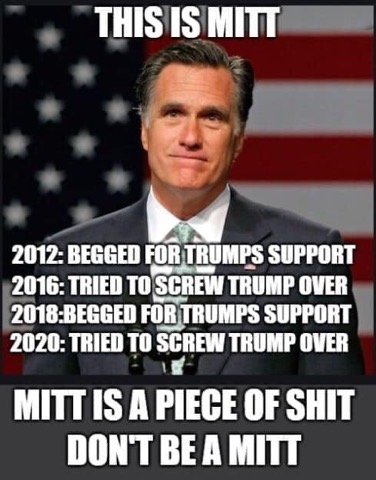 Mitt Romney: 190 pounds of pure Princibuls.
Plus: What does it say about the Establishment which Cons the Rubes every four years that our two most disloyal and liberal "Republican" senators were actually our two prior Establishment-picked presidential candidates?
One last point:
It is an endlessly-repeated NeverTrump meme that anyone who supports Trump -- that is, anyone who wishes to continue having a Republican government -- is a "cultist."
We're the cultists?
You guys start beatification campaigns for every one of your little NeverTrump Cult Heroes. Justin Amash, Mitt Romney... It's just one hysterical mass-squeal of Tiger Beat Cute Boy Love for one liberal Rockefeller Republican after another.
Do the NeverTrump magazines have little mini-posters of their Dream Boys in the center of each issue? Like they used to have for Leif Garrett?
If not, they should!
Oh wait -- NeverTrump doesn't have magazines any longer. They have websites and newsletters.
Note: I changed the reference from Peter Frampton to Leif Garrett, who was more of that Tiger Beat kind of boy.
Thanks to Little Larry Sellars for that correction.