« Tuesday Overnight Open Thread (1/28/20)
|
Main
|
Mid-Morning Art Thread [Kris] »
January 29, 2020
The Morning Report - 1/29/20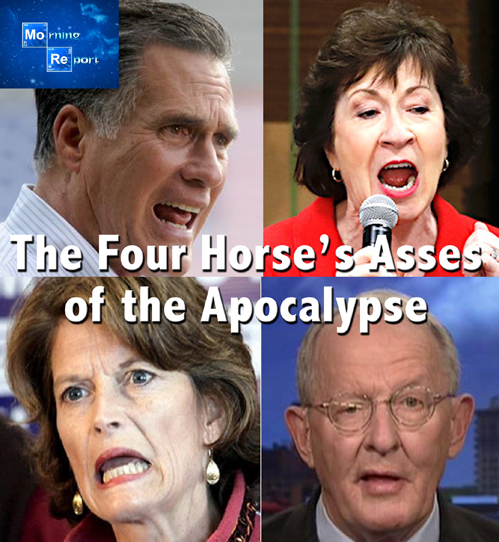 Good morning kids. Midweek and the Trump defense team wrapped up its opening arguments yesterday with a one-two punch of Alan Dershowitz completely eviscerating any relevancy to what John Bolton may or may not have written in his upcoming book and the final wrap-up by Team Trump with a video mash-up of the same Democrats today calling for Trump's head "on a pike" at the 1998 proceedings against Bill Clinton decrying the use of impeachment as a weapon to oust their political enemies. Yet, as irresistibly and incontrovertibly powerful as all of this is - as well as the growing stack of evidence pointing directly at the Bribems and others as being guilty as hell of what Trump is charged with - the big news breaking late yesterday is that the three RINOs led by the repugnant Pee-Air Defecto Romney are being joined by both Lamar Alexander, the useless, sneaky shriveled coprolite from Tennessee and most surprisingly Bill Cassidy from Louisiana, to screw Cocaine Mitch and let the Dems continue this sham by calling witnesses. Considering Trump carried Louisiana by something like 20 points, Cassidy's betrayal is a puzzler. Frankly, I do not understand the process in the Senate. Doesn't whoever is running the trial (I assume it's McConnell or Graham?) have the final word in allowing what motions to proceed or to deny? I sort of understand that if a motion for more witnesses is put forward and it's gaveled down or tabled, the Dems would have a field day in shrieking cover up. But that would not or should not stop the GOP from shrieking back twice as loudly "sham" and killing this thing. Screw the friggin' media; even the most crooked of Leftist polls show both no interest in the impeachment and more tellingly, support for the President in all of this. The proverbial wind is at the Republicans' back but all they can do is break it.
I am beyond disgusted with these bastards. The simple fact is they hate Trump, hate that he has come to bust up their place within the Deep State/Big Government/Globalist scam that has sucked America dry since the New Deal and of course we the American people for daring to defy their delusion of manifest destiny to screw us and our progeny over. Make no mistake, the same low-class, puerile display that Rick Wilson, Don Lemon and Wajahat Ali vomited up on CNN over the weekend is exactly what Romney and company think of us. They're just barely intelligent enough to keep it relatively concealed. But, given their words and deeds since Trump shocked the world in 2016 and before in light of the plain, unvarnished, absolute truth that Trump is the innocent party in all of this, then by extension they are part and parcel of the ongoing coup to destroy this President and overthrow the republic. QED.
As of this morning, I have not seen any news that McConnell and the rest of the GOP Senators have persuaded these traitors to change their minds. The situation is still fluid and perhaps they may yet be convinced to straighten up and fly right. But even if by some miracle, or a Cocaine Mitch reading of a riot act behind closed doors, that would actually persuade them not to vote for more witnesses, I stand by my assessment of who and what they are. Let's face it, the GOP is a party in transition and there is going to be a lag between those who support the new age of Trumpism and the vanquishing of the old guard who oppose it and the base. I think Trump's incredible record over his first term has persuaded some to either give up and exit, join us or, as with these dead-enders, dig in their heels and commit political suicide at the expense of the life of the nation. Too bad a good many squandered the first two years believing the Russia collusion hoax and kept their distance from the President. Well, what was done is done so you have to let it go and not dwell on what might have been.
I do not think that the election of Trump was a one-off. Certainly, what he has accomplished, the way he has accomplished it and most importantly the visceral reaction from the Democrat-Media Complex and their Deep State flunkies and co-conspirators in the Bureaucracy and the GOP it engendered has opened a lot of heretofore-closed eyes and minds, and they will not allow us to go back to business as usual. The downside is it usually takes a few election cycles to drain all the dead wood and bad blood and we do not have that luxury. If a Democrat were to G-d forbid be elected it would be lights out America right there. That party is now openly anti-American and is no longer satisfied to obey laws and traditions even in the breach to advance its agenda. It's easy to laugh at Toothy McBigTits and Bernardo Sandersnista but they mean business, as do their underlings caught on camera by Project Veritas calling for everything from gulags to mass executions for those who refuse to be "re-educated." So, it's a race against time to see if the Trump miracle can peel away a significant number of old time Dems and even disaffected youth who have escaped the Ludovico Technique at Brainwash U from the effort to replace our population with millions of illiterate third world peasantry from south of the border.
Place your bets; it's post time...

NOTE: The opinions expressed in some links may or may not reflect my own. I include them because of their relevance to the discussion of a particular issue.
ALSO: The Morning Report is cross-posted at CutJibNewsletter.com if you want to continue the conversation all day.
Follow us on Twitter: @CutJibNews


posted by at
07:31 AM
|
Access Comments