« Saturday Gardening and Puttering Thread 2/1/20 [KT]
|
Main
|
Saturday Afternoon Chess Thread 02-01-2020 »
February 01, 2020
Ace of Spades Pet Thread
(H/T Legally Sufficient)
***

Good afternoon and welcome to the almost world famous Ace of Spades Pet Thread. Forget about those Super Bowl party preparations. Sit back and enjoy the world of animals.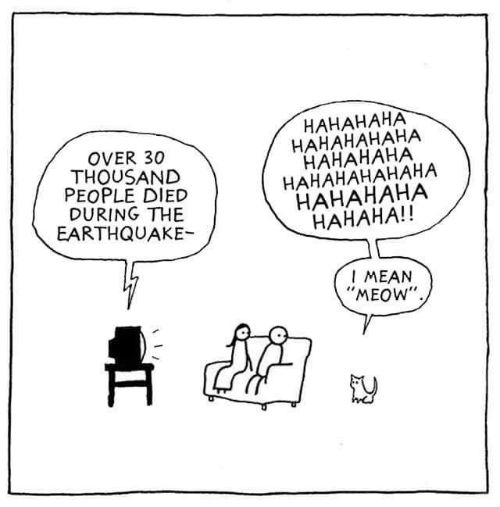 ***

She calls herself our resident cat lady. However, she is married. So she isn't completely a stereotype. A couple of cat links from 'ette Shibumi. Who knew that cats did weirdo things? Funny photos of cats doing weird stuff.
***

Don't you wish we had this choice every election?Not your typical mayoral candidates.
***

We all tend to forget at times that dogs were bred for certain chores. Doggehs wipe out rats.
***
In a crappy world full of political hate, sickness and countless other things, here is a joyous reunion.H/T 'M' It may be a little dry where you are at if you click.
***

Our friend Hank Curmudgeon submitted these nice stories.
Another story of unconditional love that people can show for animals.
The story of a cat and a window washer.
***
Meet The PetMorons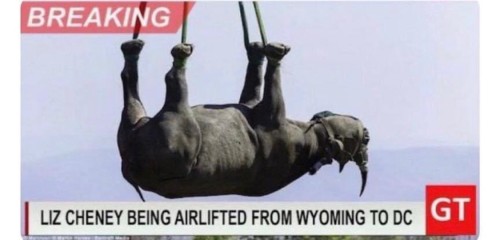 Sent from my This is Rebel the Dog. He's an American Staffordshire Terrier. He's a Very Good Boy
and my Best Bud. He likes spending time with his friends at Laura's house, head scratches, belly rubs and chasing squirrels. He also loves spending time with my Grandsons chasing balls and going for walks! Love the pet thread! Been an everyday reader of Ace for years! Thanks to All! Lurker Rick and Rebel the Dog! Rick554
Well Lurker Rick, thanks so much for checking out the AoSHQ everyday. Rebel certainly appears to be a happy pooch. It sounds like he has quite the life! Thanks again.
***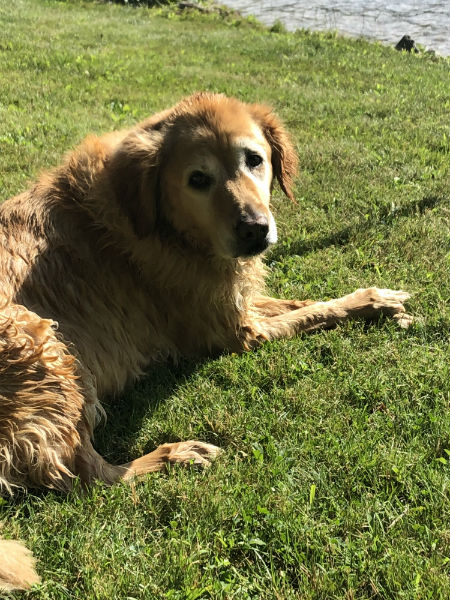 Long time Moron and Lurker here,

This is Brady a Golden Retriever, my kids named him after a certain QB (wasn't my idea I got out voted).

He was the most chill and best dog I ever had.

He loved the lake up in NH as you can see.

He passed over the bridge to the other side on 1/15/20 with his family around him.

I'm missing him so much. Thanks for the AoS Pet Thread, Zeeman
Elderly Golden Retrievers look so regal. He appears to be enjoying the sun after a nice swim. I'm so sorry to hear of your loss. Thank you for sharing with us.
***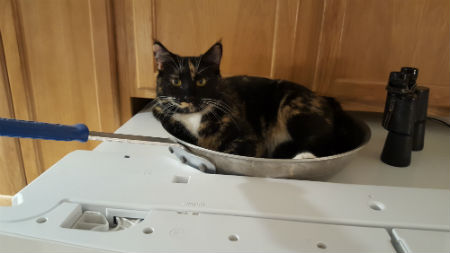 Lurker but friend of Weird Dave from ND (shameless name dropping to get shown). This is one of our two pound cats, Flame. She is not allowed on the counters so she escapes to her safe space – the top of the refrigerator in an over sized frying pan. She has determined that she is untouchable when in the pan. She watches Mrs. Oldgeezer prepare supper from there and oversees Oldgeezer doing dishes. After supper is done and the dishes washed, she leaves her perch to terrorize the household
That's a funny story Oldgeezer. Are you a cat herder in your part time? But just so that you know you don't have to drop names here at the AoS Pet Thread, we show everybody's pet sooner or later.
***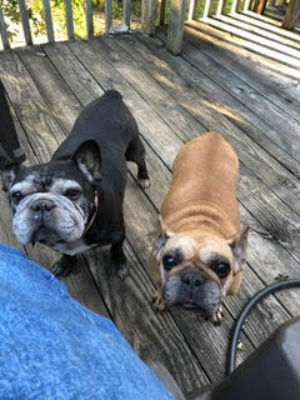 &&&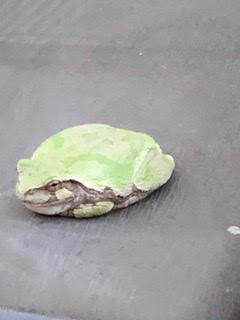 The dogs are the main part. Loki (black) and River (Red). 2 Frenchies. Loki is the last puppy sold at a puppy mill close by. I had 2 others from the same place (litter mates) that were great. Got him for my daughter and husband. They gave him to me when one of the litter mates went across the bridge. Worked out for both of us. He is pushing 11 and still going strong. River is a rescue from a mill also. She was a breeder and after having 2 litters was unable to have more. KS is not one of the better states as far as regulations go on dogs no longer able to perform at a mill, rescue or a quick shot. We got her and boy did she hate men at the beginning. Not anymore seeing I feed her all the treats she can eat. She does not know how to run, rarely plays. Looks at balls with disdain but sure does love a soft bed and heat in the winter. As for the frog, bonus picture. Found it on the arm of one of my deck chairs - No name provided.
Another Moron with a big heart. A great story of love. I bet those 2 provide great companionship. I wonder if they chase frogs? Thanks for the submission.
***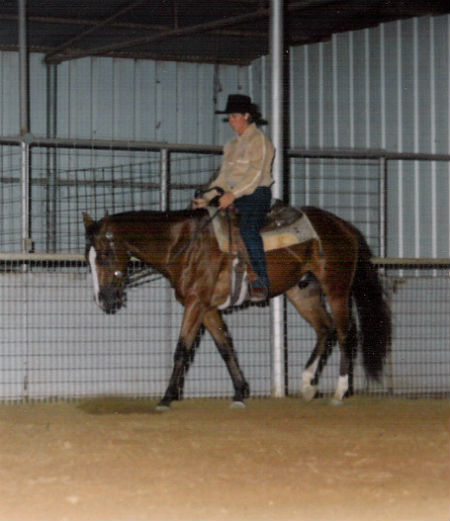 This is Simon, a 2 year old Quarter Horse gelding, at his first show. Simon was among the first crop of foals by a stud that we had recently purchased and we were very pleased with the results. As any breeder will tell you, even with the best of bloodlines, there is still an element akin to a crap shoot involved. I am reminded of something a customer once said to me. " I want you to find me a green bay packer" which translates into a bay horse that will pack (take care of) a green(inexperienced)rider.-Ben Had
That's me a green bay packer in more than one way. Horses may not be your ordinary pet. But, we celebrate all animals owned or cared for by the Horde. Thanks Ben Had.
***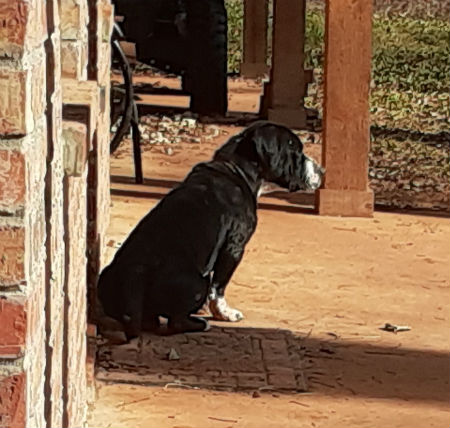 Found this guy wandering up my road towards the highway a couple of Fridays ago. I figured that between the highway, the incoming storm and the cold weather after that he didn't stand a chance. So into the Subaru he went. He went to the vet and naturally he had several (treatable) medical issues. I started out calling him Mutant but now he's Reggie. The vet said he's a basset hound mix. Sweetest dog and instantly got along with my dogs (even Crazy Maizy) and cats. If I can find him a home, great. If not, Reggie has moved in. He still has his danglies so he needs the Markle procedure. I figure somebody dumped him because they didn't want to fork out the money for the vet. They sure didn't fork out for dog food, poor skinny bugger. And now that he has a new collar with skulls and crossbones on it, he is Dread Pirate Reggie. Bean Counteress of Rohan
You certainly have a welcoming home and a big heart. I haven't kept track of the number of pets you have adopted. Good people! Thanks.
***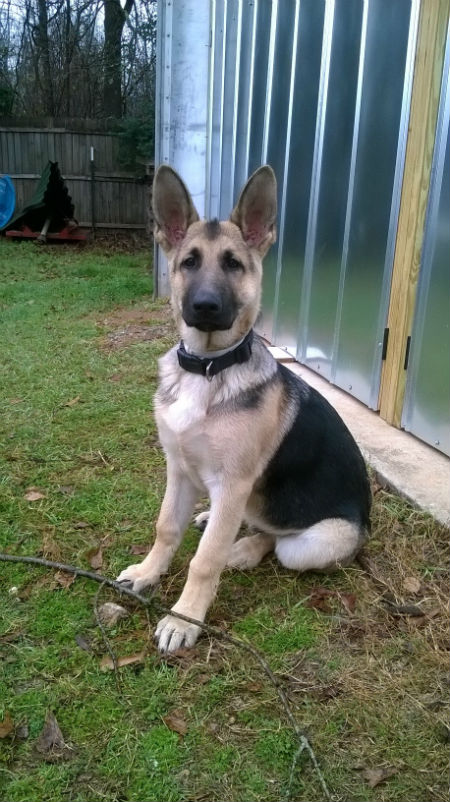 Remember that cute floppy eared puppy from a couple of months ago? Well here he is at just under 4 months. - freaked

Still an adorable puppeh freaked. Besides growing like a weed is he catching onto things? Thanks for the submission.
***

What a great group of Morons and Pets!!! Thanks folks for all of the contributions today. It sure makes the Pet Thread work.
Do you have a link or a pet you wish to share? You can reach us at petmorons at gmail dot com.
Have a great week!!!

posted by Misanthropic Humanitarian at
02:57 PM
|
Access Comments