« Sunday Overnight Open Thread (1/26/20)
|
Main
|
Mid-Morning Art Thread »
January 27, 2020
The Morning Report - 1/27/20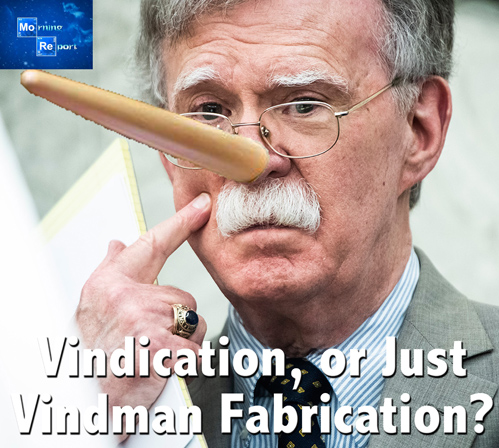 Good morning kids. Start of a new week and its deja-vu all over again. So what took two whole days and half the oxygen produced by the Amazon rain forest for the Democrats to make their "case" and present their "evidence" in the Senate was utterly decimated on Saturday by the President's team of impeachment managers in less than a couple of hours. In fact, it was such a thorough evisceration that Senator John Barasso said that when the transcript of Schiff-for-Brain's perverted, pornographic fantasy of the Trump-Zelensky phone call that he used to open the House hearings was read back and mocked in the Senate, he watched as "the blood drained from Adam Schiff's face." Yes, that's all well and good but the fact is that most Americans had completely tuned out after Thursday and certainly Friday, and no one was going to be watching on a weekend. In any case, Schiff-for-Brains' and Nadless' insane ravings turned off the wrong people; the four GOP swing Senators they were hoping to vote with them for more witnesses.
That was the state of play until yesterday, when, speaking of Amazon, a section of former NSA John Bolton's upcoming book was "leaked" via Bezos' behemoth in cahoots with the Slimes and it just happens to contain a passage that claims President Trump indeed demanded a "quid pro quo" from Ukraine in exchange for investigating Joe Bribem. How's that for fortuitous timing. It seemingly gives the RINO squishes cover to vote to extend this fiasco and call for witnesses, instead of killing this garbage and acquitting the President by the end of the week. Then there's this little nugget; it turns out that Lt. Col Vind-Bag's brother Yevgeny is the person at the NSC in charge of clearing publications before they're released. No conflict of interest there, right? The President has, of course, categorically denied this and called the contents of the transcript bullshit, and a stunt to sell books.
It's so risible and patently transparent a fraud, yet the Democrat-Media Complex keeps trotting it out time after time. In this case because they have absolutely nothing left. No matter what they claim or how loud they claim it, all you have to do is read the transcript of the phone call between Trump and Zelensky as well as look at the timing of events and the fact that Ukraine received all of the aid promised by Trump with essentially zero delay - unlike Obama who, despite a treaty to come to Ukraine's aid in the event of trouble after they agreed to disarm, didn't lift a finger to help as Russia gobbled up the Crimea. Whatever requests to investigate the Bidens were in regards to ongoing corruption investigations and election interference both there and over here. Yet again, the Democrats want to crucify Trump because he might have wanted to do something or thought about doing something, despite the fact that he never did anything except his job in dictating and executing American foreign policy.
Yet again, this is a gigantic Food-of-the-Gods squirrel nothing-burger that will ultimately come to naught. If indeed the squishes squish and we do extend this garbage, the Dems will get exactly what they want, but not quite the way they want it: Bolton as well as the Bidens, Eric "Ciaramella" Whistleblower and maybe even Schif-for-Brains himself will be flayed by Pat Cipollone and Jay Sekulow. Should be fun to see how he answers why he, Schiff, has buried his contact with Ciaramella under the guise of being a state secret. Bring it on.
NOTE: The opinions expressed in some links may or may not reflect my own. I include them because of their relevance to the discussion of a particular issue.
ALSO: The Morning Report is cross-posted at CutJibNewsletter.com if you want to continue the conversation all day.
Follow us on Twitter: @CutJibNews


posted by at
07:07 AM
|
Access Comments