« Food Thread: Haggis...The Other White(ish) Meat
|
Main
|
Sunday Overnight Open Thread (1/26/20) »
January 26, 2020
Gun Thread: Space Force!! [Weasel]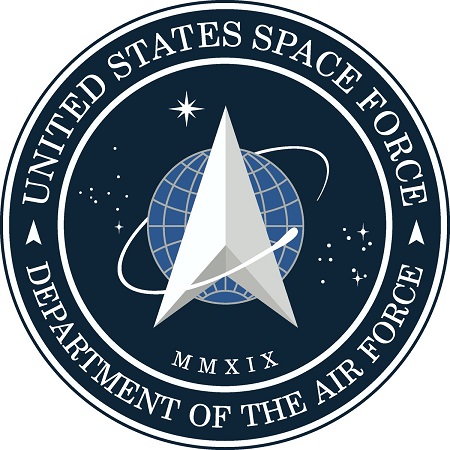 Let's hear it for the gol' danged SPACE FORCE!! I don't know about you all, but that's a spiffy logo right there! And apparantly it made the liberal retards cry so it's even better. Thank you President Trump! I wonder what sort of cool death ray guns the SF will eventually have... anyone care to hazard a guess?
Let's find out what else has been happening in the world of guns this week, shall we?

If you're tired of listening to me blather on about Virginia, you can skip ahead to the other exciting content below, but before you do consider this; Virginia represents an all out assault by the left on all of our gun rights. Lefties everywhere are watching Virginia and taking notes. What happens here, may soon be coming to you.
Virginia
The bigly huge and beautiful 2nd Amendment VCDL Lobby Day was held in Richmond on Monday, and was by all reports a great success. I was not there in person, but based on reports from those who were, and from what I saw streamed live, it was an entirely peaceful rally with an outstanding turnout by 2nd Amendment supporters. There appeared to be a few small groups of counter-protesters, for example one anti-Trump group numbering about a dozen, who were mostly ignored by the more than 20,000 there supporting gun rights. People were there from across the country, and may God Bless each and every one of them. The exact number in attendance is diffucult to know as they were spread out in the streets across many city blocks, but suffice it to say there was a huge turnout. Antifa goons and the pinch-faced scolds of the Moms Against Everything cult stayed home, and as a result there was no trouble, as many had feared.
Were you there? Care to share your experience?
Unfortunately, Governor Dipshit must not have peeked out the window and thereby failed to note what was happening in his front yard. A number of anti-gun bills continue to move along in the Senate, and here is a summary of where legislation stands as of January 23rd courtesy of the VCDL.
Not to be outdone by the Senate, this week the leftist idiots in the House of Delegates have lurched into motion, working on their own list of infringements to your Constitutionally protected rights. Here is an update of where House legislation stands , at the end of the week courtesy of VSSA.
It's too early to tell if the rally will ultimately have a legislative impact, given the continued movement of leftist bills noted above. However, Lobby Day wasn't ever going to be the end of anything, but rather only the beginning. It's very important for citizens to continue applying pressure on local governments in support of the grassroots 2nd Amendment Sanctuary movement. The morale boosting turnout at Lobby Day, and the fact it did not devolve into a riot, gives our side a certain amount of momentum and it's important to keep that alive. The jackasses running Virginia for the time being may not act like it now, but the grassroots solidarity of the people has their attention. Stay tuned.
******
Moving Along
An often overlooked but very important aspect of shooting is the trigger pull technique. Here's a short article from the CMP (h/t redc1c4) which everyone should take a minute to read, and the basics apply to both handgun and rifle shooting alike. I cannot tell you how many students I've coached who yank or slap the trigger, and once it's become a habit it's difficult to unlearn. The correct technique isn't complicated; simply use the pad of your finger to exert slow and steady pressure straight back until the gun fires. Depending on your setup, you can pre-tension the trigger slightly once you become accostomed to the break point. I am not a fan of super-light trigger weights on rifles, and have my competition guns all set to the same 1.5 pounds. Handguns obviously have much heavier triggers, and you should spend some time during each range session s l o w i n g d o w n while concentrating on not being spastic on the trigger.
******
New Colt Python
I own a number of Colt revolvers, but I do not own a Python. Yet. The classic Python is an amazing example of craftsmanship, but the guys in the video below make the argument the new Colt Python is better due to advances in metallurgy and machining techniques. The video was made at SHOT Show and is almost 20 minutes long, but worth every minute of your time.
The new Colt Python lists for $1,499 which is a chunk of change, but I'm pretty sure I need one.
******
Link-O-Rama
Taking advantage of my own great advice, I bought two cans of 7.62x51mm M2 Ball ammo from SG Ammo. It's surplus from the 1980's made by PMC, and looks just fine. I have no doubt it'll shoot fine, too. I will take the chrono to the farm soon and let you know how it performs.

I'm really very seriously not kidding around anymore. Buy Ammo
AmmoSeek - online ammo search tool
GunBot - online ammo search tool
SG Ammo
Palmetto State Armory
Georgia Arms
AmmoMan
***Mail Bag***
Here's a video from the geniuses at Black Rifle Coffee Company. These guys have a great sense of humor, and know their way around a coffee bean, too!
******
Please note the new and improved gmail account morongunthread at gmail dot com. An informal Gun Thread archive can be found HERE. If you have a question you would like to ask Gun Thread Staff offline, just send us a note and we'll do our best to answer. If you care to share the story of your favorite firearm, send a picture with your nic and tell us what you sadly lost in the tragic canoe accident. If you would like to remain completely anonymous, just say so. Lurkers are always welcome!
That's it for this week - have you been to the range?


posted by Open Blogger at
07:00 PM
|
Access Comments