« Tonight's ONT Has Everything!
|
Main
|
Mid-Morning Art Thread »
January 24, 2020
The Morning Report - 1/24/20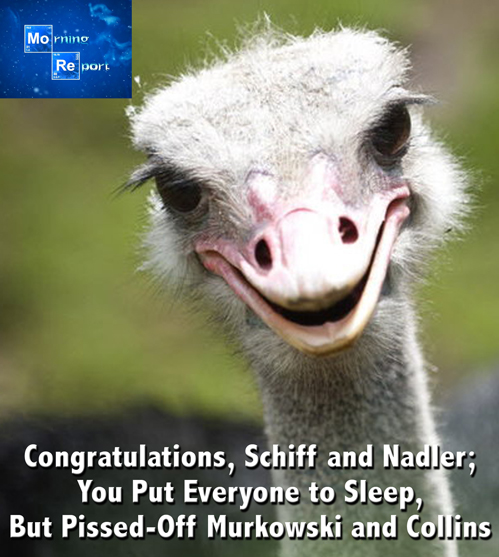 Good morning kids. The weekend is here and yesterday's interminable, unbearable obscenity in the form of Adam Schiff-for-Brains' and Jerry Nadless' inchoate, insipid rambling screeds that are somehow supposed to convince at least 20 Republican Senators and 200 million or so people that President Trump must be removed from office might have died. I mean, when you piss off Susan Collins and Lisa Murkowski, two confirmed anti-Trump squish/RINOs you should theoretically have no trouble peeling off to get to vote with you for more witness testimony, by accusing the GOP (and by extension them) of engaging in a cover up, you are not just stepping on your dick, you're setting it on fire and shoving into a window fan. And that's exactly what Jerry Nadless did. Bravo, Pagliacci. Obviously, him seeing his dick is like looking out your window in New York hoping to look over the curvature of the Earth and catch a glimpse of Fujiyama, but I digress.
Along with that bravura performance, Schiff-for-Brains' marathon noxious cloud generation included halitosis mingled with an ad-hominem attack on the President's character and then a bizarre disclaimer that the proceedings were not at all about helping Joe Bribem. Say, what? More notable was the fact that both Republicans and Democrats were absolutely bored out of their skulls. If they weren't seen slumped over in their chairs, eyes shut and snoring, they could be seen getting up and walking out of the hall and staying away for extended periods of time. With an hour left to go, Dianne Fein-China-Stein's girdle gave out and she threw in the towel, causing the propagandists at MSLSD to excoriate her and demand she resign from the Senate.
The truth of the matter is, after the fiasco in the House, most Americans - at least those who saw the proceedings - came away thinking that the President was being railroaded and that the whole thing is too boring to endure, and so tuned out. That's exactly what happened on the first day when they were debating Cocaine Mitch's ground rules. Hence, the reason for Schiff-for-Brains' marathon Castro-esque speeches; to try and cram as much bullshit into one day and pray it sinks in to an audience that will not be tuning in after that. He failed.
Meanwhile, as conventional wisdom dictates us fretting about four potential squish RINOs jumping ship, Mollie Hemingway takes a look at six Democrats who may very well be thinking the same thing, especially after yesterday's horrendous outing for their party. Joni Ernst also reminds us that the very same Democrats who are going after Trump for allegedly denying lethal aid to Ukraine are on the record for doing exactly that when Obama held the nation hostage. Also, the President ripped into pencil-neck and pastrami as "major sleazebags" while Lindsey unleashed his Graham-inator persona on the Dems and their media cohorts, and 21 attorneys general issued a joint letter excoriating the entire impeachment process. Well, Trump is for sure going to be acquitted but this is yet another crossed Rubicon that will have lethal consequences for the republic going forward.

NOTE: The opinions expressed in some links may or may not reflect my own. I include them because of their relevance to the discussion of a particular issue.
ALSO: The Morning Report is cross-posted at CutJibNewsletter.com if you want to continue the conversation all day.
Follow us on Twitter: @CutJibNews


posted by at
07:35 AM
|
Access Comments